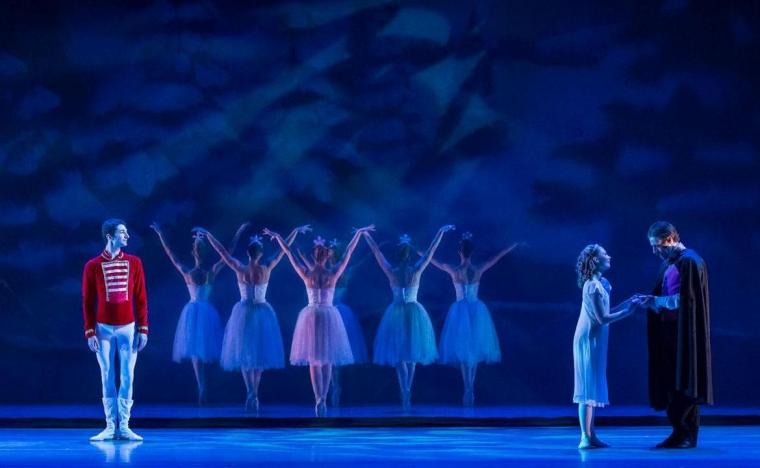 Saturday, December 8, 2:30 & 7:30 p.m., and Sunday, December 9, 2:30 p.m.
Adler Theatre, 136 East Third Street, Davenport IA
One of the area's most adored holiday traditions returns to Davenport's Adler Theatre on December 8 and 9 when the professional talents of Ballet Quad Cities perform Tchaikovsky's holiday dance classic The Nutcracker, an event boasting new choreography by Artistic Director Courtney Lyon, live musical accompaniment by Orchestra Iowa, and the return of Domingo Rubio, famed for playing the title character in the company's October presentations of Dracula.
Adapted from the 1816 story by E.T. A. Hoffman and debuting as a two-act ballet in 1892, The Nutcracker tells of the magical adventures of Clara, a young girl who falls asleep on Christmas Eve and dreams of an enchanted world filled with larger-than-life mice, ambulatory toys, dancers from all continents, an ethereal Sugar Plum Fairy, and much, much more. With Pyotr Ilyich Tchaikovsky contributing perhaps the richest and most instantly recognizable of his compositions, The Nutcracker has been a holiday perennial worldwide for generations and has been the subject of innumerable film and TV adaptations, with familiar portions of its score referenced in everything from Disney's Fantasia to The Simpsons to Grand Theft Auto V.
Rubio will assume the role of Clara's godfather, the mysterious toymaker and magician Herr Drosselmeyer, and also share lead-dancer duties in the Arabian-dance segment opposite company member Mica Ward. Clara herself will be danced, in alternating presentations, by Maelah Golden and Ava Harrington, with another pair of young performers – Oliver Klipsch and Malachi Squires – portraying the Nutcracker Prince over the ballet's two acts. Meghan Phillips, meanwhile, portrays the tale's ethereal Sugar Plum Fairy, and with numerous area schoolchildren participating in this year's Nutcracker presentations – among them four student dancers of Quad Cities Ballet Folklorico who will perform the Spanish-dance segment with Aubrey Clayton – there will be featured dances with Ballet Quad Cities' other resident company members: Marie Buser, Lauren Carmen, Ashley Coffin, Andrew Erickson, and Sage Feldges.
Ballet Quad Cities' The Nutcracker will be performed at the Adler Theatre at 2:30 and 7:30 p.m. on December 8 and 2:30 p.m. on December 9, and tickets are $11-36. Following the Saturday-night performance, audiences are also invited to join the dancers and Orchestra Iowa musicians for an "afterglow party" in the lobby of the neighboring Hotel Blackhawk. For tickets, call (800)745-3000; for more information, call (309)786-3779 or visit AdlerTheatre.com or BalletQuadCities.com.