Channel Cat Talks: Thursday, June 1, through Thursday, June 29
Riverbend Commons Dock, 2951 East River Drive, Moline IL
Riverine Walks: Wednesday, May 31, through Saturday, July 1
Various Quad Cities Locations
Delivering a blend of local history, environmental issues, education, entertainment, and fresh air, Davenport's River Action will again present a series of outdoor presentations in the first month of the annual Channel Cat Talks and Riverine Walks: weekly programs that, from May 31 through July 1, will address such topics as ferrying, steamboating, birds of prey, infrastructure, and the Quad City River Bandits.
Channel Cat Talk participants tour the Mississippi River aboard the Channel Cat Water Taxi, with boarding taking place at Moline's Riverbend Commons Dock. Experts will provide narration on the themed surroundings, with the Channel Cat Talks for June including: "Lock & Dam for Kids" (June 1), with USACE civil engineer Anthony Heddlesten describing the functions and purpose of a lock and dam for children and parents alike; "Steamboating on the Mississippi" (June 6 and 8), in which historian Karen Anderson will detail the rise of steamboats to serve land acquired by in the Black Hawk Purchase and how, by 1907, the Streckfus family of Rock Island had amassed the largest fleet of luxury steamboats in the world; "Raptors Along the River" (June 13 and 15), which will find Scott County Conservation Naturalist Dave Mucia discussing birds of prey in our area and offer participants the chance to see a live raptor from the Wapsi River Center up close; "Ferrying on the Mississippi River" (June 20 and 22), with Reggie Mcleod of Big River Magazine explaining the history and importance of ferrying on the Mississippi along with where you can find ferries today; and "Quad City's First Residents" (June 27 and 29), in which Beth Carvey discusses indigenous peoples who have occupied this region of the Mississippi River Valley over the last 10,000 years, placing special emphasis on Sauk and Meskwaki tribes from 1740 to 1831.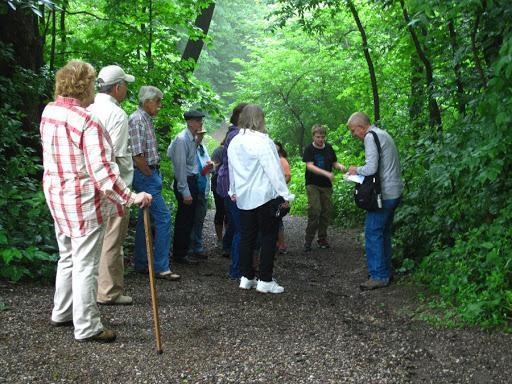 Riverine Walk participants explore the Quad Cities through a series of guided strolls through various area locales, with the late-May through early-July Riverine Walks series featuring: "Farming for the Future" (May 31 and June 3), with Rob Ewoldt of Ewoldt Farms taking participants for a walk in his field to show what is being done to preserve and protect Iowa farm land and and local waterways; "Hampton's Historic Riverfront Walking Tour" (June 7 and 10), featuring Hampton Historical Society member Tom McKay discussing houses, businesses, and customs that linked Hampton to the Mississippi River; "Patriots of the Prairie" (June 17 and 17), in which historian Karen Anderson takes participants from Dred Scott 's land-grant claim in Bettendorf to John Brown's slave-train crossing in Davenport; "Infrastructure Along Pool 15" (June 21 and 24), which finds Matt Johnson exploring bridges, roads, locks, and water-treatment development along the Mississippi River; and "River Bandits Stadium Tour" (June 28 and July 1), a chance to hear River Bandits owner Dave Heller talk about the professional minor-league team, Modern Woodmen Park, and the challenges and advantages of owning a small business on the Mississippi River.
Channel Cat Talks take place on Tuesdays and Thursdays at 9 a.m. and are $20 per person, while Riverine Walks are held on Wednesdays at 6:30 p.m. and Saturdays at 9 a.m., with admission $10 per person. For more information on these "Explore the River Series" presentations, call (563)322-2969 and visit RiverAction.org.