Thursday, January 19, 1:30 p.m.
Bettendorf Public Library, 2950 Learning Campus Drive, Bettendorf IA
A gifted composer and pianist, longtime area-theatre reviewer, and staunch advocate of the local art scene will be the featured guest in the Community Connections series when the Bettendorf Public Library hosts a January 19 program with Jonathan Turner, who will be your knowledgeable, friendly guide as he discusses experiences worth sharing in his recently published book 100 Things to Do in the Quad Cities Before You Die.
As residents of our community know, the Quad Cities is a unique metropolitan area along the mighty Mississippi River, one that is constantly growing in both size and nationwide reputation. This region is 400,000-plus has all of the friendliness, affordability, and short, headache-free commutes of many small towns. Yet it also boasts staggering a variety and quality of things to do. In 100 Things to Do in the Quad Cities Before You Die, author Turner invites readers to take a tour of the creative, intoxicating QC Ale Trail including the Bent River and Front Street breweries. He leads them through terrifically varied restaurants such as Me & Billy, Tantra, and Food Affair Bistro. He showcases the live entertainment hosted by venues including Quad City Music Guild and Davenport's Adler Theatre. And he makes diligent note of the abounding museums and art galleries that include the Figge Art Museum and the Putnam Museum & Science Center. All of these sites and dozens of other combine to make the Quad Cities a genuinely special, entertaining place to be, and Turner's January 19 presentation will ensure that you'll want to check all 100 Things off your list and them come back around the River Bend for more.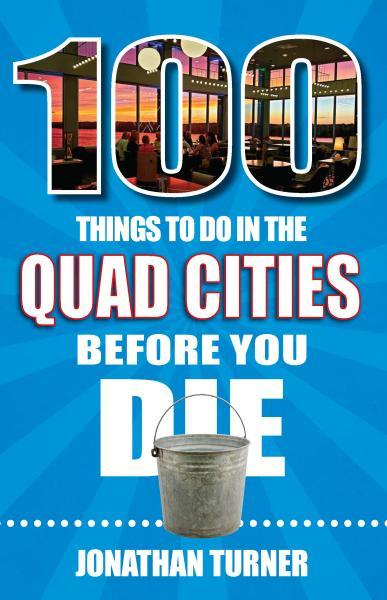 A digital reporter at WHBF-TV in Rock Island, Turner has been a journalist since 1988 and has written for daily newspapers in Wisconsin, Indiana, Connecticut, and, since 1993, the Quad Cities. Also a longtime piano player, he earned his bachelor's degree in music from Oberlin College and a master's in music education from Indiana University. Previously, Turner wrote a history book about downtown Davenport titled A Brief History of Bucktown, and contributed an essay to the anthology These Interesting Times: Surviving 2020 in the Quad Cities. More of Turner's writing are available by visiting Facebook.com/jonathan.turner.7140497.
Jonathan Turner's Community Connections presentation will take place on January 19, participation in the 1:30 p.m. book discussion is free, and more information on the event is available by calling (563)344-4175 and visiting BettendorfLibrary.com.