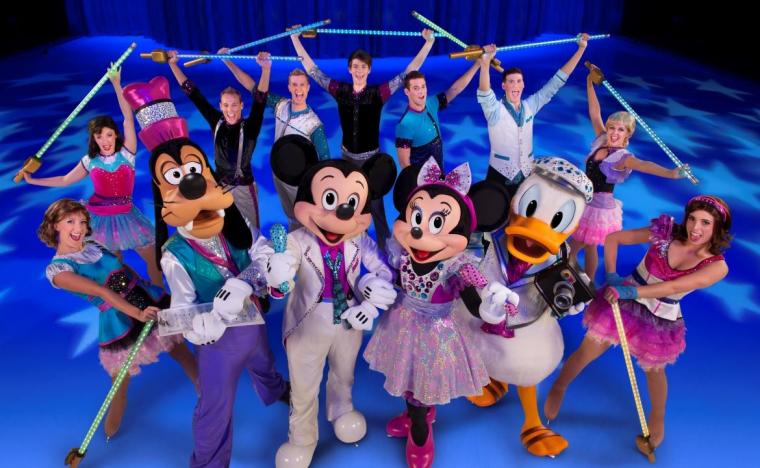 Thursday, November 30, through Sunday, December 3
Vibrant Arena at the MARK, 1201 River Drive, Moline IL
In a beloved seasonal tradition, family audiences are invited to the Vibrant Arena at the MARK from November 30 through December 3 to experience the wonderful world of Disney – on Ice – in the brand-new touring sensation Find Your Hero, with the Moline venue transformed into an enormous skating rink and some of the studio's most beloved characters joining Mickey Mouse and friends for an unforgettable adventure.
Find Your Hero will find its hosts Mickey and Minnie Mouse treating audiences to imaginatively designed reunions with many of everyone's favorite Disney characters both recent and classic. Kids of all ages get to experience Disney's Encanto brought to life like never before, and are invited to sing and dance with Mirabel, her sisters Isabela and Luisa, and other beloved figures from the Oscar-winning smash. Attendees can celebrate the magic of courage and adventure with Beauty & the Beast's Belle and her enchanted friends, and sing along with The Little Mermaid's Ariel as she follows her heart to the surface. Another Find Your Hero segment deliver a replication of Moana's and the hulking Maui's journey to return the heart of Te Fiti, while Tangled's Rapunzel and Flynn go to great lengths to make the long-haired girl's dream come true. Filled with world-class skating, high-flying acrobatics, and unexpected stunts, Disney on Ice Presents Find Your Hero brings to life the magic of the movies through a series of grandly entertaining vignettes, and with the production's other party guests including Minnie Mouse, Donald Duck, Goofy, Sebastian the crab, and more, this amphitheater event will deliver a family experience sure to be cherished for years to come.
Soon after Mattel's Irvin & Kenneth Feld Productions purchased Ice Follies and Holiday on Ice in 1979, the company approached the iconic company about doing a Disney-related show on ice. Feld Productions consequently licensed the rights to Disney material for ice shows, and in 1981, they began productions under the name Walt Disney's World on Ice. In March of the following year, Irvin & Kenneth Feld purchased back Feld Productions from Mattel including Ice Follies/Walt Disney's World on Ice, and five years later, Walt Disney's World on Ice made its international debut in Japan with Happy Birthday, Donald. The company consequently had five touring shows in 1988, and a decade later, the name was officially changed to Disney on Ice, with a new touring presentation launched every year since 2008.
Disney on Ice Presents Find Your Hero will enjoy its Moline-amphitheater run from November 30 through December 3, with performances on Thursday and Friday at 7 p.m.; Saturday at 11 a.m., 3 p.m., and 7 p.m.; and Sunday at 11 a.m. and 3 p.m. Admission is $20-70, and tickets are available by calling (800)745-3000 and visiting VibrantArena.com.