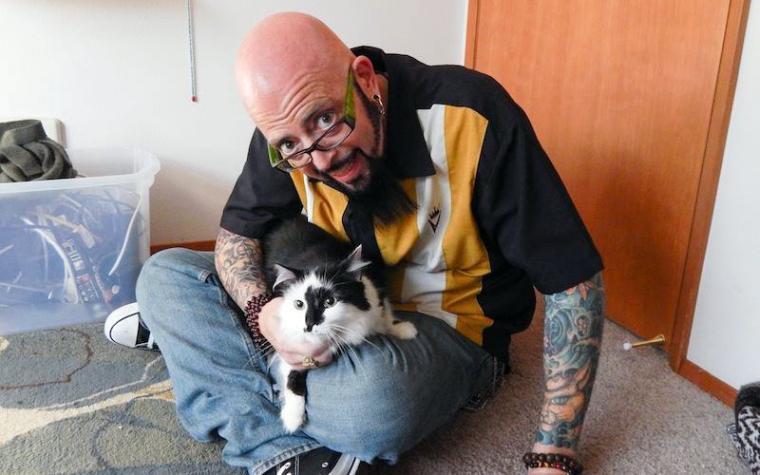 Friday, April 13, 8 p.m.
Adler Theatre, 136 East Third Street, Davenport IA
Local cat lovers will get to enjoy an extremely lucky Friday the 13th when television's beloved "Cat Daddy" Jackson Galaxy visits the Adler Theatre on April 13 – the latest national-tour stop for the bestselling author and popular host of Animal Planet's My Cat from Hell and Cat Vs Dog.
Although native New Yorker Galaxy (born Richard Kirschner) moved to Boulder, Colorado in 1992 in the hopes of becoming a rock musician, he discovered his true career passion after working in a number of local animal shelters, co-founding Little Big Cat, Inc., with holistic veterinarian Dr. Jean Hofve in 2002. Together, they provided consultations to cat owners, focusing on the connection between physical and behavioral health, and in 2007, Galaxy moved to Los Angeles, where he re-established, and continues to maintain, a private consulting practice. Working one-on-one with cats in their homes, he works with clients to improve behavioral issues, and Galaxy also works closely with animal shelters and rescue organizations, teaching his "Cat Mojo" approach to volunteers, staff, and adopters, and helping with both behavioral and environmental enrichment programs for their feline residents.
He currently serves on the board of directors for Stray Cat Alliance and Fix Nation in Los Angeles, and has appeared as the official cat behaviorist for Game Show Network's Think Like a Cat and the cat-behavior expert on Animal Planet's Cats 101. Since May 2011, Galaxy has starred in the reality series My Cat from Hell, in which he helps cat guardians resolve conflicts and behavioral issues, and since December 2013, he has hosted the Web series Cat Mojo, where Galaxy shares his thoughts on everything from declawing to the use of squirt guns. Jackson is also the author of more than a half-dozen bestselling books, among them Catify to Satisfy: Simple Solutions for Creating a Cat-Friendly Home and Cat Daddy: What the World's Most Incorrigible Cat Taught Me About Life, Love, and Coming Clean.
Jackson Galaxy's local engagement will find the cat expert sharing information and such topics as proper diet, environmental enrichment, and feline history along with behind-the-scenes tales from his TV adventures, and the evening will end with a Q&A session between the Adler guest and his audience. Tickets to the 8 p.m. event on April 13 are $28-53, and reservations are available by calling (800)745-3000 or visiting AdlerTheatre.com.