Some grandmas, during the holiday season, will give toys as presents. Others will give clothes.
Connie Corcoran Wilson, though, is giving her granddaughters a book ... that she wrote and published herself.
"It's my Christmas gift to the girls," says Wilson of her new children's book Christmas Cats in Silly Hats, the second self-published work by the much-published local author. "I wrote it for them, and thought it would be a nice present.
"Of course," she says with a laugh, "marketing-wise, I didn't think it would be such a dumb thing, either. You might not rush out to buy it in July, but in December ... !"
As Christmas Cats was designed especially for the two-year-old twins Ava and Elise, Wilson's book is one that can be easily understood and enjoyed by kids their age: 24 pages of simple rhymes, bright colors, and cheerful pictures of kitties wearing such chapeaus as a chef's hat, a fireman's hat, and a crown. (Sillier "silly hats" come in the form of socks and reindeer antlers.) Yet in addition to being a Christmas present for her granddaughters, Christmas Cats is also, as Wilson suggests, a bit of one for herself.
"A children's book was one of the things I hadn't done," says the former area schoolteacher and current freelance author. "I've always felt I could write anything, and my goal was to write one of everything. I don't want to be pigeonholed as just writing this, this, or this. I want to keep stretching."
To date, Wilson's literary stretching has resulted in, among other works, a three-volume set of ghost stories (2009's Ghostly Tales of Route 66 series), two books of humor essays (2004's Both Sides Now and 2011's Laughing Through Life), and this past summer's It Came from the '70s: From The Godfather to Apocalypse Now, a collection of reviews written by Wilson during her tenure as the Quad-City Times' chief movie-reviewer.
Yet until Christmas Cats, no works for kids. "And it had to be checked off the list," says Wilson.
The book's initial inspiration, however, came long before Ava and Elise were born. "It was 2004," says Wilson. "I was just starting into semi-retirement. And originally, the idea came because I had two cats - a new cat and an old cat - and they weren't getting along. They were fighting all the time. And really, it had nothing to do with anything else. I watched them fight and thought, 'That's a book.'"
The only hurdle that Wilson foresaw was that a children's book needed illustrations, and as she says, "I do not draw." (She laughs. "We'll just leave it at that.") But she found a willing collaborator in Andy Weinert, the son of one of Wilson's former students.
"I just loved Andy's drawings," says Wilson. "He had this charming, Grandma Moses style, and drew these beautiful, funny sketches."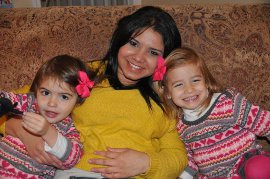 Upon its completion, Wilson says she found a publishing house that was eager to take on the work. Yet before it could be published, as Wilson tells it, the publishing house "lost all the sketches. I never found out how, but they lost them. And I had scans of Andy's drawings on my computer but was told that the pixels on some of them couldn't be brought up enough for them to be re-created properly.
"After that," she says, "quite frankly, I didn't want to mess with it anymore. I was just very demoralized, and stuck the book in a drawer."
Cut to earlier this year, and the inspiration of Ava and Elise. "The idea came up again when one of them had bitten the other one on the nose, and left marks. They were not playing well," says Wilson with a laugh. "The twin thing wasn't going as smoothly as it should have.
"But it occurred to me that this was like my cats who were always fighting. And I thought maybe the book could be tweaked so that it would have a moral lesson, if you will, for youngsters. That you shouldn't bite, and you should learn to share - the cats could underscore a lesson that needed to be learned. And we could release it for Christmas."
A few of Weinert's original sketches were replicated from Wilson's computer scans. But with the illustrator busy with grad-school studies, the Christmas Cats author had to find someone else to complete the rest of the book's artwork - and did, via the unexpected artistic talents of her granddaughters' Venezuelan au pair, Emily Marquez.
"She had never drawn anything in her life for anybody, except for fun," says Wilson, "but I think her pictures are absolutely charming. And I love that Emily's a part of this book, because her visa is up in March, and lately she's been very teary, saying, 'The girls won't even remember me!' But now, in a way, she'll always be there for them.
"I think it has a good message for kids of any age," says Wilson of Christmas Cats in Silly Hats, "and I'm pleased with it. But really, it's meant as a labor of love for the granddaughters who need to learn to share and get along. Of course, I'm also hoping the book has some broader application for a broader audience.
"In my dedication," she says with a laugh, "I say that maybe extra copies should be sent to Congress."
Connie Corcoran Wilson will sign and sell her recent books - including Christmas Cats in Silly Hats - at Rock Island's Atlante Trattoria restaurant during the December 2 Gallery Hop, at Davenport's Barnes & Noble on December 3 and 10, and at the Bettendorf Public Library on December 7. For more information, visit ConnieCWilson.com.