Friday, December 14, and Saturday, December 15, 6:30 p.m.
Skellington Manor Banquet & Event Center, 420 18th Street, Rock Island IL
Back-to-back evenings of improvisational comedy, delicious food and drink, and seasonal slaughter will soon be on the menu at Rock Island's Skellington Manor Banquet & Event Center, with the riotous talents of It's a Mystery Quad Cities opening their 2018-19 season with presentations of the interactive comedy-whodunnits A Model Murder on December 14 and Murder at Skuttlebutt Sound on December 15.
Written by Heidi Redmond, A Model Murder opens with the Mediocre Modeling Agency calling a press conference, and attendees wondering what announcement CEO Veronica Vang could possibly be making? Is the supermodel Coco being put out to pasture? Will models Ted and Sarah Beir be forced to act in a drain-cleaner commercial? Has Matt Carple seen his last hand-modeling job? And is it possible that any of these washed-up models would kill to save their careers? After spending an evening with this bunch of misfits, audiences will be itching to solve the mystery and send at least one of them to jail, with A Model Murder's cast boasting such comedic talents as Michael Callahan, Barb Engstrom, Patti Flaherty, Craig Michaels, Scott Naumann, Jim Seward, and author Heidi Redmond.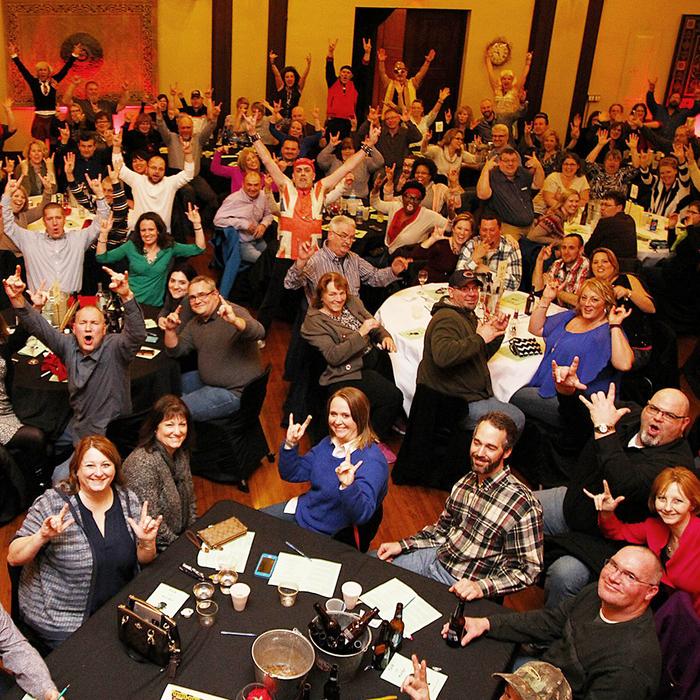 In Scott Naumann's Murder at Skuttlebutt Sound, It's a Mystery patrons are welcomed to the Buccaneer Bash in the waterways of Skuttlebutt Sound, where they're handing out the prestigious awards for pirate performers of the year, including the coveted MVP for Most Vicious Pirate. Yet with no love lost between pirate rivals Skunkbeard, Blackjack Scarborough, and Barb Erosa, to say nothing of intrusions by famous French pirate Jean Pierre le Merde and tag-alongs Fleabag and Wench, this is one crew that's destined to cause some trouble. With one of these scalliwags willing to kill for fame, Murder at Skuttlebutt Sound audiences are invited to suss out the murderer from a team of silly suspects played by Tim Knipper, Mark Kulhavy, Shana Kulhavy, Scott Naumann, Jim Seward, Kelly Thompson, and Jenny Winn.
With the Skellington Manor doors opening at 6 p.m., A Model Murder and Murder at Skuttlebutt Sound performances on December 14 and 15 start with cocktails and salads at 6:30 p.m. and dinner and the shows at 7 p.m. Admission is $42.50, and more information on the interactive comedy-mysteries is available by visiting ItsAMysteryQC.com and SkellingtonManor.com.