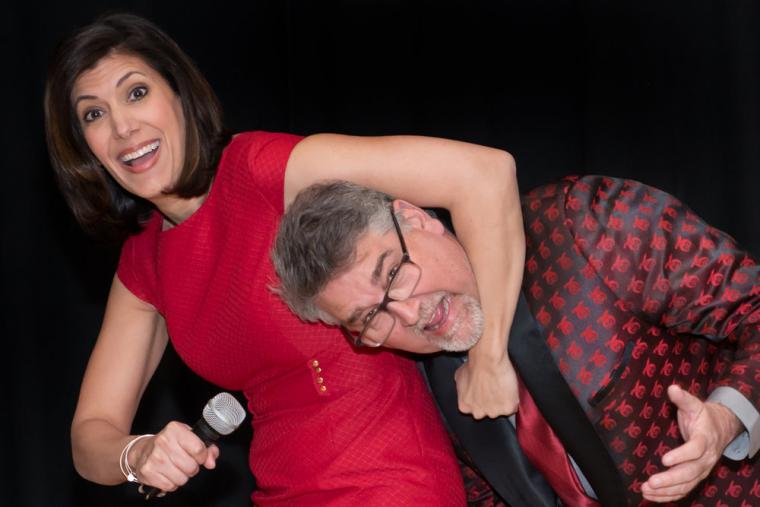 Friday, February 8, 7:30 p.m.
Orpheum Theatre, 57 South Kellogg Street, Galesburg IL
As the noted comedians take on such topics as relationships, dating, parenting, and family life, audiences seeking a Valentine's date of laughter will no doubt find it at Galesburg's Orpheum Theatre February 8 presentation My Funny Valentine, a hilarious he said/she said boasting the standup skills of Seinfeld veteran Pat Hazell and former Miss New Jersey Dena Blizzard.
One of the original writers for NBC's Seinfeld, a veteran of The Tonight Show, and a critically acclaimed playwright and contributing commentator to National Public Radio, Hazell is recognized for his Americana humor and salutes to the power of nostalgia. As a playwright, Hazell's first endeavor Bunk Bed Brothers was optioned by Columbia Pictures and filmed as the NBC sitcom American Pie. His signature work The Wonder Bread Years, meanwhile, is a grand salute to the baby-boomer generation that aired on PBS, where Hazell was referred to as "America's foremost pop-culture anthropologist." Currently, the live theatrical tour of The Wonder Bread Years is enjoying nationwide success, and as the Chief Creative Officer of Sweetwood Creative, Hazell is responsible for additional national tours of Bunk Bed Brothers, The Good Humor Men, and A Kodachrome Christmas. Hazell is currently in development on a musical adaptation of his original play Grounded For Life.
A comedian and corporate host who was named Miss New Jersey in 1995, Blizzard has been featured in The New York Times, and has performed at such famed comedy venues as The Laugh Factory, Gotham Comedy Club, Catch a Rising Star, and The Comedy Stop at the Tropicana. Blizzard has also served as the host and on-air correspondent for the preliminaries of the Miss America Pageant on ABC. As a mother of three who recently starred in her one-woman off-Broadway show One Funny Mother, Blizzard's viral video "Chardonnay Go" was viewed over 23 million times,and is now a hilarious party game called Chardonnay Go: The Board Game for Wine Lovers, Moms, & Other Shameless People. As is stated in the comedian's biography: "When she is not working on TV, she is writing/producing content for her Web series and making inappropriate videos about parenting that are sure to put her kids in therapy."
Hazell and Blizzard perform My Funny Valentine at the Orpheum Theatre at 7:30 p.m. on February 8, admission is $25, and more information and tickets are available by calling (309)342-2299 or visiting GalesburgOrpheum.org.