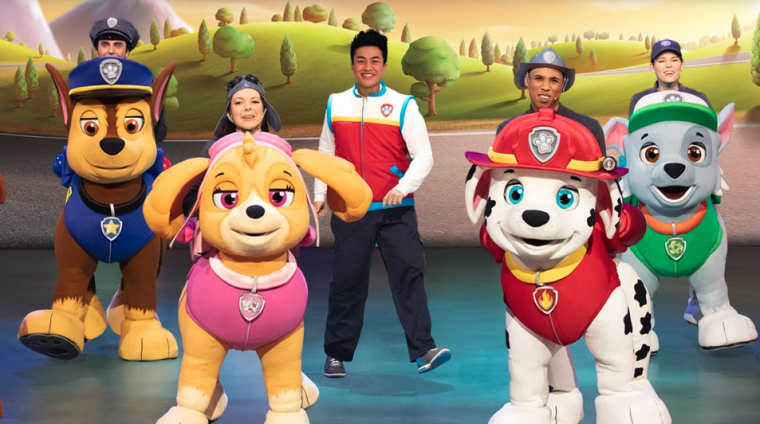 Tuesday, March 28, and Wednesday, March 29
Vibrant Arena at the MARK, 1201 River Drive, Moline IL
On March 28 and 29, a Nickelodeon smash now in its 10th year comes roaring – or rather barking – to delightful stage life when Moline's Vibrant Arena at the MARK welcomes the national tour of PAW Patrol Live! Heroes Unite, a brand-new, full-length amphitheater adventure featuring super-size versions of the furry characters that kids of all ages know and love.
Premiering on Nickelodeon in 2013, PAW Patrol tells of a boy named Ryder who leads a pack of search and rescue dogs, all of whom work together on missions to protect the shoreside community of Adventure Bay. Now in its 10th season and with viewership in more than 160 countries around the globe, the program has been a critical hit, with Common Sense Media giving PAW Patrol four stars and stating that "perhaps the show's best attribute is how it demonstrates the value of thoughtful problem-solving." Along with loads of comedy and interactive action, that quality is in abundant display in Heroes Unite, in which the team of canines face their greatest challenge yet. Mayor Humdinger has dognapped Robo Dog and cloned him, causing chaos all over the world. It's up to the pups to catch those clones, rescue Robo Dog, and show that when the going gets "ruff," lending a paw makes you the ultimate top hero.
With its beloved cast of four-legged characters including Chase, Everest, Liberty, Marshall, Rocky, Rubble, Skye, Tracker, and Zuma, each of the PAW Patrol dogs has a specific set of skills based on emergency-services professions such as firefighter, police officer, and aviation pilot. They all reside in doghouses that transform into customized vehicles, or "pupmobiles," for their missions, and are also equipped with special hi-tech backpacks known as "pup packs" that contain tools relating to the pups' jobs. The show has been developed into a media franchise with an ongoing line of toys based on it, sales of which have generated millions of dollars in revenue for the Spin Master corporation and increased the company's presence in the preschool toy market. In addition, the TV series and its associated products have received a variety of awards and nominations from associations such as the Academy of Canadian Cinema & Television and the Academy of Television Arts & Sciences. A spin-off series titled Rubble & Crew premiered in February, the same month in which the original series was renewed for an 11th season to air next spring, and series creator Keith Chapman told The Hollywood Reporter that the show could still be on television for another 10 years or more.
The national tour of PAW Patrol Live! Heroes Unite lands in Moline on March 28 and 29, with performances at 6 p.m. on Tuesday and 10 a.m. and 6 p.m. on Wednesday. Admission is $26-64, with VIP entry available for $94-104, and tickets are available by calling (800)745-3000 and visiting VibrantArena.com.