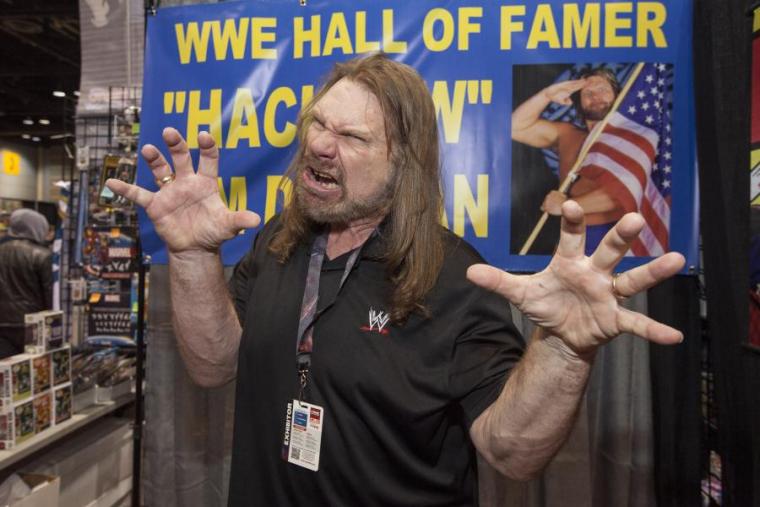 Friday, June 22, 1 – 9 p.m.
Saturday, June 23, 10 a.m. - 6 p.m.
TaxSlayer Center, 1201 River Drive, Moline IL
Comic books, video and board games, tournaments, cosplay competitions, and loads of special guests will be on hand when Moline's TaxSlayer Center hosts the June 22 and 23 convention Planet Funk Con: Comic Con 2018, a weekend event housing entertainment and shopping opportunities for connoisseurs and collectors of all ages.
After eight years titled QC Planet Con, the newly named Planet Funk Con – co-presented by Mellow Blue Planet and What's That Funk – will boast more than 90 vendor booths and two dozen guests on two floors of the TaxSlayer Center, with one of the most eagerly awaited visitors WWE legend "Hacksaw" Jim Duggan. A wrestling superstar for more than three decades whose challengers have included "Stone Cold" Steve Austin and Andre the Giant, Duggan overcame a 1995 kidney-cancer diagnosis to make a triumphant comeback in 2005, and was inducted into the WWE Hall of Fame in 2011.
Duggan will be joined at Planet Funk Con by an incredible spectrum of entertainers and artists ranging from authors to magicians to musicians to comedians. Scheduled to appear during the two-day event: actor Max Mittelman, who has voiced characters for animated works and video games including One-Punch Man, Persona 5, and Seven Deadly Sins; Phil Hester, illustrator for Kevin Smith's Green Arrow and Mark Millar's Swamp Thing; Samantha Newark, the voice of "Jem" in the cartoon classic Jem & the Holograms; voice-over actor and musician Chris Jai Alex; the touring comedians of the Davenport-based troupe Show Us Your Pokeballs; cosplay icon Mogchelle; HDC Cosplay costumer and fabricator Tim Harrison; Brad Jones, creator of the popular YouTube Channel series The Cinema Snob; Jarrett Crippen, a cast member from Stan Lee's Who Wants to Be a Superhero?; Brian Colin, video-game designer for Rampage, Xenophobe and General Chaos; and Kansas City-based graphic artist Yen Nguyen.
Also featured as Planet Punk Con guests: Ben Wolf, the award-winning author of The Ghost Mine; Charis Grove, who will present "The Pixar Method: Creating Lovable Characters and Engaging Stories"; Total Party Kill Games publisher and creative director Brian Berg; graphic designer and comic-book author Kris Stout; Cosplay Culture Magazine's artist Wes the Portrait Dude; Marvel and DC illustrator Don Kramer; local funk musicians The Tripp Brothers; G.I. Joe vs Transformers comic-book artist Cory Hamscher; storyboard artist Jim Campbell from the Cartoon Network mini-series Over the Garden Wall; how-to-video icon Pappy from Pappy's Corner; Alan Scholting, a founding member of Cosplay Culture; beloved area magician David Casas; and frequent area stage actor Laila Haley, a co-star of Sinister 2 and author of the recently published Super Heart Heroes ABC's!
Planet Funk Con: Comic Con 2018 will take place from 1 to 9 p.m. on June 22 and from 10 a.m. to 6 p.m. on June 23, and admission is $10-15, with ages 12 and under free with a paid adult. For more information and tickets, visit TaxSlayerCenter.com or PlanetFunkCon.com.