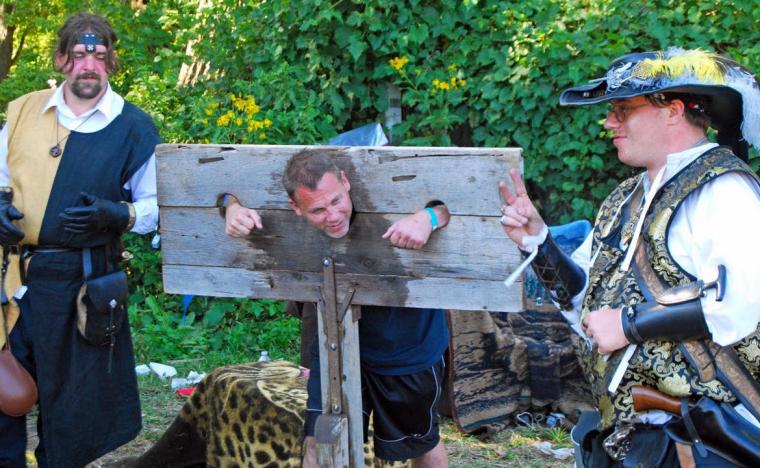 Saturday, September 29, and Sunday, September 30, 11 a.m. - 6 p.m.
Credit Island Park, 2200 West River Drive, Davenport IA
Fencing battles, sword fights, wandering minstrels, and all manner of Medieval fun will be on hand at the third-annual Quad Cities Renaissance Faire, the September 29 and 30 festival at Davenport's Credit Island Park that sets up camp in Iowa after two successive years in Illinois, and promises multiple stages of live entertainment, unique merchandise in the village marketplace, and food, drinks, and snacks galore.
The park's recently restored island lodge will serve as the entrance area to the Renaissance Faire's world of historic appreciation and theatrical fun, with most of the festival spread out on the east side of the island's trail grounds, and several activities and shows taking place inside the "King's Royal Lodge." Produced by Gregory Schmidt of the Iowa-based Festivals International, the Quad Cities Renaissance Faire will boast three stages of professional touring acts, three living-history encampments, an artisan merchant village, a food court, traditional games of skill, Medieval lawn games, a children's faerie realm, and hands-on demonstrations.
Some of the entertainment highlights, meanwhile, will include sword battles by the traveling troupe Warwick; music by recording artists Orckes & Trolles; magic shows by Bobert the Great; Highland Games demonstrations by Clan MacSwade; Dark Ages folk-tale presentations with Olskipan Vikings; royal ceremonies with Stulto Mori; comedic theatre with the touring Highland Marital Mayhem; participatory improv comedy with Scenery Changes; and a calligraphy station offered by master artist Lady Cheryl. The Faire will also feature more than 100 interactive village characters and wandering minstrels and songsmiths, among them: the singing pirate bartender Guildmeister Philip; Gate Constable Jasen Drake; harpist and flutist Lady Lisa; master minstrel Albrecht von Aachen; and Vatican VIPs Pope Malarkey I and Sister Shamrock.
Admission to the Greater Quad Cities Renaissance Faire on September 29 and 30 is $5-10 per day or $15 for a two-day pass, and the Faire is open from 11 a.m. to 6 p.m. both Saturday and Sunday. For more information on this year's Medieval weekend, visit QuadCitiesRenFaire.com.