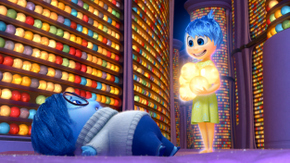 This past April, my editor and I were talking about writer/director Alex Garland's Ex Machina, the supremely eerie, clever science-fiction thriller I had just written about. Jeff hadn't seen the film yet, but said he was looking forward to it, and added, not necessarily verbatim, "Based on your review, I'll be very disappointed if it doesn't wind up on your 10-best list."
I don't know why that conversation has stayed with me for eight months. Maybe it was the subtle reminder to not forget about early releases when writing in December; maybe it was the necessary reminder that expert springtime genre movies are every bit as valid as the wintertime Oscar bait I frequently gravitate toward. Either way, every time something excellent opened post-April, I found myself questioning where it landed on my ongoing list of 2015 favorites: above or below Ex Machina?
So if you'll allow me a preemptive apology: I'm sorry, Jeff, but Garland's film – one I've now seen and loved several times over – didn't make the cut. Neither, I should add, did Steven Spielberg's richly entertaining Cold War thriller Bridge of Spies. Nor Asif Kapadia's wrenching Winehouse documentary Amy. Nor Olivier Assayas' mesmerizing Juliette Binoche/Kristen Stewart drama Clouds of Sils Maria. Nor Adam McKay's blistering satire The Big Short. Nor freaking Paddington, which I'd still watch any day of the week. Who knew 2015 would be such a fantastically fine movie year?
And for those of us living in markets that aren't New York, Los Angeles, or Chicago, it ain't over yet. Still to come are Alejandro González Iñárritu's The Revenant, plus a handful of specialty titles that (fingers crossed) might land before they're perhaps acknowledged on Oscar night: Anomalisa, Son of Saul, 45 Years, The Lady in the Van, Where to Invade Next, and entry eight below, which I was fortunate to catch in Chicagoland over the holidays. (This is the where I publicly kick myself for missing several potential Academy Award contenders – The Look of Silence, 99 Homes, Kahlil Gibran's The Prophet – that played in Iowa City, but that I never got around to seeing. Possibly because I was at Hot Pursuit or Pan instead.)
But what we did get in the area was oftentimes more than sufficient, and for my money, nothing was quite as satisfying as the only movie I shelled out the cash to see at the cineplex twice. No doubt many of you have already done that, and then some, for this winter's unassuming little art film set a long time ago in a galaxy far, far away. (Nothing wrong with that – see entry seven below.) As for me, I could barely wait to make a second trip to a time period not so long ago in a city not quite so far away ... .
1) Brooklyn. Its story couldn't be simpler. Maybe it's even one told to you by your mother, or grandmother, or great-grandmother. A young woman is born and raised in Ireland. Wanting a more fulfilling life than she's afraid she'll ever get, she boards a ferry for America. She lands at Ellis Island. She moves into a crowded boarding house. She gets a job at a department store. She suffers from terrible homesickness. She meets a nice boy. She falls in love. She gains confidence and self-esteem. When a family emergency arises, she returns to Ireland. She views her old home with fresh perspective. She meets another nice boy. She has a decision to make. She makes the right one. This, in a nutshell, is Brooklyn. And as directed by John Crowley, written by Nick Hornby (adapted from Colm Tóibín's novel), and acted by a sterling ensemble, this tale of immigrant Eilis Lacey is pure enchantment – like staring at pictures in a yellowing photo album and watching as they come to colorful, magical life. Outside of movies that were actually filmed in the early 1950s (and possibly number eight below), I don't think I've ever seen the era re-created with such gorgeously detailed vérité. François Séguin's production design is beyond exquisite, and during my first screening of the film, Eilis' stunning period wardrobe – courtesy of costumer Odile Dicks-Mireaux – made my female movie-going companion verbally covetous. (Personally, I wanted everything worn by Emory Cohen as Eilis' Italian beau Tony. Oh, who am I kidding? Cohen is so sensationally charming and funny and sweet in the role, I want to be Tony.) But Crowley's unapologetically old-fashioned melodrama is a feast for the ears as well as the eyes. Hornby ensures that every verbal exchange between characters – be they sensible, romantic, or, in the case of Julie Walters' landlady Mrs. Kehoe, utterly hilarious – is perfectly fitting for the scenes' emotional temperatures, and composer Michael Brook's lilting score provides accompaniment that never overpowers the images. But what seals the film's placement at the top of my annual compilation is the presence and portrayal of the almost unbearably luminescent Saoirse Ronan, who can finally claim not only a signature film role, but proper recognition as one of the absolute finest actors of her generation. This performance – heartbreaking, inspiring, deeply moving – is one for the ages. Brooklyn is a film for them.
2) Spotlight. There are so many scenes I remember from Thomas McCarthy's exploration of the Boston Globe's exposé on sex abuse in the Catholic church. Brian d'Arcy James' reporter realizing that a pedophile priest is actually living near his home (and his kids), and McCarthy's camera tracking him as he jogs to the cleric's front lawn a block-and-a-half away. Stanley Tucci's lawyer, on a park bench, angrily but calmly explaining the extent of the church's Bostonian power in between bites of a take-out lunch. Mark Ruffalo's understandably paranoid journalist, after a threatening phone call, expecting the worst when he hears a late-night knock on his door, and exuding utter relief when it's merely boss John Slattery with a half-eaten box of pizza. Yet the scene I find most sticking with me nearly two months after seeing the astonishing Spotlight is the initially benign conversation between Rachel McAdams' investigator and a defrocked neighborhood priest, the latter of whom smiles as he admits that yes, he did engage in untoward activity with young boys. He insists, though, that because he didn't gratify himself, it wasn't abuse, adding, "I know what abuse is." As the priest's caretaker impatiently ushers him away from McAdams, her expression is horrified yet contained – and this whole, beautifully structured, ceaselessly engaging drama is similarly horrific and contained. A two-hour slow burn, McCarthy's film builds its mounting fascination and outrage with incisive, clear-headed force, and for all the dreary legwork the Globe writers endure, there isn't a dull scene to be found. How could there be, when the hum of its potent cast (which includes Michael Keaton, Liev Schreiber, Billy Crudup, and Jamey Sheridan) and McCarthy's and Josh Singer's elegant script are inspiring a harmonious buzz in your brain? Until this year, All the President's Men and Zodiac were competing for the title of my all-time favorite journalistic procedural. They might now be fighting for second-favorite.
3) Mad Max: Fury Road. Early prediction 1: Despite being a summer blockbuster, a reboot of a 36-year-old franchise, and a film in which a masked punk rocker named "The Doof Warrior" shoots flames out of his electric guitar, George Miller's dystopian adventure will receive more Oscar nominations than any other release this year. (I'm currently guessing the magic number to be 10, although more are certainly conceivable.) Early prediction 2: It will also win more Oscars than any other movie this year. (I'm guessing six or seven.) Early prediction 3: Best Picture might very well be among them. Under ordinary circumstances, none of this should be remotely possible. Mad Max: Fury Road, however, is no ordinary movie. A miracle of stuntwork, choreography, composition, and largely practical effects, this exhilarating Outback epic is quite literally jaw-dropping; you simply can't believe the images that Miller and cinematographer John Seale are capturing, seemingly on the fly, as their cameras race and swerve and swoop alongside the assorted eccentrics being chased and doing the chasing. Yet you also can't believe that Miller and company can find such thematic resonance in such a rudimentary storyline (basically a dusty road trip from point A to point B, and then back to A), or that so much emotion could be contained in one of Charlize Theron's laser-beam stares or the sound of Tom Hardy, at long last, revealing his character's name. Who knows if the inevitable sequels will be anywhere near as good. But for those finding themselves increasingly bored with CGI marvels (and Marvels), this is the kick-ass, action-packed entertainment we've long been waiting for. May its follow-ups be even half as Fury-ous.
4) Inside Out. While scrolling through Facebook posts a few weeks ago, I landed on one from a middle-aged-father friend of mine, and it simply read, "Just walked past the room where my daughter is watching Inside Out, and I instantly started crying." I would have "like"-d the post, but my eyes were too brimming with tears to see where the "like" tab was. To be sure, this new Pixar masterpiece (and it's actually been a while since we've had one) is, like all of the production company's finest offerings, overflowing with ingenious ideas and grown-up wit that doesn't alienate younger viewers. It's fast-moving, superbly scored, and explosively colorful. It inspires cerebral laughs and belly laughs, and its chief cast of vocal comedians – Amy Poehler, Phyllis Smith, Bill Hader, Mindy Kaling, Lewis Black – is as marvelous, and riotous, as you could want. More than anything, though, director Pete Docter's animated exploration of a pre-teen girl's psyche is a grade-A heartbreaker, and if you don't believe me, just watch adult fans get all watery-eyed when you utter two simple words: "Bing Bong." Maybe you have to be really connected to a child, or at least your inner child, to fully appreciate the extent of the movie's thematic magic. But any viewer can marvel at Inside Out's beautiful and subtle demonstration of why joy and sadness are irrevocably linked, just as anyone with a funny bone can roar when Docter and company show us what's really going on in those loaded dinner-table looks between Mom and Dad. It may not happen forever, but I've now seen the movie four or five times and have laughed out loud every time. I've bawled my eyes out every time, too, but I don't foresee that reaction ever abating.
5) The End of the Tour. Much as he deserved the raves, I was annoyed whenever I read reviews of Jason Segel's phenomenal turn in The End of the Tour that included words to the effect of "It turns out he's a really skilled actor! Who knew?!" Um ... everyone who saw him in Freaks & Geeks 16 years ago, you nitwits. Still, in director James Ponsoldt's road-trip saga, I concede that the comedian's portrayal of late author David Foster Wallace is borderline-revelatory even if you were formerly aware of his dramatic talents. Playing Wallace during the last leg of his Infinite Jest book tour in 1996, when he spent several days accompanied by Rolling Stone interviewer David Lipsky, Segel does far more than capture the author's vocal timbre and signature flannel-and-bandana look. He seems to create the physical manifestation of how Wallace's writing, at its best, makes you feel, which is simultaneously exhilarated and exhausted. Segel's Wallace is fiercely intelligent, but also a mass of contrasts – he's warm yet aloof, welcoming yet reserved, direct yet confused. And in Segel's carefully modulated, deeply generous interpretation, he's both amused by life's paradoxes and desperate for a connection that he knows he'll never find; you don't need to know how Wallace's own story ended to find Segel's melancholy here emotionally wrenching. Having said all that, he's frequently also very funny, and Ponsoldt's film, with its sublime script by Donald Margulies, is, too – as well as moving, thoughtful, and perhaps the finest exploration of the complex interviewer/interviewee dynamic I've ever seen. As for Segel's sensational co-star Jesse Eisenberg, his Lipsky may be something else I've never seen: a character who can be accurately described as empathetically reptilian. Talk about skill.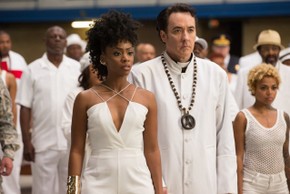 6) Chi-raq. As long as we're top-10-ing, I may as well share that one of my 10 all-time favorite movie-going experiences was catching Spike Lee's Do the Right Thing in a theater on Hollywood Boulevard during a vacation in the summer of 1989. The movie had already been out a couple of weeks, but there was so much elation, anger, and raucous enjoyment in that packed auditorium that I remember being there like it was last week. All of us seemed to collectively understand that we were watching something incredibly new and vital, and I reacted to Lee's Chi-raq (which played at Iowa Ciy's FilmScene) with nearly that same feeling of euphoric discovery. I won't go so far as to say that the writer/director's latest is the best thing he's done since Do the Right Thing; 2002's 25th Hour is extraordinary, and Lee's 2006 mini-series When the Levees Broke: A Requiem in Four Acts remains, in my opinion, the single greatest documentary achievement of the 21st Century. But Lee's and co-screenwriter Kevin Willmott's satiric verse rendition of Aristophanes' Lysistrata is so stunningly alive that you could check the screen it's playing on for a pulse and find one. Employing the tenets of hip-hop culture, expressionism, low comedy, and high drama to examine the proliferation of inner-city gun violence, Lee has concocted a genre-busting onslaught against stasis and defeatism, delivering a work that's at least as optimistic as it is upsetting. And with the luminous Teyonah Parris leading an unassailable cast boasting Angela Bassett, Wesley Snipes, Nick Cannon, John Cusack, and Jennifer Hudson, every single sentence uttered by Samuel L. Jackson is a thrill. Spike Lee received an honorary Academy Award in November. In a fairer world, his work here would put him in contention for several competitive ones.
7) Star Wars: The Force Awakens. As I write this article, director J.J. Abrams' franchise-extender is firmly in the all-time top 10 of worldwide moneymakers. By the time you get to read it, the movie will surely be in the top five. How is it possible that it still feels too early for spoilers? Yet as much as I'd like to talk about the comic perfection of (blank)'s late-film arrival, and (blank)'s soul-shaking exit, and the potential ramifications of (blank) being (blank)'s (blank), I shall continue to resist spoiling. And it's that respect for surprises, I think, that makes Star Wars: The Force Awakens such a heartening mega-hit. Those of us who love it love it so much that we don't want to even slightly ruin the experience for others; we know those late-comers deserve to experience that same pure joy and excitement and anguish that we did. Abrams' sci-fi marvel is, of course, full to bursting with intoxicating set pieces: the Millennium Falcon's initially clunky, eventually graceful escape; the Aliens-esque attack by a group of toothy, tentacled monsters; the evocative, almost Lynch-ian vision imposed on heroine Rey, offering tantalizing suggestions of answers – and, for that matter, questions – yet to come. (As we get to see the endearing droid BB-8 roll down a flight of stairs, I'm hoping one of the answers is: How does BB-8 get back up the stairs?) For me, though, it's the film's human element that made this continuation so rewarding. Much as I adored seeing Harrison Ford, Carrie Fisher, and (blank) again, I left even more wowed by series newcomers Daisy Ridley, John Boyega, and Oscar Isaac, all of whom were thrillingly invested, sincere without being sappy, and, oftentimes, awfully damned funny. In my youth, there were Star Wars kids and Close Encounters kids. I was one of the latter. At age 47, I may now officially be one of the former.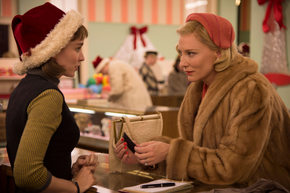 8) Carol. Witnessing romantic attraction in American films is nothing unusual. Witnessing legitimate romantic hunger most definitely is. And I don't know what it says about our country's modern movie-making tastes (or maybe just the presumed tastes of audiences) when, to my mind, the most recent equivalent to the bone-deep need suggested in the lesbian love story Carol can be found in Brokeback Mountain, which was released a full decade ago. Have the vagaries of heterosexual desire on-screen become so commonplace, and so tired, that they're now solely the domain of rom-coms, YA-lit adaptations, and occasional outliers such as 50 Shades of Grey? That's probably a subject for another time. Right now – at least when/if the film gets a local release – we have director Todd Haynes' ravishing 1950s romance in which Rooney Mara's shopgirl Therese locks eyes with Cate Blanchett's well-to-do housewife and title character, and their mutual electricity is so potent that it's no surprise when the hairs on your arms immediately stand upright. Haynes has delivered visually ravishing period films in the past: Velvet Goldmine, Far from Heaven, the HBO miniseries Mildred Pierce. But this might be the first one he's made that's emotionally ravishing. With cinematographer Edward Lachman's gorgeously grainy images accompanied by the majestic swoon of Carter Burwell's score, Blanchett and Mara give finely etched, emotionally acute portrayals, but are blessedly allowed to give them without having to telegraph. Haynes' film is completely devoid of histrionics, and he and his leading ladies burrow so deeply inside Carol's and Therese's romantic bliss and suffering that you can find yourself overwhelmed by only the slightest gestures or expressions: the wicked crinkle of Blanchett's smile; Mara's pained gaze through a car window. Add the sublime turns by Sarah Paulsen, Kyle Chandler, Jake Lacy, and others, and Haynes' latest may also prove his best to date. Here's hoping Carol arrives in the area soon and I can continue singing its praises.
9) The Martian. Taken overall, it was a stellar year for movies. But where were the stellar comedies? There was Spy, and about two-thirds of Trainwreck, and the eight-year-olds at my screening of Daddy's Home sure had a ball. More often than not, though, 2015's vocal amusement seemed to come from either animated family films or, rather strangely, science-fiction films. The Force Awakens delivered plenty of happy chortles, Ex Machina was incessantly giggly/creepy, and nothing in 2015 made me laugh as heartily, consistently, and unexpectedly as Ridley Scott's The Martian. And we may as well italicize that "unexpectedly," because if I were to compile a list of 100 directors I'd trust to make something lighthearted and joke-filled, Scott's name wouldn't have been anywhere near it. Until, that is, the release of this smart, exciting, and, yes, frequently hilarious space-rescue saga, an exemplary piece of sci-fi wizardry and a near-peerless vehicle for Matt Damon's low-key charm and razor-sharp wit. The benefits of a strong, engaging story can never be stressed enough, and screenwriter Drew Goddard's adaptation of Andy Weir's novel boasts a doozy of one – a spectacularly detailed narrative that's both intensely specific and thematically expansive. It's also so filled with incident, emotional complexity, and good-old-fashioned entertainment value that it may not be until Scott's film is over – or rather, until the grin-inducing curtain call during the end credits – that you realize something astonishing: This is a science-fiction thriller without a single villain. Instead, it's chock-full of wonderfully complicated humans, and as played by the likes of Chiwetel Ejiofor, Jeff Daniels, Jessica Chastain, Michael Peña, Kristen Wiig, Mackenzie Davis, and many more, they're allowed to be funny humans. At age 78, with more than 20 features under his belt, Scott finally proves he has a funny bone, too. It's a new color, but it looks great on him.
10) Steve Jobs. When I tell friends that I still miss TV's The West Wing, I don't really mean that I miss The West Wing, although I certainly do. I mean that I miss the intensely pleasurable smoothness of that show – the secure knowledge that, especially in its first two seasons, Aaron Sorkin would write gloriously tongue-tripping conversations that his cast of pros would toss off with unfussy aplomb, and that his cameras would follow with gliding walk-and-talk bravado. Sorkin's subsequent TV series Studio 60 on the Sunset Strip (at least the half-dozen episodes I forced myself to watch) was a pale imitation, as was The Newsroom, and while I love the Sorkin-scripted The Social Network and co-scripted Moneyball to death, they lacked the sprawling-ensemble rapture that TWW routinely provided. But now there's Steve Jobs, and once it hits home video on February 16, we Bartlett-administration fanatics can revel in the next best thing to a West Wing reprise. Beyond screenwriter Sorkin, this supremely clever bio-pic-in-miniature bears the unmistakable stamp of director Danny Boyle, whose rich and intensely active visuals crackle with life. But I'm also going to have no problem enjoying repeat "viewings" of the film while it serves as mere background noise while I'm house-cleaning or paying bills or what have you. In the most purely entertaining performance of his screen career, Michael Fassbender is marvelously loquacious and complicated as the Apple co-founder, and his alternately schmoozy and assaultive chats with perceived lessers played by the uniformly excellent Kate Winslet, Seth Rogen, Michael Stuhlbarg, Jeff Daniels, and Katherine Waterston yield no end of verbal pleasures. Considering how poorly the movie fared at the box office, you may think that Sorkin's and Boyle's wittily structured three-act dramedy is a bummer. Think different.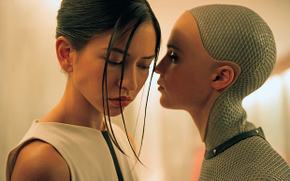 And Some Other 10s
10 Runners-Up That I Saw at Movie Theaters: Amy, The Big Short, Bridge of Spies, Clouds of Sils Maria, Creed, Ex Machina, Focus, Love & Mercy, Paddington, Spy.
10 Runners-Up to Those Runners-Up: Black Mass, Cinderella, Everest, The Gift, Grandma, The Hunger Games: Mockingjay – Part 2, Mr. Holmes, Shaun the Sheep Movie, Tangerine, The Wolfpack.
10 Runners-Up That I Saw on Home Video or Streaming: Beasts of No Nation, Best of Enemies, Going Clear: Scientology & the Prison of Belief, The Hunting Ground, I'll See You in My Dreams, Iris, Merchants of Doubt, Mistress America, A Pigeon Sat on a Branch Reflecting on Existence, What Happened Miss Simone?
10 Runners-Up to Those Runners-Up: The 100-Year-Old Man Who Climbed Out the Window & Disappeared, Danny Collins, Freetown, A Lego Brickumentary, Lost Soul: The Doomed Journey of Richard Stanley's Island of Dr. Moreau, Nightlight, Slow West, Spring, Welcome to Me, White Dog.
10 Favorites from 2014 That I First Saw in 2015: The Gambler, Inherent Vice, The Internet's Own Boy: The Story of Aaron Swartz, Kill the Messenger, Mr. Turner, A Most Violent Year, Selma, Still Alice, Two Days One Night, Wild Tales.
10 That Are Really Enjoyable: The 33, He Named Me Malala, Home, It Follows, Mission: Impossible – Rogue Nation, The Peanuts Movie, Straight Outta Compton, Unfriended, The Visit, The Walk.
10 Recommended with Reservations: The DUFF, Fifty Shades of Grey, Furious 7, Hotel Transylvania 2, Magic Mike XXL, The Man from U.N.CL.E., The Overnight, Poltergeist, A Walk in the Woods, While We're Young.
10 Recommended with Major Reservations: Far from the Madding Crowd, Infinitely Polar Bear, Irrational Man, Krampus, The Night Before, Old Fashioned, The Second Best Exotic Marigold Hotel, Trainwreck, Trumbo, Truth.
10 That Could've Been a Lot Worse: Insidious: Chapter 3, The Last Witch Hunter, The Lazarus Effect, Little Boy, The Longest Ride, Mortdecai, Sinister 2, Terminator Genisys, Victor Frankenstein, The Woman in Black 2: Angel of Death.
10 That Should've Been a Lot Better: Concussion, Crimson Peak, The Good Dinosaur, Joy, Kumiko the Treasure Hunter, Legend, Room, Sicario, Suffragette, Youth.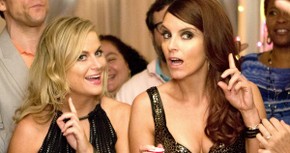 10 Fantastic Things in Iffy Movies: Harrison Ford's romantic confusion in The Age of Adaline; the running scenes in McFarland USA; Maude Lebowski's and The Dude's reunion in Seventh Son; Jillian Bell and Amy Ryan as sisters in Goosebumps; Tina Fey and Amy Poehler as sisters in Sisters; Helen Mirren in Woman in Gold; Walton Goggins in The Hateful Eight; Kate Mara in Captive; the early motorcycle mayhem in Daddy's Home; the monkeys in Monkey Kingdom.
10 Huge Hits That Didn't Deserve as Much Dough as They Made: Ant-Man, Avengers: Age of Ultron, Insurgent, Jurassic World, Kingsman: The Secret Service, Minions, Pitch Perfect 2, San Andreas, Spectre, The SpongeBob Movie: Sponge Out of Water.
10 Completely Forgettable Star Vehicles: Aloha, Get Hard, The Gunman, The Intern, No Escape, Our Brand Is Crisis, Pixels, Run All Night, Self/less, True Story.
10 Sequels, Remakes, Reboots, Et Cetera I'd Have Been Happier Without: Alvin & the Chipmunks: The Road Chip, Hitman: Agent 47, Hot Tub Time Machine 2, The Loft, Maze Runner: The Scorch Trials, Point Break, Secret in Their Eyes, Ted 2, The Transporter Refueled, Vacation.
10 That Didn't Need to Be Sequels, Remakes, Reboots, Et Cetera to Be Crap: American Ultra, Do You Believe?, Hell & Back, The Letters, Love the Coopers, Paper Towns, Project Almanac, Ricki & the Flash, Unfinished Business, We Are Your Friends.
And My 10 – Make That 11 – Least Favorites of 2015:
10) Strange Magic. Karaoke night at Skywalker Ranch. But even more excruciating than that sounds.
9) The Danish Girl. Everything irritating about period movies, "prestige" movies, issue movies, and Eddie Redmayne all rolled into one carefully tucked package.
8) The Boy Next Door. Finally, an answer to the eternal question "How J. Lo can you go?"
7) Jupiter Ascending. The Wachowskis' cred descending.
6) Paul Blart: Mall Cop 2 / Taken 3. In my fantasy mash-up, Blart repeatedly drives over Bryan Mills and his black leather jacket with his scooter, killing him just after Mills plants a bullet in Blart's skull.
5) Hot Pursuit. The title of Reese Witherspoon's and Sofia Vergara's buddy comedy is the funniest, cleverest thing about it. Yeah. I know.
4) Entourage. A big-screen reunion to make you long for Arli$$: The Next Generation.
3) Fantastic Four. Note to Miles, Michael, Kate, and Jamie: Congrats! Your movie sucked and no one bothered to see it! You're free!
2) Pan. And every sentient being gave it one.
1) Rock the Kasbah. Just threaten the terrorists with repeat viewings. Instant world peace.