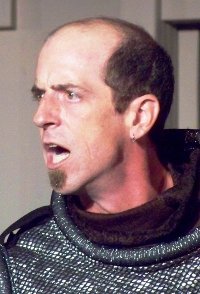 If you're familiar with local theatre, you're likely familiar with the work of Michael King, whose area credits include performances for the Playcrafters Barn Theatre, the Prenzie Players, the Harrison Hilltop Theatre, (the now-defunct) Ghostlight Theatre, the Circa '21 Dinner Playhouse, and - in numerous productions over the past five years - Rock Island's classical-theatre organization Genesius Guild.
Yet as King explains (with a laugh), if you've seen him anywhere on stage, you've likely seen him at his best.
"I suck at real life," says King, who turns 40 on July 7. "I do. You know, I make appointments and I miss 'em, I'm late with bills ... . Everything. But on stage, I'm able to be me.