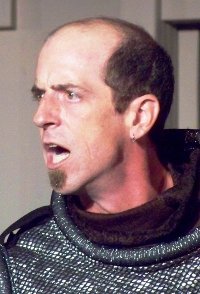 If you're familiar with local theatre, you're likely familiar with the work of Michael King, whose area credits include performances for the Playcrafters Barn Theatre, the Prenzie Players, the Harrison Hilltop Theatre, (the now-defunct) Ghostlight Theatre, the Circa '21 Dinner Playhouse, and - in numerous productions over the past five years - Rock Island's classical-theatre organization Genesius Guild.
Yet as King explains (with a laugh), if you've seen him anywhere on stage, you've likely seen him at his best.
"I suck at real life," says King, who turns 40 on July 7. "I do. You know, I make appointments and I miss 'em, I'm late with bills ... . Everything. But on stage, I'm able to be me.
"I suppose that's bizarre," he continues, "when you consider that I'm playing characters. But really, as far as any role is concerned, the most important resource that we have as actors is ourselves - our own experiences, and how those experiences might dovetail with, or relate to, or in some way touch on the subject matter in the text. And theatre is the one place where I've felt comfortable, my entire life. While inhabiting other characters, I feel that I'm most in my own skin."
That's soon to be some especially fascinating, funny, and frightening skin. Currently in rehearsals as the star and director of Genesius Guild's Richard III (running July 17 through 25), King returns to the role he played to great acclaim in last summer's staging of Henry the Sixth: Richard, Duke of York - the murderous, power-hungry, and physically and psychologically twisted Richard. And during our recent interview, King discussed his first stage acquaintance with Richard, his decision to take on Richard III's directorial reins, and the chance to play one of Shakespeare's richest and most complex characters.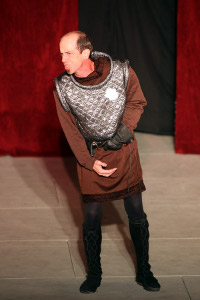 Not Really Optimistic
Beginning in the summer of 2006, when he began a three-year stint as resident stage manager for founder Don Wooten, King has undertaken numerous challenges for Genesius Guild, including directing 2009's Greek tragedy Hecuba, and acting in Shakespeare's As You Like It, The Comedy of Errors, and Romeo & Juliet. Yet his biggest challenge - and arguably the organization's - came with last summer's two-part presentation of Shakespeare's three Henry VI plays, which introduced King to the character of Richard III ... along with several dozen others.
The reason that we put up the Henry VI plays last summer, which are the beginning of the tetralogy that Richard III concludes, was that they were the only plays in Shakespeare's canon that Don had never directed. And he had said for years that after he retired, he would like to come back and direct the Henry VI plays, and I was determined to help him. I just feel that the work that Don has done in 50 years over there is incredibly vital - he's one of the main reasons we have the thriving theatre community that we have now - and I wanted to do whatever I could for Don to help him get these productions up.
At the beginning of the summer, though, I was not really optimistic about what the final product might look like. Because it was like a soap opera. All these names and characters, and to a modern audience not steeped in English history, they weren't going to know what all of the little subplots and stories were about. After the announcement that we were doing these productions, I read them, and I absolutely fell in love with Richard. But I also thought, "Boy, these are going to be really tough to do."
But we had so much positive response from the productions, and so much urging to Don and [Genesius Guild Executive Director] Doug Tschopp from folks saying, "You have to do Richard next year. You have to do Richard." And about two or three weeks after last season ended, I met with Doug, and he said to me, "Would you be interested in playing Richard next summer in Richard III?" And I thought about it for all of about half a second, and I said, "Absolutely."
Opportunity Knocks
King says, though, that with that "absolutely" came a caveat. "I suppose I employed a bit of a prima donna on him, because I said, 'I would love to play Richard, but I would like approval of the director.' I just wanted an eye that I felt comfortable with out there watching me, because I knew what a difficult test it was going to be, in terms of Richard's character." Yet a few months after securing a director (whose name King doesn't reveal), King's choice "had something come up" and was forced to bow out of the position. As King remembers, "I was like, 'What am I gonna do?'"
But Don asked me to a meeting about a month later, and he said, "You know, Mike, the last time I played Richard, I directed as well. Would you be up for something like that?" And I said, you know, "Let me think about it." And I thought about that for a lot longer than [when agreeing to play] Richard. Because it was not an ideal situation for me.
Eventually, though, I thought it would give me the opportunity to really have my say about the script. Richard III is Shakespeare's second-longest play, and so it needs some judicious pruning. You have to choose the story you want to tell, and there are elements that you simply have to get rid of - parts of the story that you can't tell - because you don't want the audience to sit out there for three-and-a-half hours or longer. And I also thought it would give me the opportunity to put together a nice, solid cast - actors that I enjoy working with and that I felt could handle the roles. So I decided to go ahead and take the opportunity that Don was offering. And now, of course, I wonder if I was insane when I did that.
Richard speaks a full third of the lines in the play - three times as many as any other character. So I knew it was going to be a big challenge, just in terms of memorization. But one of the things about this play is that Shakespeare had not really learned at this point that he needed to give his principal actors a break about two-thirds of the way into the show. You know, Hamlet has Act IV - he's kind of just off-stage with his feet up - and Richard doesn't have that.
So it's a marathon. It's taxing. I mean, just one Shakespearean scene done right is incredibly taxing - you're so engaged with your brain and your body that after one 10-minute scene, you're literally spent. And now I've got three hours that I'm trying to condition myself to, you know? It's nuts.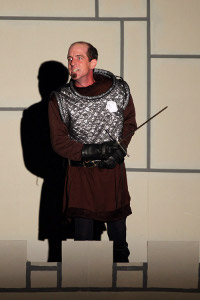 Ultimate Stage Villain
Still, King happily concedes that when presented with the challenge of one of Shakespeare's most powerful and memorable characters, the eventual performance satisfaction is more than worth the effort.
Richard is a real actor's showcase. It's great, great fun. But it's a difficult role to approach, because while Richard is this kind of ultimate stage villain, he's also the protagonist. He's the principal character. And so I can't play Richard as this sort of melodramatic super-villain. I can't just get up there and twirl my mustache and say, "You must pay the rent!", because the audience won't care about him after the second scene.
One of the things that's exciting about Richard is that he comes right out in the first speech of the play and [basically] says to the audience, "I'm a bad, bad man. And I'm a bad man by choice. Heaven has disfigured me, so since I'm physically corrupt, I choose to be corrupt and evil." And so that's a challenge, to say that to an audience and still get them to fall in love with you, and be complicit with you all the way through - to get the audience to laugh at Richard's morbid humor and his morbid jokes right up until the point they realize how truly horrifying this character is.
It's very exciting to me as an actor, and I hope that I serve Shakespeare's words well in the role. I love the language, and Richard's got great wordplay; some of the greatest lines that Shakespeare ever wrote were in this early play of his. So I'm excited and terrified that I won't live up to the challenge. But I'm definitely diving in with both feet.
Genesius Guild's Richard III will be performed in Rock Island's Lincoln Park on Saturdays and Sundays at 8 p.m., July 17 through 25. Admission is free, although donations are accepted, and more information is available by visiting Genesius.org.