Just north of the corner of 18th Street and Middle Road in Bettendorf is - strangely - a large head made of bark in an open field. More than 13 feet tall, it's hard to miss. What makes the sculpture feel truly immense, however, is how the artist has fulfilled her goal of "giving the Earth a voice" through this work.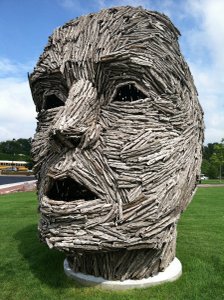 The sculpture, created by Sarah Deppe - a 24-year-old artist from Maquoketa, Iowa - is meant to represent the natural world. Its surface is made of cottonwood bark found on the ground. As Deppe has written: "I incorporate bark and wood because I believe it is less detrimental for the environment than other mediums. I feel as though I am simply borrowing from nature, and it will be returned to the Earth as it decomposes off my sculptures."
The artwork's title, Exhaling Dissolution, refers to the pollution constantly being spewed into the environment.
Inspired by Deppe's research into deforestation, the artwork took four months to plan and construct. Since its completion in 2010, it has been displayed on the Northern Iowa University campus and along the Riverwalk in the Port of Dubuque before being installed in Bettendorf on June 29, 2012. The artwork will be displayed in Faye's Field for only one year - through June 2013.