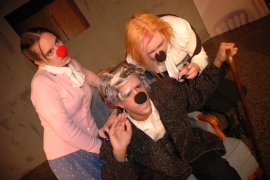 A bridegroom - petulant, abused, and unwilling to utter the five words that would please his family most: "I adore hash brown potatoes."
His father - abrasive, tyrannical, and ready to walk out on his family ... though he will be back for mealtimes.
His mother - overbearing, hypochondriacal, and vociferously proud of her questionable child-rearing tactics. ("I gave you your first spanking!")
And the bride-to-be - nearly mute, and the possessor of feet like Shrek's and two noses ... which would be fine if her intended didn't prefer a fiancée with three noses.