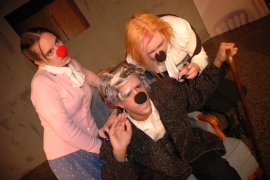 A bridegroom - petulant, abused, and unwilling to utter the five words that would please his family most: "I adore hash brown potatoes."
His father - abrasive, tyrannical, and ready to walk out on his family ... though he will be back for mealtimes.
His mother - overbearing, hypochondriacal, and vociferously proud of her questionable child-rearing tactics. ("I gave you your first spanking!")
And the bride-to-be - nearly mute, and the possessor of feet like Shrek's and two noses ... which would be fine if her intended didn't prefer a fiancée with three noses.
Welcome to the world of Eugene Ionesco, and Black Hawk College's current production of Jack, or the Submission, the absurdist playwright's deliriously nonsensical exploration of love, marriage, family, and the inherent meaninglessness of it all. Filled with dementedly outsize characters and bizarre non sequiturs, Ionesco's one-act seems an incredibly hard piece to screw up; the only way this unapologetically nut-job entertainment could conceivably collapse is if its participants appeared timid about coming off as ridiculous, and in this presentation by director Dan Haughey, timidity - and this is putting it mildly - is nowhere to be found.
In Black Hawk's springtime production of Death in Character, there was a fantastically strange two-minute routine featuring a dancing horse that felt as though it had popped directly from David Lynch's id. Jack, or the Submission feels like an hour-long expansion of those two minutes. Beginning with the pre-performance music - an eclectic sampling that features Sinatra, Tom Waits, and The Sound of Music's "My Favorite Things" - and ending with the cast's disturbingly accurate representation of a roomful of cats, nothing about this spirited work is even slightly predictable. Ionesco's mad blatherings bubble with unexplainable wit, and Haughey stages throwaway jokes so subtly that you're almost forced to do a double-take; you watch the show ever-alert for the next outré set piece or gonzo exchange that'll make your jaw drop.
Even before the dialogue starts, Jack, or the Submission boasts a nifty blend of the unsettling and the just-plain-silly. Designed by Joel Hernandez and Jason Britton, the artfully sloppy living room set, with its window that provides a spectacular view of nothing, has been painted a dingy gray, and becomes all the more oppressive under designer Elizabeth Cook's puce-green lights; it feels like you're trapped inside an upset stomach. But Cindy Breecher's costumes - complete with ball-shaped clown noses for all but the title character - display a playful, colorful exuberance, and the good-naturedly goofy, feline-inspired makeup by Jacob Posateri (who also plays Jack) fittingly suggests an amateur road-show production of Cats; there's a wonderful visual dichotomy here between the set's intentional lifelessness and the characters' liveliness.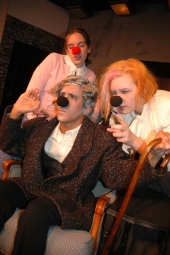 Like the visuals, the actors' portrayals are both ingratiating and enjoyably repellent. At first, Posateri's Jack seems like the only sane one on the premises, staring vacantly into space during his family's ramblings and chafing at their desecration of the English language. ("Words!" he sighs. "What crimes are committed in your name!") Yet it's not long before you realize that, in his quieter way, he's every bit the lunatic they are, and Posateri plays his regression from sensible young man to giggling infant with crafty comic shrewdness.
Jack's family members, meanwhile, are gloriously unrestrained. Kaeleigh Esparza, as the eternally aggrieved Mother Jack, shrieks and wails and hurls guilt with terrific gusto, and Paul Workman's Father Jack, when his ire is up, bellows with such hilarious force that it's a wonder the set's walls remain standing. Elizabeth Paxton provides great amusement as Jack's delightfully dim-witted sister, continually employing (and pronouncing) expressions incorrectly - she's an Ionesco Valley Girl - and without stealing focus, Lynn Aaronson and Tommy Ratkiewicz are fearless stereotypes as his decrepit grandparents. (These two are non sequitur royalty, with Ratkiewicz nattering away in a contented daze, and Aaronson forever asking, "Do you want a piece of advice?", and never remembering to offer any.)
As the bride(s) seeking acceptance into this clan, Christine Lyon gives what is perhaps the play's standout performance; alternating girlish excitability with a husky murmur, she's deeply funny, a little poignant, and surprisingly erotic. (Really surprisingly, considering her two characters - if, indeed, there are two - have five noses between them.) Daniel Hass attacks his prospective-father-in-law role with smiling, empty-headed vigor, and Neil Friberg, in drag as the potential mother-in-law and with each breast bigger than his head, delivers a roaring caricature of haughty disdain. The actor might be having a better time than anyone else on-stage - though with this group, that's a tough determination to make.
I saw Jack, or the Submission at its Wednesday-night preview, and as this was still technically a rehearsal, there were hiccups; numerous cues, particularly Workman's and Hass', required tightening, and I made accidental eye contact with a few too many cast members who were caught sneaking quick peeks at the audience. To them I say: Fear not. Black Hawk's latest - maybe the school's most wholly successful offering since 2006's Lone Star - is crazy fun.
For information, call (309) 796-5419.