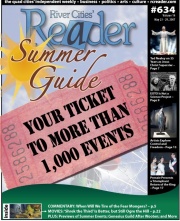 Ted Neeley portrayed Jesus Christ in the 1973 film version of Andrew Lloyd Webber's and Tim Rice's seminal rock opera Jesus Christ Superstar. He is currently reprising the role in a national tour of the show, which lands at Davenport's Adler Theatre on May 23. And in between these gigs, Neeley has performed the part in numerous other touring productions, benefits, and, once, alongside a cast of grade-school apostles.
It's impossible to ignore the irony: Ted Neeley has now been playing Jesus for longer than Jesus was alive.
"Yeah, I've been doing it now for just over 2,000 years," says Neeley with a laugh.