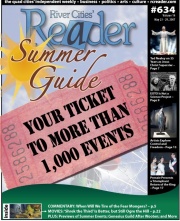 Ted Neeley portrayed Jesus Christ in the 1973 film version of Andrew Lloyd Webber's and Tim Rice's seminal rock opera Jesus Christ Superstar. He is currently reprising the role in a national tour of the show, which lands at Davenport's Adler Theatre on May 23. And in between these gigs, Neeley has performed the part in numerous other touring productions, benefits, and, once, alongside a cast of grade-school apostles.
It's impossible to ignore the irony: Ted Neeley has now been playing Jesus for longer than Jesus was alive.
"Yeah, I've been doing it now for just over 2,000 years," says Neeley with a laugh.
Considering the performer's obvious adoration of both the show and the role, though, why would he ever want to stop?
"It's overwhelmingly beautiful," said the 63-year-old Texas native during a recent phone interview. "It never, ever gets tiring. It is brand-new every single night, I could not be more honored to be associated with this piece - could not be happier doing anything else. It's fantastic."
Many, many people would agree.
Jesus Christ Superstar, with music by Webber and lyrics by Rice, began as a hugely successful 1970 recording (reaching number one on the Billboard charts in 1971), with a stage adaptation quickly launched in London's West End, and then on Broadway. Neeley himself was an ensemble member in the original, 1971 Broadway production - the Internet Broadway Database (http://www.ibdb.com) lists him as "Reporter" and "Leper" - and less than a year later found himself cast in the title role in Norman Jewison's Oscar-nominated film version, alongside Carl Anderson's Judas and Yvonne Elliman's Mary Magdalene.
"It was amazing," says Neeley of the speed at which Webber's and Rice's work took off. "I mean, we're getting into the production in New York City and not having any idea if we're even gonna get past opening night, and the next thing you know we've done a film, and Holy Moley!" he exclaims. "Look at this!"
But the public's adoration for Jesus Christ Superstar was only beginning. In the nearly 35 years since the release of Jewison's movie, this celebrated rock opera has become a worldwide phenomenon, if not a legitimate cult; those who love the show - no matter their ethnicity or religious upbringing - love it with a passion bordering on mania.
"And it's not just a certain cross-section of the country," says Neeley. "It is every age group. I speak to, sometimes, four generations of the same family who all come together to see the piece."
For his part, Neeley remains humble about his own importance in Jesus Christ Superstar's enduring legacy. "It is, without question, the music that makes this piece what it is," he says, pinpointing the moment when, night after night, he listens to Webber's score and thinks to himself, "Oh yeah - this is why I do it."
"Believe it or not," he says, "it's the first sound of the guitar in the overture - that's when that feeling starts. I'm serious. You can go through a day and have the worst experience, get into the theatre, get into the robe and the sandals and walk up on the stage ... and all of a sudden you hear that guitar lick, and everything negative goes away. It is the most incredible therapy anybody could ever have."
And a very particular kind of therapy. "I just rear back and do some primal screaming up there," says Neeley of the vocal demands of the role, which finds him attacking high notes that would intimidate trained singers half his age.
He insists, however, that keeping his voice in shape doesn't require any specific warm-up regimen. "I don't do anything other than just step up there and let 'er rip," he says. "I mean, I've been singing that way since I was a kid. I started out playing drums in rock 'n' roll bands, so I tortured my voice as a child - it can pretty much handle anything, you know? I'm just happy that it still works."
Yet Neeley believes that Jesus Christ Superstar's score transcends both orchestrations and individual voices. "It works no matter how you do it or who's in it," he says. "In fact, Carl and Yvonne and I did a benefit quite a while ago for a children's theatre group out in Santa Barbara, California. When we did the Last Supper, two of the apostles were sitting on my knee. Little bitty guys. It worked beautifully that way, as well."
And beyond the contributions of Webber and Rice, Neeley understands that Superstar's unceasing popularity also stems from something much more basic.
"It's because it's based on the life of Jesus Christ - in this case, the last seven days of his life - and everybody has that knowledge because we've learned about that story since we were children," he says. "We know the piece, therefore we're comfortable. You know, we [the cast members] don't have to walk out on stage before the show and hold up cue cards and say, 'This is what we're gonna talk about tonight.' Everybody knows the story, everybody knows the music."
Neeley clearly relishes the chance to share the Jesus Christ Superstar experience with those who love it as much as he does. Meeting with the show's legion of fans, he says, "is absolutely amazing. It is more than heartwarming. It is soul-fulfilling. When I do get the chance to speak to people, they always have these magnificent stories about how this piece has influenced their lives in a positive way.
"Everyone is searching for that spiritual connection," he continues, "and the majority of the people that I speak with have found that comfort in this music, and in watching the film over and over again, and coming to see the play over and over again.
"So I'm in a unique position of being part of a wonderful musical piece that connects people through that spiritual resolve, and because I have the honor of playing the central character and the recipient of all of that wonderful love and respect, my feet seldom touch the ground. It is wonderful."
This Jesus Christ Superstar tour marks Neeley's first extended run in the role since the mid-'90s, when a limited national engagement turned nearly unlimited. "The last one I had the privilege of doing," he says, "was planned as a three-month tour. It started in '92 and ran through '97. So three months turned into five years."
Yet for Neeley, there's also melancholy associated with this particular tour. "This is the first time I've done the piece without Carl," he says, as Anderson passed away in 2004.
"I miss him terribly," says Neeley, adding, "but I truly feel that his spirit is always here, because we spent most of our adult lives, he and I, doing this piece together."
For the present tour, Anderson's role as Judas is being filled by Corey Glover - lead singer for the Grammy-winning band Living Colour - and Neeley believes his hiring was not just a smart choice, but perhaps a fated one.
"His grandmother took him to see the movie when he was nine years old," says Neeley, "and apparently it just freaked him out. That's what gave him the desire to want to be in the music industry. Not only did he fall in love with the film, but Carl Anderson is a major reason why he wanted to be a singer."
Neeley says he couldn't be happier about Glover's casting. "What you see up there is is a man with a magnificent voice and an amazing ability to project that voice and that spiritual connection. ... He loves Carl Anderson, and does - without doing an impression - an honor performance to Carl every single night. He's doing a beautiful job. Just a beautiful job."
Don't think, though, that Neeley's career consists solely of Jesus Christ Superstar appearances, as he's currently working on a musical titled Pandemonium - which he hopes to produce on Broadway - and recently finished work on the Bolshevik Revolution musical Rasputin. "That one is all recorded," he says. "It's finished, it's ready to go."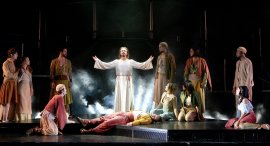 And therein lies one of the few downsides to being so constantly in demand. Neeley says, "Each time I get [a new project] up and ready, someone says, 'Uh, Ted? Would you like to do Superstar again?' We were ready to book [Rasputin] starting last August, and then suddenly one of the promoters called and said, 'Oh, Te-e-e-ed! Guess what I-I-I-I've got!'" He laughs. "So Rasputin's kinda waiting in the wings 'til this tour runs its course.
"I can't say no," he explains of the continued chance to revisit his iconic role. "I love this piece, and all the presenters and promoters around America and Canada know I love this piece. So they keep saying, 'Well, let's give it a shot.'"
Yet while this current production of Jesus Christ Superstar is being billed in newspaper advertisements as its "farewell tour," Neeley says that audiences shouldn't be saying "farewell" just yet.
"It's open-ended," he says of the touring schedule. "Just like last time. This one was planned for six months and we've eclipsed that already - we're gonna take a break in June and then come back in the fall and finish out this year, and go through all next year, as well."
Which suits the performer just fine. "Imagine if you will," he enthuses, "to be able to walk into what you perceive as your 'work' every night, and what you get to do is sing these songs."
So how long does Neeley hope to continue at his current workplace?
With a laugh, he says, "Possibly another 2,000 years."
Jesus Christ Superstar will be performed at the Adler Theatre at 8 p.m. on May 23. For tickets, call (563) 326-8555.