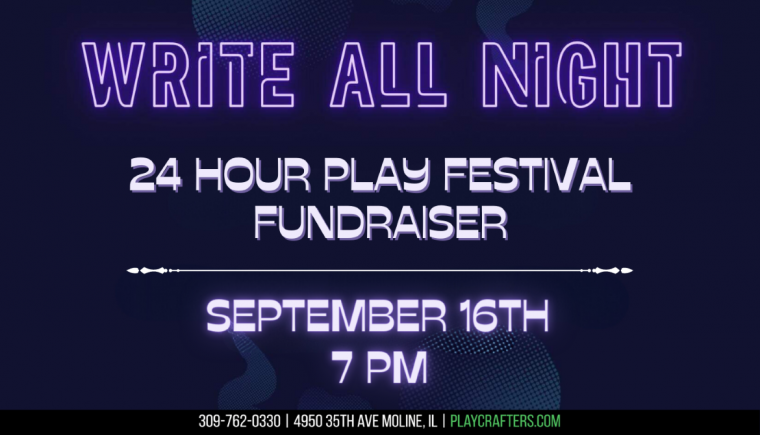 Saturday, September 16, 7 p.m.
Playcrafters Barn Theatre, 4950 35th Avenue, Moline IL
After an annually busy summer, September is a traditionally light month for area theatre. But Moline's Playcrafters Barn Theatre will be making up for the paucity of new titles by debuting no fewer than 10 plays – if 10 very short plays – in the venue's inaugural Write All Night 24-Hour Play Festival, a September 16 fundraising event that will find audiences treated to works by local authors, directors, and actors written, directed, rehearsed, and performed over the course of a single day.
This inaugural festival is the brainchild of Eric Teeter, a familiar Playcrafters participant who recently appeared in the venue's Circle Mirror Transformed among many shows, directed the mystery Prescription: Murder, and has served as sound designer or box-office manager for more than a dozen additional productions.
"I participated in three of these sorts of festivals in Cedar Rapids at RHCR [Rich Heritage of Cedar Rapids Theatre Company]," says Teeter. "I participated as an actor, a director, and a writer, so I've seen all aspects of it. And I thought that the Quad Cities could use something similar. So I pitched it to Playcrafters about two years ago as a fundraiser, and this spring, the Board gave me the okay to go ahead and start planning it."
Describing the Write All Night 24-Hour Play Festival, Teeter says that the title is indeed literal. "We're gathering all of the writers, directors, and actors on Friday night, and the writers will draw a director for their show out of a hat, so it's randomized as to whom gets what director. And then the director and writer will draw their actors' names out of a hat based on the actor pool that signed up. That way every show has pretty much an equal amount of actors – one show doesn't end up with six while one show ends up with one. And then they will also draw the genre that they are going to write in, the setting for the show, a prop that has to be included, and a famous line or phrase that has to be included."
After Friday's drawings for the works' particulars, says Teeter, "Actors and directors can go home and go to sleep. But the writers then start writing, and they have until 7 o'clock the next morning to write and submit a 10-minute play. We'll review the plays to make sure everything is family friendly – because this is a family-friendly show – and then we'll print off all the scripts for the actors and directors, and they start rehearsing at 8 a.m. on Saturday. They'll rehearse until 5 p.m., and then they'll get a break for an hour before the social hour begins at 6 o'clock, and the show itself starts at 7."
When asked if, as a writer/director/actor himself, he plans to participate in one of those fashions during the festival, Teeter chuckles and says, "No, I am going to have way too much to do to be able to do that. I'm going to make sure that everybody has time to rehearse on stage, and make sure everybody has space to rehearse, because there are 10 groups of people rehearsing. Playcrafters is big but not that big. I'm trying to give everybody a half hour to rehearse on stage, which should give them time to run through their script at least twice and then adjust things as they need."
Although those wishing to perform are able to submit their interest through Thursday night, the festival's directors and writers have already been chosen, the participants including Madelyn Dorta, Jess Lyn Cohen, Craig Gaul, Reader theatre reviewer Roger Pavey Jr., and frequent area performer Yvonne Siddique. "This is going to be Yvonne's first time directing," says Teeter, "and this is a good way for someone who wants to try out directing, writing, and acting to do so. Because it's just a 24-hour commitment and then you're done."
Having experience in 24-hour showcases of this type, Teeter says, "I've found that most of the entries end up being comedic, but there have been some dramatic ones that I've seen before. We're also having three secret judges, and we'll be judging in the categories of Best Ensemble Performance, 'Best Solo Performance,' 'Best Use of Required Elements,' and 'Best Script.' The winners will get a certificate. And, you know, bragging rights."
If Teeter's past experiences are any indication, they'll also have fond – or at least funny – memories to share.
"The last time I participated," says Teeter, "I was directing and acting. Our genre was sci-fi, and our writer set us on the bridge of a starship. And you know how a starship will get rocked by something and everybody falls one way or the other? Well, one of our actors could not do that physically, so our writer gave her stability boots, or something like that, to make sure she wouldn't fall. The rest of us all fell down, and then she said something that wasn't in the script that was really funny and the audience cracked up – and the rest of us forgot where we were. So I just said, 'I've forgotten my line,' and the audience cracked up all over again."
So even if mishaps occur and lines are dropped during Playcrafters' September 16 event, says Teeter, "it doesn't really matter. It's just supposed to be fun. And it's a new show that probably won't ever be seen again."
Playcrafters' inaugural Write All Night 24-Hour Play Festival fundraiser is still encouraging entries for those wanting to perform, with submissions accepted at bit.ly/24houractors through the evening of Thursday, September 14. After participants gather at 7 p.m. on Friday, September 15, the festival itself will begin on Saturday, September 16 with a social hour and raffle starting at 6 p.m., and the staging of the 10 10-minute plays starting at 7 p.m. Admission is $15, tickets are available by calling (309)762-0330 and visiting bit.ly/writeallnighttickets, and more information is available by visiting the festival's Facebook page.