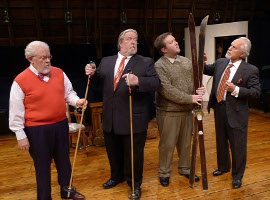 The Richmond Hill Barn Theatre's The Mousetrap is a reasonably entertaining presentation of author Agatha Christie's material. There were plenty of good laughs during Thursday's performance, and director Gary Clark and his cast did well in not giving away what's known as "the best kept secret in theatre" until its final reveal - that secret being the identity of a London murderer who is now, very likely, among the guests in the newly opened Monkswell Manor boarding house.
Christie's whodunit offers quite a bit of enjoyment in its first half, as The Mousetrap's five boarding-house guests each have their own quirks that make for several humorous interactions. There's Bill Hudson's retired military officer Major Metcalf, and Diane Greenwood's haughty, judgmental Mrs. Boyle, a character who is quickly disliked by Stan Weimer's eccentric and messy-haired Christopher Wren, Heidi Pedersen's well-traveled Miss Casewell, and Spiro Bruskas' playboy "foreigner" Mr. Paravicini. They're all hosted by the plain-spoken but oftentimes nervous Mollie and Giles Ralston, portrayed by Sara Laufer and Bryan Woods, and John VanDeWoestyne joins the bunch as Detective Sergeant Trotter, who - as a massive snowstorm has crippled travel in the area - arrives at the manor on skis in order to investigate two anticipated murders in the manor.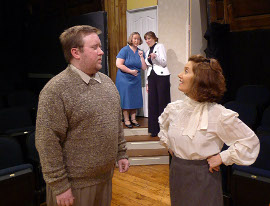 Although it's an adequate presentation, Clark's production is not without its faults, with the second act's tempo being the primary issue. The Mousetrap's second half takes on a heavy tone, dropping much of the fun of the first, which is a shame. Yet while Christie is mostly to blame for this heaviness, it would still be possible for Clark to maintain a sense of fun throughout the show. Act II, however, drags on quite a bit, with the revelation of "whodunit" welcome partly because it means we're finally past the monotonous interrogation of each and every character one by one. The pacing also grows lethargic due to the entrances and exits - with too much dead time in between one character's disappearance and the next character's arrival - and due to Clark allowing Laufer and Woods to sink into weighty, emotionally forced conversations as each tries to figure out if the other is the murderer.
Laufer actually peppers her performance with similarly forced consternation throughout the show, with her Mollie turning on an emotional dime; the actor, for the most part, tends to favor a look of affected sternness, paired with what's otherwise a sincere curiosity and interest in what the other characters have to say. This characterization makes no sense at times, as Laufer's Mollie goes from discovering that her husband may be the murder - or almost being murdered herself - to a carefree, friendly demeanor at a moment's notice, with no hints of the worry and fear she expressed just moments ago. And Woods, unfortunately, isn't offered enough chance to showcase his talents here, though compared to Mollie, his Giles is presented with more shading and poise.
Greenwood's stage time is also all-too-brief, as her "no-nonsense bitch" (as she's described by another character) is humorous for being completely humorless, thanks to Greenwood's remarkable stage presence and line deliveries. Pedersen is equally delightful, if not more so, for her characterization of Casewell that seems a lot like Paula Poundstone with a British accent. And Weimer, on Thursday, seemed to steal the audiences' hearts with his crazy hair and alternately jovial and curmudgeonly airs - he's reminiscent of the Lord of the Rings' Bilbo Baggins, but with Sméagol's sinisterly silly laugh.
While Hudson has even fewer opportunities to show off his acting skills than Woods, Bruskas delivers his character's double entendres in ways that are somehow creepy, pointed, and nonchalant all at once. Meanwhile, and as usual, VanDeWoestyne doesn't disappoint in his portrayal of Sergeant Trotter, bringing to the character his dependable professionalism, presence, and believability.
It's a shame, though, that I can't describe much about the murderer's post-reveal performance, because it is quite something; changing tone and demeanor completely, the performer gives us a wholly new character that's fully realized, if seemingly incompatible with the one previous presented. Still, despite the multiple-personality nature of the murderous character, his-or-her final scenes are played with noteworthy nuance, and the discovery of "whodunit" proves surprising as well as credible, which makes it a good idea not to do any research into Christie's story prior to seeing Richmond Hill's The Mousetrap. The final revelation, after all, returns us to the enjoyability of the evening following the second act's over-abundant exposition.
The Mousetrap runs at the Richmond Hill Barn Theatre (600 Robinson Drive, Geneseo) through October 13, and more information and tickets are available by calling (309)944-2244 or visiting RHPlayers.com.