The Playcrafters Barn Theatre's latest production, Dinner with Friends, explores the impact of a marriage-ending extramarital affair on not only the couple involved, but also their best friends. And while what results can be correctly guessed before the finale, playwright Donald Margulies manages to incorporate some unexpected paths along the way, particularly in the evolving responses of the couple's pals. While I did find my mind wandering during Friday's performance due to a lack of interest in some of the longer-winded conversations, I still enjoyed the overall presentation for being thought-provoking regarding relationships, and for offering some great laughs, too.
It's difficult to label Dinner with Friends within a particular genre, because while there are several hilarious scenes, the script leans more toward the dramatic than it does the comedic. It's clear, right off the bat, what's at the core of this story, as Lisa Kahn's Beth breaks down in tears after telling Don Faust's Gabe and Pamela Crouch-Zayner's Karen about her husband's affair. What unfolds after that point - with Chris Zayner's philandering husband Tom visiting Gabe and Karen to share his side of the story - is funny because Margulies mimics marital life rather than mocking it. Director Fred Harris Jr. also takes a sincere approach to the material; his cast delivers jokes not as punchlines, but as naturally spoken conversational statements that just happen to be funny, and sometimes side-splittingly funny. This is most evident in the scene in which Tom appears on Gabe's and Karen's doorstep for the first time after Beth told them of his cheating ways and Tom says, "I know this is tense," to which Karen responds, with heavy sarcasm, "Oh no, not at all." Crouch-Zayner isn't trying to be funny and is perhaps all the funnier for it - not only in this moment, but in several similarly well-delivered lines throughout her performance.
This is also true of Faust, as the actor is at his personal best when he isn't making an obvious effort to create a character wholly different from himself. His Tom is among the most organic performances I've seen from Faust to date, with every one of his lines rolling off his tongue as if each were truly extemporaneous. His nonchalant Tom avoids taking Margulies' material into groan-worthy territory, as when Tom describes the sexiness of an 80-something cook and says, "Did you see the way she handles a zucchini?" Faust could have delivered this line with an emphasis on the sexual side of the double entendre, but he doesn't. Instead, Faust offers the joke as an off-the-cuff remark that Tom hopes his wife and Beth will find funny, even though he isn't going to force the humor.
Kahn shares a similarly genuine sensibility in her Beth, with her initial breakdown in front of her friends deserving of their comfort for the believability of Kahn's tears. Zayner, on the other hand, comes across as a little too over-rehearsed, with a slight detachment from his character evident in his careful enunciation of every syllable, and the way his arms drop to a neutral position whenever he's finished speaking. (This isn't enough to render his performance a bad one, but in comparison to the earnestness of the other actors, it is mildly off-putting.) One scene involves Tom and Beth first seeing each other after Beth told their friends about their pending divorce, and the reason behind it; Tom shows up unexpectedly at Gabe's and Karen's house to stay the night, and he and his wife end up arguing about Beth's telling the story without Tom present. But while the scene builds with its impressive crescendo to an uncomfortably tense vocal level, it doesn't build physically. Zayner's Tom too often turns away from Karen to stare at a blank wall, while Kahn resorts to crossing her arms a bit too frequently, and both of these actions diminish the physical rawness of the couple's fight. (The scene also has some lighting issues, with designer Alex Richardson's effects leaving Kahn half in shadow whenever she's standing downstage of the bed on scenic designer Donna Weeks' functional but fairly unremarkable set.)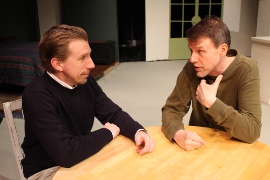 While its attention is on the end of Beth's and Tom's marriage, the play is actually about Gabe's and Karen's reactions to it, with its final scene involving only these two as they talk about their friends' relationship as well as their own. Thankfully, Margulies avoids preachiness in their dialogue, instead offering food for thought on marriage and love. Harris follows the author's gentle cues, and - with the help of Faust's and Crouch-Zayner's beautiful subtlety in this scene - ends Playcrafters' Dinner with Friends in an unexpectedly touching way.
Dinner with Friends runs as the Playcrafters Barn Theatre (4950 35th Avenue, Moline) through May 18, and more information and tickets are available by calling (309)762-0330 or visiting Playcrafters.com.