The last time I watched Nancy Teerlinck perform, earlier this year, she offered a moving portrayal of a matriarch making tough, emotional decisions in the Playcrafters Barn Theatre's Moving. Yet as much as I liked her in that role, I think she's even better when she's playing ... well, a bitch ... such as the one she portrays in Playcrafters' current offering, The Christmas Express. Teerlinck's Hilda, who runs the play's Holly Railway Station, is an acerbic, crotchety, sarcastic, bitchy delight, and I think I now love the performer, and want to see this side of her comicality a lot more often.
I also liked director John Weigandt's treatment of playwright Pat Cook's tale, the story of a mystical stranger who arrives at a train station to spread hope during the holidays - including to the town's resident Scrooge, Hilda. Cook's play achieves a perfect balance of Christmastime sentimentality and somewhat edgy, laugh-out-loud humor, and Weigandt manages to create nostalgia for its "1950-something" period without downplaying the not-so-innocent jokes included in the script. Thankfully, the show is smart instead of sappy, although the revelation of what the titular Christmas Express actually is does land on the sickly-sweet side.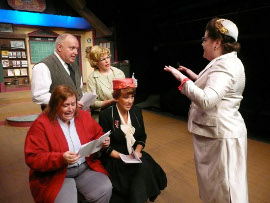 Teerlinck is well matched by Bill Peiffer, who portrays Hilda's assistant Satch. While co-workers, the two have a relationship similar to that of a long-married couple, with Satch letting Hilda's tart comments slide right on by, as if he understands her nature and is more amused than negatively affected by it. But Peiffer's Satch isn't an overly nice pushover; he's more like that friendly older man you know who likes to tell dirty jokes. (That's not to say, however, that this play is an adult comedy, so don't worry about bringing the kids.)
Hilda and Satch play co-hosts, of sorts, to Dave Bailey's Leo Tannenbaum, the traveler who fixes Satch's watch and the station's radio merely by touching them; Bailey's Leo is so kindly and friendly that there's even something welcoming about him when he's being a bit smug. Donna Weeks' Myrna, a city employee who organizes a caroling outing, shines brightest when she loses her cool. Decked out in one of costume designer Liz Paxton's many impressively constructed and beautiful period ensembles, Weeks elicited large laughs on Friday when the somewhat prim and proper Myrna grew frustrated with her carolers' lack of cooperativeness, and emphatically and angrily stated, "It's Christmas spirit. Now, cheer up!"
Carli Talbott's impatient, pouting reporter Penelope seems constantly in an amusing state of huffiness, which is punctuated, in the performer's engaging portrayal, by Talbott's forceful, stiff movements. Assuming an on-stage role, designer Paxton is equally appealing as Donna Fay, a young woman planning a railway escape from her relationship with Nicholas Charles Waldbusser's manly, patient Jerry Cummings. Don Hazen continues his track record for being a dependably consistent actor in his role as Mr. Fairfax, a man intent on studying the station's books. Lisa Kahn, who plays the town's happy and humorous mail carrier Maggie, has the unpleasant task of delivering the play's most annoying line, when the group comes up with a plan to spread Christmas spirit through gifts and Maggie excitedly shouts, "And I could help deliver 'em!" (Um ... duh.) But Kahn's presence is nevertheless pleasing, as is Sara Laufer's as Deborah, a woman searching the station for her mentally-challenged father.
Given Weigandt's beautifully charming set design for the train depot - a location painted in deep red and green on cream and brown - and a presentation boasting the right amount of sweet and (humorously) sour, I'd board The Christmas Express again for another ride. And even though I think it's being presented several weeks too early, I can honestly say that Playcrafters' production has already stoked the fires of my Christmas spirit. Bring on the holidays!
The Christmas Express runs at the Playcrafters Barn Theatre (4950 35th Avenue, Moline) through November 18, and more information and tickets are available by calling (309)762-0330 or visiting Playcrafters.com.