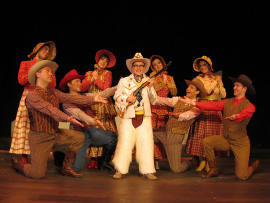 There's magic in the Circa '21 Dinner Playhouse's A Christmas Story: The Musical, most notably in the fantasy sequences and any scene involving the children's chorus. Adapted from the much-loved 1983 movie, this stage musical is familiar without being an exact copy, making it a fresh take on the holiday-tradition entertainment. Plus, the musical numbers, by composers and lyricists Benj Pasek and Justin Paul, add a lot of fun to an already laugh-worthy tale.
Directed here by Tony Parise, with a book by Joseph Robinette, A Christmas Story centers on Ben Klocke's Ralphie and his quest for "an official Red Ryder, carbine action, 200-shot, range-model air rifle." In the days leading up to Christmas, Ralphie tries asking his parents for it, sending advertisements to his mother, writing a theme paper on the toy, and requesting it from a disgruntled Santa, all the while garnering the same response to his request: "You'll shoot your eye out." And Klocke is truly the star of this show. His charming Ralphie, though not refined, is easy to sympathize with and to root for in his quest for that air rifle. The young actor did seem obviously aware that he was playing for an audience during Friday's performance, partly because Parise has him mugging to the crowd when appropriate. That, however, led to much of the charm in his pretense-free portrayal; his awareness of the audience seemed to connect him to us, and his youthful joy and innocence connected us to him.
Playing Jean, the (visible) narrator of his childhood stories, Steve Einspahr matches the wonder and purity in Klocke's Ralphie, lending the role a mesmerizing air of nostalgia. And with Parise also serving as the show's choreographer, A Christmas Story's director makes some beautiful choices when pairing the two on stage, particularly in the "Red Ryder Carbine-Action BB Gun" number. As Ralphie tells of his dream Christmas present, he imagines himself using it against various enemies, waving the boxed rifle around in graceful arcs and movements. Meanwhile, Einspahr, standing just behind Klocke, mimics his movements, shadowing him in this fond memory, and creating imagery that's sentimental yet stirring.
Though many come close, the performers in Circa '21's production are not all giving exact character replicas of their film personas. The furthest from its screen equivalent is Kate Turner's portrayal of Ralphie's mother, though likely not because Turner is incapable of playing her the way Melinda Dillon immortalized the matron in 1983. Here, the character is written with a more doting nature and is absent of dry humor. But that's okay, as the musical's creators use her to add sentimental touches to the tale, which Turner effectively delivers in the songs "What a Mother Does," which is about Mom taking care of her family before herself, and "Just Like That," a touching number she shares with Ralphie after he beats up Chuckie Dixon's Scut Farkus. (Dixon and James Baker, who plays Grover Dill, welcomely mimic the movie bullies to a "T.")
Despite being deeply emotional at times, this musical is more often hilarious. Tom Walljasper is at his funniest when his "Old Man," Ralphie's father, is spouting off long streams of profanity without actually using profanity, and also clearly relishes the humor in his delivery of "A Major Award," a song about that well-known leg lamp. Bonner Church shines as Ralphie's teacher Miss Shields, particularly when part of his daydreams, belting and tapping her way through the showstopping number "You'll Shoot Your Eye Out." (In this song, she also dons one of costume designer Gregory Hiatt's most stunning ensembles, which features a flapper-style fur coat.) Marc Ciemiewicz's (bad) Santa delivers a delicious, memorable "Up on Santa's Lap." And as Ralphie's brother Randy, Gage McCalester sometimes steals scenes with his adorable likeness to the film's Randy, though with more cheek-pinch-worthy sweetness.
While set designer Susan D. Holgersson's creation for Ralphie's home is remarkable in the way it depicts the socioeconomic status of his family in the 1940s, I do think the outdoor scenery, featuring nothing but low piles of snow, seems too small in scale for this musical's scope. Friday's performance was also riddled with tardy cues, mostly whenever Einspahr would enter to interject with narration, which negatively impacted the pacing and flow.
I have no doubt, however, that this issue will improve with every performance, and A Christmas Story: The Musical is already a true delight, with much of the credit going to the children's ensemble. Circa '21's musical is at its most enjoyable when the kids deliver the bullied-kids anthem "When You're a Wimp," and also when they're acting out Ralphie's daydreams dressed as can-can girls, gangsters, and flappers. Together with Klocke and McCalester, they provide the imagination and merriment that make this production one not to be missed.
A Christmas Story: The Musical runs at the Circa '21 Dinner Playhouse (1828 Third Avenue, Rock Island) through January 4, and more information and tickets are available by calling (309)786-7733 extension 2 or visiting Circa21.com.