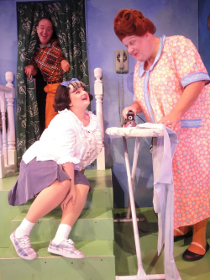 The Reader's chief theatre reviewer, Thom White, saw and wrote about 52 area stage productions in 2011. I saw 39 and reviewed 12. Obviously, during our second-annual breakfast chat on the Year in Theatre, there was a bit to talk about.
Let's start by discussing [the] Circa '21 [Dinner Playhouse], which went with a theme of musicals all set in the '50s and '60s this past season. Did that work for you?
I thought it was kind of risky, because if you see this '50s theme in one show, and then you have to see a '50s-themed show again, and again, it could've been too much. But some of the shows were really spectacular. And because there's at least two months between new openings at Circa, it didn't feel like, "Oh, it's the '50s again."
Two of the Circa shows I saw this year were All Shook Up and Hairspray, both of which were such a good time, and shared a lot of the same performers. You had Heather Beck, and Deidra Grace, and Tom Walljasper, and Jennifer Weingarten ... . Jennifer Weingarten who I'm in love with now, by the way.
Me, too. [Laughs.]
That was the third different production of All Shook Up I'd seen, and I'm still crazy about it, even though I'm not a huge Elvis fan. You aren't either, right?
No, I don't really care for Elvis. I like some of his music. But I didn't mind it at all in All Shook Up. That show was just so much fun, and I thought the production value at Circa with that one - especially the set and lights when they visit the amusement park - was visually stunning. They just really sold that show.
With your Hairspray review, you told me recently that you maybe didn't give the show as much credit as you should have.
Well, what happened was that when I walked in the door, I had a few staff members say, "This is the best thing Circa's ever done." They weren't saying, "This is the best thing I've ever seen at Circa"; it was, "This is the best thing Circa's ever done." But I still remember amazing productions from the late '80s and early '90s. They did a production of Big River that I remember vividly it was so magical. So "the best thing Circa's ever done"? That's a tall order.
And so as much as I try to go into a show without expectations, I could not leave that expectation behind. I was expecting this stunning, perfect production, and instead I saw all these cracks in it that I might have overlooked before, or glossed over ... . Things that wouldn't have been as relevant if I hadn't been told, "This is the best thing Circa's ever done!"
So my review, I think, came off as too much of my pointing at the cracks. And I specifically regret the line "While the entire show doesn't deserve the standing ovation it was given, the final number does." That, I think, was really too harsh. I personally have very high standards for standing ovations. They're overused, and there are too many nights when I sit in the theatre and the audience is on their feet at the end and I think, "No, there's no way they think this deserves a standing O." But with that line, I think it was offensive to the audience that gave Hairspray the standing ovation.
As least you mentioned that the show's last number, "You Can't Stop the Beat," deserved one, because that number was insane. It was off-the-charts good.
Absolutely. They really did an exceptional job on the choreography and the energy and the costumes ... . It was fantastic.
Circa also produced the '50s and '60s revue The Marvelous Wonderettes. What are your general thoughts on jukebox musicals?
Those, I think, can be a tough sell, because if you don't like the music included in the jukebox, you're probably not gonna like the show. Like, "Well, they're doing a great job performing, but I still don't care for the music." With The Marvelous Wonderettes, though, I did. It was all these songs I would have wanted to hear from that era. It was obvious that the show had a cobbled-together plot that was just an excuse to do these songs, but it was forgivable because the show was fun.
How about Happy Days: A New Musical?
I really wanted to like Happy Days. I remember watching the show when I was young, and I like the idea of turning familiar shows into musicals, but I thought that the script for that one ... . I just don't think the musical was written with the feel of the sitcom. I know it was written by people behind the sitcom, and I still think it was a noble effort to try it, but it was just campy in the wrong way. I mean, Mrs. Cunningham's tap number was ridiculous.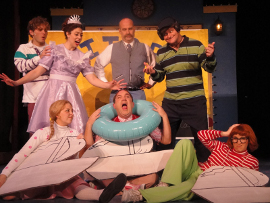 [Laughs.] In your review, you mentioned - and I agree with you completely - that the Fonz's songs were all either generic, musical-comedy ballads or up-tempo numbers. Which would've been fine, but they didn't sound like him.
No. I liked the character of the Fonz in the musical, but he was not Arthur Fonzarelli. I think the cast and the crew and the director did their best. The problem was the material.
Circa also produces three kids' shows every year, and you saw all of them in 2011.
You know, someone was telling me the other day that they think adults shouldn't be reviewing children's shows, because adults aren't the target audience. And I agree and disagree with that. Of course, the target audience is the kids. But if the adults can have just as good of a time as their kids, that's way better than if you're just enduring it. And Alexander [& the Terrible, Horrible, No Good, Very Bad Day] was a great show, regardless of age. A great show. Just so exuberant. The actor playing Alexander [Mark Ciemiwicz] was so endearing, and so adorable.
And Junie B. [in Jingle Bells, Batman Smells] may be my favorite children's show of the year. The actors seemed to be having lots of fun being brats. And I don't know if they're in the script, or if it was [director] Kimberly Furness' idea, but there were some hilarious pop-culture references. I took Madison [the eight-year-old daughter of Thom's partner Matt] to see the show, and I laughed out loud, I think, more than she did. I mean, a Styx reference? What kid listens to Styx? That was fantastic.
With kids' shows, I think you go into them with a different mindset. You allow for more silliness and more romping, raucous fun, and I think that's what helps make them more fun. Maybe that silliness should happen with more adult shows.
We were talking about how often we saw the same actors at Circa this year, so let's talk about the performers at the Clinton Showboat. It seemed like you pretty much wanted to propose to them.
[Laughs.] Exactly! And now that it's legal in Iowa ... ! [Laughs.] No, I was just really impressed with that ensemble of actors ... . They had a great summer. That's what I love about the Showboat, is getting to see the same actors doing so many different roles in succession. You can really get an idea of their range - and if they have it or not. Of course, we often see the same actors over and over here in the Quad Cities, but their shows may be months apart. The Showboat is like a microcosm - a quick little glimpse at an actor's range over two months.
And this summer, the strength of these actors, I think, was in their ability to just let go. Instead of being, like, "I really want people to take me seriously," they were, "Let's just let loose." They were having fun, and we were having fun watching them, and it was just fantastic.
One show I really regretted missing was High Fidelity, because I love that movie and I've been so curious about the musical.
I haven't seen the movie, but that musical is just a great blend of silly and serious, and there's a really nice range of music. All the songs are original, but each song is based on the style of an existing rock star. There was a Joan Jett-ish song, in particular, that I really liked.
I also remember you adoring The Drowsy Chaperone, which I actually saw, and loved, at [Quad City] Music Guild this summer, and which I saw twice at St. Ambrose [University] last fall. That show really works for me.
Me, too.
Is that one your favorite from the summer at Clinton?
I think so. But that's a tough question, because the productions were all so good at the Showboat this year that it's hard to pick a favorite. Altar Boyz was fantastic. High Fidelity was just stellar. But I think Drowsy Chaperone wins by a nose just for its "nudge-nudge, wink-wink" celebration of bad, B-movie kind of material. Or B-theatre, I guess you'd say? It's just such a great show. And the actor in the lead, who played Man in Chair [Brian LeTraunik], played it in such a touching way. He was just in love with this terrible musical that he was telling us about. It was very sweet, in contrast with the silly craziness going on on-stage.
At Clinton, you also got to see Annie again. Or rather, had to see Annie again.
[Laughs.] Yes. I'm not generally a fan. But I enjoyed that production.
So what it is like for you when you have to review these shows that, by nature, you just don't like? Is it really hard to get motivated to see them?
Kind of. I always want to go with a positive attitude, so I try to avoid any expectations about any specific shows. I really do think to myself, "I'm going to this production, and I'm going to enjoy it," and from there, things go up or down.
But it is harder with shows like Joseph [& the Amazing Technicolor Dreamcoat] or Annie, where I'm just so tired of them. So with those shows, I really have to think, "I'm going to ignore the fact that I'm tired of the show, and really focus on the individual performances, whether or not I really want to hear 'The sun will come out tomorrow' for a 15th time."
[Laughs.] On the opposite end of the spectrum - and scooting away from Clinton - Countryside Community Theatre staged Gypsy this summer, which I think you've called your favorite musical-theatre classic.
Yeah.
Do you get nervous about seeing shows that you really, really love? Is there a kind of "Don't mess up my show!" feeling there, or are you just excited?
It's the opposite of going to see, like, an Annie. I just think, "I'm gonna see my favorite show!"
I really liked Countryside's Gypsy, as I know you did, and I had never seen it in any form. I knew a lot of the songs, of course, but I'd never seen the stage version, or the movie, so it was all kind of fresh for me.
It's long ... .
It is long. But it's so rich and meaty that it kind of needs three hours.
And it has such strong female roles. One who's strong from beginning to end - Mama Rose - and then Louise, who grows in strength. I think that's what's so fantastic about the show, is watching Louise grow in the midst of this monster of a woman, but a monster who's not hated. You know, you're cringing at some of the things she does, but you still kind of like her. It is Toddlers & Tiaras, you know? [Laughs.]
[Laughs.] Yes. In extremis. I thought Christina Myatt did a hell of a good job as Mama Rose -
Absolutely.
- and I loved Kelsey Nagel, too. I mean, she started out so in-character as Louise - so soft-spoken and shy - that I was like, "Is she gonna be able to pull this role off?" Because Louise really has to step up and take charge by the end. But Kelsey absolutely nailed it.
I thought the same thing. I was totally buying her timidity and thought, "She's never gonna be able to do this." And she did.
---
Where on the "love it/hate it" scale do you fall on Countryside's other show this summer, The Wizard of Oz?
I don't mind stagings of The Wizard of Oz. I mean, I've seen the movie umpteen times; it is a family tradition to watch it every year. But I think it's nice to see it on stage, because of the nostalgia, and because you get some of that sense of childhood magic by seeing it in a different way.
What's unfortunate about the stage version, though, is that there's some silliness added that kind of taints the ... I don't know, the purity of it? Or your memories of it? Just a little bit. The stage version isn't bad, but it does change the tone of the material in some ways.
Did Countryside keep the infamous "Jitterbug" number?
They did. And actually, that's one of my favorite numbers. It's not in the movie, but I just love that song! And Countryside's cast had so much fun with it; that was the best dance number in the production. I think what happened with that number was there were people cast in the show who couldn't necessarily dance well, and so [choreographer] Christina Myatt took these somewhat simple steps and made them look like they were a little more difficult, and a little more interesting. And the cast members seemed to have a blast with that.
Well, one of the first things you're taught in a dance number is that it's all about the face. Audiences really aren't looking at your feet so much; they're looking at your smile. So even if you're not having fun, look like you're having fun, and it'll sell.
"Smile, baby! " [Laughs.]
[Laughs.] How about New Era Dinner Theatre's Once Upon a Mattress? Do you like that show in general?
I do! That one's probably becoming "classical" in terms of musical theatre, right?
I think so. It's been around for about 50 years.
I adore that show. It's so sweet, and so happy and cheery ... except for the out-of-wedlock pregnancy, of course. [Laughs.] And the songs are so fantastically singable. There are several soundtracks that I listen to over and over and over, and that is one of them.
But I'd never seen a show by that theatre group before. I didn't know what to expect, and it was in a church, which I thought was odd. For a moment, I was like, "Oh boy, this might not go well ... !" But it really was good!
I saw a production of Guys & Dolls that New Era did two years ago, which was absolutely delightful, and it looked like everyone was having a ball being there - on stage and in the audience.
So did this one.
So while you were reviewing all these shows this summer, I was reviewing productions at the Timber Lake Playhouse. I know trips there don't really work out with your schedule, but you've got to get out to Timber Lake at some point.
I have to say that I'm jealous, because I did read all your reviews of Timber Lake, and almost all of them you really liked.
I did. And I'd never seen Sweet Charity before. What a great time! I mean, I hate the script, but that's Neil Simon grating on my nerves. But the music is so good. And seriously, Timber Lake's "Rich Man's Frug"? Most awesome dance number I've ever seen in my life. It was just unbelievable.
I'm partial to "Rhythm of Life." I didn't see Timber Lake's show, but I love that song.
Yeah, "Rhythm of Life" was awesome. And "Big Spender." I went a little apeshit over that show, actually. And like with your experience at Clinton, Timber Lake had this ridiculously talented ensemble that kind of blew me away every two weeks. Sunset Boulevard was amazing. Did you see the photos of that set?
Yes . Incredible.
The Spitfire Grill is this beautiful book musical that I love, and their production of it was excellent. Red Herring was a farcical comedy, a genre I generally don't care for, and it was so well done. Derek Bertelsen directed the hell out of that show. The only one I didn't like, in fact, was Children of Eden.
And you got comments about it!
[Laughs.] That weekend, as I recall, we were both kind of battling for who got the most comments on his review.
Negative comments. Yeah.
So let's talk about negative comments. Because for a couple of days there, after raving about four Timber Lake shows in a row, all of a sudden I was The Enemy in some people's eyes, and obviously didn't want Timber Lake, as an organization, to succeed. [Laughs.] I never heard any complaints from anyone at Timber Lake about that review, but some of their fans sure weren't happy.
What I loved - well, "loved" - in those Children of Eden comments was the one that was like, "Didn't you go to Sunday school? If you can't say something nice, don't say anything at all." And then that person proceeded to say nothing but mean things about you.
What was interesting is that those comments were attacks that could have been tempered with, "I disagree with you, but I liked the show because of this ... ." In my opinion, that would've been okay. I don't mind comments where people disagree with me.
Of course. That's part of what the comments section is for. "What do you think?"
But when the comments become personal, that's when it becomes tough to take. My review is an opinion. An obviously, some people don't get that, and take it too personally.
You got comments yourself that weekend, on your review of Genesius Guild's The Wasps. But those weren't comments about you being mean about a production, right? Those were about something that was heard - or misheard - during the production.
Yeah. I was kind of blindsided by the comments on that one. Someone talked to me a few weeks ago and said that some Genesius Guild people were still talking about it.
Do you feel compelled to respond to Web-site comments? I know you generally don't, but do you feel like you want to explain yourself when people write in? Are you cool with letting things stand?
My first reaction when I read a comment is that I want to respond. And then I have a rule that I need to stop and breathe and wait it out. You know, it would be too easy to get argumentative in the comments section, so I just try to avoid it.
[Laughs.] I do have my own blog, and there have been a couple times where I was just infuriated by a particular comment, and went to my personal blog - which I sort of treat as my journal - just to type out my thoughts. Because I need to get them out. I don't necessarily have to say things to a specific person, but I can't just leave something unsaid.
So with a couple of the comments, I wrote out long "I disagree with this point and this point ... " responses in my blog. Not in an angry way, but just as a way to explain myself. Forgetting that other people can read it. [Laughs.] And then I found out that some those involved actually did read my blog.
[Laughs.] Did you get upset responses to your blog comments, then?
No. I actually got a personal apology on one of them.
Well, there are some class acts out there. I thought the casts for the Genesius Guild shows I saw this summer were fantastic overall. I really enjoyed James Alt. He played the Fool in King Lear and Grumio in [The] Taming of the Shrew, and I think you saw him in The Wasps.
Oh, yeah!
But there were a lot of performances I adored. Angela Rathman and Jim Loula in Taming, and Lauren VanSpeybroeck in Lear ... and Pat Flaherty as Lear, of course. God. That was insane. It was nice being able to split reviewing duties with you at Genesius Guild this summer. What are your thoughts on reviewing classical theatre these days? Last year, when you started writing for us, you were still getting your feet wet.
To be honest, I was thankful that you reviewed the Shakespeares this summer. Because I've heard from some Genesius Guilders that feel a reviewer should be fully knowledgeable about Shakespeare in order to write about a Shakespeare show. I want to be clear that it's just a few members who've said that to me; I don't think that's the overall Genesius Guild attitude at all. But I only studied Shakespeare in high school. And that was, you know, a few years ago. [Laughs.] So I did appreciate you taking on the Shakespeares.
In general, though, I'm feeling better about it [reviewing classical theatre]. And I always read a synopsis of the show beforehand, so if I'm having trouble understanding the lines specifically, at least I know what's going on. And then if I understand the lines, all the better.
On the subject of classical theatre, let's talk about the Prenzie Players. I thought Adam Overberg and Stephanie Moeller, as Romeo & Juliet, were phenomenal. Those were two of the smartest interpretations of those roles I'd ever seen.
Yeah. It wasn't the typical presentation of "two star-crossed lovers." The way I interpreted it as I was watching - whether or not it was meant that way - was that Juliet was trying to get back at her parents by seeing Romeo, and was not fully enamored with him until later on. He was in love with her, but she was kind of using him, it seemed. And I thought that was brilliant, whether intended or not.
But I remember the show being really long. I was a little uncomfortable in that chair. [Laughs.]
[Laughs.] It was long. For some reason, I thought that particular Shakespeare was zippier than it actually is. Tartuffe, though, was a tight two hours.
You know, I really like Molière. I was in a production of The Miser in Chicago a few years ago, which was when I was first introduced to him, and I just really jibed with his humor. But I forget I like Molière until I see his work again. [Laughs.] And Tartuffe was just so much fun. So much fun.
Indeed. I loved Andy Curtiss as Madame Pernelle.
That could have gone really wrong. It could've established a really ridiculous tone for the show from the start. But I loved the way he played the role somewhat straight. There was no acknowledgment of "I'm a man playing a woman." It was, "I am a woman."
Right. He was a fully formed, prissy, schoolmarm-y character. And funny little sounds kept popping out of him.
Those little gasps - "Oh!" - got such laughs from the audience.
And I love that the Prenzies take big chances like that. Sometimes what they go for doesn't work, but most of the time it's incredibly inspired.
Yes.
And speaking of risk-takers, let's move on to the District Theatre-slash-Harrison Hilltop. Let's start with Sweeney Todd, because as I recall, it took you a while to get into the spirit of seeing such a grand musical in that intimate Hilltop space.
I respect that the District Theatre continues to say that "a show should be bigger than its space." But I think that should be interpreted more philosophically or emotionally. It shouldn't be, "Let's crowd a bunch of people into a space." I don't think that's what they do all the time, but some of their shows have just felt crowded. And I don't think Sweeney is an intimate show. I like the idea of being intimate with Mrs. Lovett and Sweeney. So to speak. [Laughs.] That intensifies the thrill. But as a whole, the show might have literally been too big for the space.
That being said, I still think there were some fantastic performances in it. The actor who played Tobias [C.J. Langdon] was fascinating. I'd like to see more of him. He totally sold that character's descent into madness. And I loved Rachelle Walljasper's take on Mrs. Lovett. In most productions, Mrs. Lovett actually seems to be in control of everything, and kind of plays Sweeney as her puppet. In this version, though, she just seemed so enamored of him that the idea to bake people into meat pies felt like her way to hold on to Sweeney. It wasn't about trying to build her business. That choice was so unexpected, and really kind of beautiful.
So what do you think of the District Theatre's relocation from the Harrison Hilltop space to the old Green Room space? Do you like seeing shows there again?
I do, although I really was impressed with what they were doing with the Harrison Hilltop. I think the first thing I saw there was Streetcar Named Desire, and I still think that was perhaps the best use of that space. But I liked that they were adding stadium seating, and I think they were moving in a great direction ... even though it was still a little awkward. I always made sure I used the restroom before getting there, because I did not want to walk across the stage to get to the bathroom. [Laughs.]
But I love the [former] Green Room space. I still think the angle of the seating is too severe - the way you're looking down at the performance. But I love that there's that balcony area, and that the staircases are right there, which makes the entrances and exits a lot more fluid.
I agree. The only District show I've seen, so far, in the new space is Chicago, but I thought they used the different levels and the staircases beautifully. And I was talking about Sweet Charity's dance numbers earlier, and considering what you wrote in your review, is Chicago's "Cell Block Tango" your favorite musical number of the year?
One of the top ones, for sure, right up there with Hairspray's "You Can't Stop the Beat." "Cell Block" is one of my all-time favorite Broadway-musical songs anyway. I like how it tells a story, and it's got those percussive vocals in the background ... . It's just a great song, and I thought the District did a fantastic job.
In general, I also didn't think Chicago felt too crowded at all. There were sometimes a lot of people on that stage, yet the staging didn't feel constricted.
No. It was one of those shows where the "bigger than the space" mentality worked perfectly. It wasn't crowded in the space. It was just a big show.
It did feel expansive, and a lot of that came from the performances, of course. Kelly Lohrenz was amazing ... .
And Christina Myatt. Again.
Yes. And I was floored by Tristan [Tapscott]. I'm not sure I've ever heard such a strong falsetto. I mean, that role [reporter Mary Sunshine] was all falsetto, and note-perfect. I couldn't believe what he did in that thing.
Oh yeah, he sounded great. And if it's fair to say, he did a lot of falsetto [as Jesus] in Jesus Christ Superstar, and I don't think was on-pitch once. You know, I hated to say that in the review, but I had to, because it was so jarring. So then as soon as he opened his mouth in Chicago and I realized he was going to do it all falsetto, I cringed. But then, you're right, every single note was right on. It was very impressive.
---
But beyond the big musicals, the District Theatre is also still doing smaller shows: I Love You, You're Perfect, Now Change; The Last Five Years ... .
I'm glad that not every show is this grand, bigger-than-life production. Because that is an intimate space, and so it's nice, every few shows, to enjoy the intimacy of the space.
Let's talk a bit about Same Time, Next Year, because it seemed like that was a production where your personal morals really affected your enjoyment.
Absolutely. I'm not a prude. You know, one of my favorite shows is Dexter, where you're applauding a serial killer. But there's one thing that I cannot look past, and that's marital infidelity. It's one thing when relationships break up. But when you've gotten to the point of marriage, and you have stood before witnesses and said, "I have committed myself for life," I personally take that very seriously. And then this show was all about two married people who are getting together every year to cheat on their spouses, and I think we're supposed to find them charming. And I just couldn't. The performances were fine, but that show ... . Ugh.
[Laughs.] Frost/Nixon, though, you seemed happily surprised by.
Yes!
So you hadn't seen the movie?
No. That was one on our Netflix list, and I kept moving it down because I feared that it was going to be boring. But seeing the play, I was like, "Oh my gosh, what have I been missing?!" And in fact, my partner Matt went with me to see that, and we got home, and he was like, "I want to watch the movie right now!" And I had to say, "No, I need to write my review before I see the movie."
I thought Adam [Lewis] was terrific as David Frost, and I was blown away by Kevin Grastorf. I mean, Richard Nixon could very easily be played as a caricature, and there was nothing phony about that performance. He didn't necessarily look like him or sound like him, but even very early in the show, it felt like he completely nailed that role.
As I think I said in my review, I didn't know if the voice was accurate or not, and maybe it helped that I didn't know. But I've heard Nixon enough that I knew his [Grastorf's] accent was somewhat like Nixon's, if not totally dead-on. And you're right. The spirit of Nixon was present.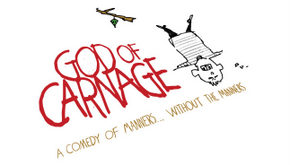 New Ground Theatre's God of Carnage was another script you weren't previously familiar with that, it seemed, you really liked a lot.
Yes . I find it funny seeing people at their worst, in some aspects. I just think people getting unreasonably angry can be really funny. And this play actually celebrates people doing ugly things, but also acknowledges the funniness of it. There isn't a lot to the show, but I think it's captivating from beginning to end.
I like the basic setup: Four people get together to talk about their grade-school kids, and end up acting like toddlers. And I loved Melissa Anderson Clark in that production. That woman has such a great body for comedy ... which probably sounds worse than I mean it to. [Laughs.] She was just all legs and arms in that show, and the more drunk she got, the happier I was.
And I think she consistently comes across as sincere in her roles. Believable.
But you weren't a big fan of the other scripts at New Ground this year.
Not really. I sometimes hear people saying that the reviewers here - or maybe it's just me - are out to get people. That they just want to be mean and stuff. But I feel really badly when I have to give a bad review. All I can think of is, "Monday morning, this person is gonna see this, and ... !" Ugh.
And with Under the Radar at New Ground, it was even worse, because it was written locally by Chris Jansen, whom I like, and whom I consider a friend. And I wanted to like it. And I heard some of the actors took the review very personally, because their own stories were part of this show [about the Quad Cities' gay and lesbian scene in the 1970s and 1980s]. So I felt bad, but the play needed some reworking to sound more like the way people actually speak.
But you did say that Under the Radar had really interesting multimedia elements.
That one did benefit from the multimedia, because they showed actual clips from the '70s - from newscasts and interviews and whatnot. And I think that really helped elevate the show by adding more context. I was just enraptured by the clips, and think they were put in the right places to break up scenes.
[Laughs.] A friend of mine told me that the cast used one of the lines in my review as a rallying cry each night. I didn't want to focus too much on the acting in the review, because I wanted to get to the heart of what the show was about, and say something positive about the multimedia. So I just wrote, "The acting is adequate at best." And so the rallying cry for the cast members, I hear, became, "Let's do a great job tonight. No. Let's be adequate at best!" [Laughs.] Which is kind of ... flattering, maybe? I don't know.
[Laughs.] Yeah, I don't know either. You might as well take it as a compliment.
[Laughs.] That's what I think.
With New Ground's And They Dance Real Slow in Jackson, though, it seemed like while you didn't care for the script, you really liked the performances.
And the staging. I especially liked how director Patti Flaherty handled the main character when she's being bullied in her mind, and is in that dramatic spotlight ... . I really liked how those scenes were staged. Very much so. And I thought some of the actors did a great job of differentiating their roles when they were playing so many characters. And their ages. The script isn't one of my favorites, but I thought it was very touching, and whenever a play hits an emotional chord, there's something very good about it. It's worth seeing.
I've actually got a soft spot for that script, because that's a play that I did as a student at Augustana College. So let's talk a bit about Augie. To start with: Can we talk about the freakin' swimming pool in Metamorphoses?!
Oh my gosh.
That show was thrilling. One of the most enjoyable times I've had at the theatre all year. Easy. And as much as I loved the production overall, it was because of the pool. In your review, I remember you saying that you thought the pool was going to be ... .
A hindrance.
Yes.
And it wasn't. It was necessary. It really ... it just made that show, and brought all of its mythological themes together. I loved how the director [Saffron Henke] used the water in ways where it wasn't always meant to be water. Sometimes the characters were drowning in emotion. It was just so exquisite.
And the pool really seemed to free the students as actors. Talk about abandon. When you're throwing people headfirst into a pool, or screaming while being repeatedly submerged, or using the water to heighten the eroticism ... . There was just some powerful, raw theatre going on in that show.
You know, it's rare when I go to a show a second time - just because of how much theatre I already see - but that was one where I did. I paid for tickets and went again. And I kind of wished I hadn't. [Laughs.] Not that it was bad or anything. But the second time around, I could kind of see the cracks in the production, and didn't find it as endearing. It was still good. But I was so taken with the first performance that after being familiar with the show on a second viewing, the experience didn't match up.
I'm sorry I didn't get to see it again. I was actually really sad to see the pool gone for Augie's Our Town. I got there and was like, "Aw, where's the pool ... ?" [Laughs.] But I had a ball at the show regardless. It's one of my all-time favorites. And you liked Our Town, too - although, as I recall, that's a play that can be troublesome for you?
Yeah, a little. Mostly because it's like, "Oh, another theatre is doing Our Town? Ugh. Enough."
But what I appreciate especially about Augustana is the way they use the stage. Whether they use projections or lights to delineate different areas, or, in that case, I think they used gaffer's tape to mark off certain areas. I rarely like pantomiming props and doors and whatnot, but the way they did it at Augustana, I didn't even notice they were pantomiming anything. It just flowed. I liked the whole concept of what they were doing with that show.
And then, two months ago, the school did Real Girls Can't Win! And you weren't a big fan.
Now that I'm in my second year [of reviewing for the Reader], I kind of know what to expect from each theatre. Like, I know what standard to expect. And Real Girls Can't Win!, I just thought, did not live up to the Augustana College standard, when they've been doing respectable, strong scripts like Metamorphoses or Our Town. It seemed like this was written for college students, by college students. Which maybe is appropriate ... .
Sure. But when you're used to seeing Our Town or Metamorphoses or The Seagull ... .
The Seagull - yes. Exactly. So relative to the other things they've done, Real Girls Can't Win! was just preachy, and its themes weren't that mature, and it was pretentious. Because the issues it raised, like how important it was for these girls to be popular, were treated like the most important things in the world. And I'm thinking, "These are not problems. In a few years, you'll know about problems." [Laughs.]
[Laughs.] Do you get to see any theatre at St. Ambrose University? I know we don't ask you to review the productions because of their one-weekend runs ... .
I have seen shows at St. Ambrose. But again, as much as I like theatre - and with Matt and the girls [Matt's daughter Hannah is 12] and my day job and everything - I find it hard to find time for shows I'm not reviewing.
Well, life does tend to get in the way of theatre-going. [Laughs.] But I wish you could have seen Dakota Jones [& the Search for Atlantis] with the girls. What a strong, delightful kids' show that was. I wasn't a big fan of A New Brain at Ambrose, though. And while I really admired the performances and thought Daniel Rairdin-Hale's direction was beautiful, I had major problems with Columbinus - the show that was inspired by the Columbine massacre. I wasn't comfortable with it. I thought it came close to glorifying the killers, and was empathetic in the wrong way.
Which would've been what those two wanted.
Maybe. But Dakota Jones was just sensational. And seriously, between Ambrose and Circa and [Davenport] Junior Theatre, which did this incredibly entertaining, one-act version of Midsummer Night's Dream this year, I really do have an embarrassing amount of fun at kids' shows around here.
I wonder if that's because, as adults, we have so much stress and real-world blech that it's kind of nice to go for the escapism. To touch base with your inner child, and just let go and be free and have fun.
But honestly? I always get a little nervous when I go to a Circa kids' show alone. Like people around me are thinking, "What's this adult guy doing here?!?" [Laughs.] So while usually, at other shows, I try to hide the fact that I'm taking notes, I try to be very obvious about it at Circa. I make a big deal about spreading out my notebook and arranging things so people know, "Oh, he must doing something other than watching kids ... !"
[Laughs.] I hear you. But back to college theatre. I didn't get to Scott Community College to see War of the Worlds this fall, and I really wanted to. You had fun with that one, right?
I did. At the risk of being offensive, and I don't mean to be, Scott Community College is one place where I have to go in with the expectation that it's going to be a community-college experience. That these are students who are getting an opportunity to act but don't necessarily get the chance to do it a lot. And so the level of presentation is going to be different from many other theatres. But I like their shows, because once you take away the expectation of greatness, and just enjoy the beauty of people getting to try theatre out, there's something pure about the joy on that stage that really is endearing.
I agree. Because you get to watch students learning the basic tenets of theatre - of projection, and character, and expressing the feeling behind the words you're saying. This is stuff that a lot of people take for granted, but you have to learn somewhere, and this is really where you're seeing it happen. It's exciting to watch students learn in the theatre, and really exciting when you sense the fun they're having while learning.
Unfortunately, I didn't get to see Scott's Agnes of God in the spring. I felt bad about not being able to see that one, especially since I heard the director [Steve Flanigin] was really proud of it.
Yeah, that one popped on our radar really late, and it fell on a weekend where you were already seeing, I think, three shows ... .
Yeah. I just couldn't fit it in. But I heard it was great! [Laughs.]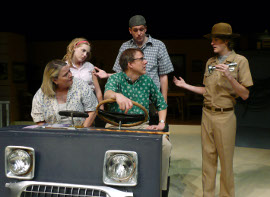 I wish you had been able to see Leaving Iowa at [the] Playcrafters [Barn Theatre], which was a collaboration with Black Hawk College. Because the Black Hawk students in that were fantastic - every bit as good as the Playcrafters veterans. And the lead? Dana Moss-Peterson? Boy, is he someone to keep an eye on. He's really strong. But tell me about the Playcrafters shows you did see.
I do recall some just really standing out. Lend Me a Tenor, I thought, was really quite amusing. John VanDeWoestyne was fantastic. Diane Greenwood is really good in the right roles - really good in the right roles - and that was one where I thought she did a great job. Rehearsal for Murder was kind of like a farce, but like a touching farce. You hear the title and think it's going to be one of those shows, but it was lovely.
[Laughs.] I do have kind of a funny story about Playcrafters, though. About Vising Mr. Green, which I had not seen before. Matt and I had Madison that weekend, and I had to review the show, and I didn't feel like going alone, and Matt kind of wanted to go, and so he called the theatre and asked, "Is this appropriate for a seven-year-old?" And they said, "Oh, yes." So we took Madison. And it was not appropriate for a seven-year-old. [Laughs.]
Over the last few years, we have not spoken about being gay, or being a gay couple, in front of the girls. We just think that if we talk about it, then it becomes something "different," and we'd rather have them growing up thinking that with Matt and I, it's just what it is. That it's nothing "different." Hannah had figured things out by then, but Madison ... .
Well, this play is all about this guy who's gay and coming out and having to deal with that. And so the whole car ride home had Madison going, "What is 'gay'?" And "Oh, so it's okay to be gay!" And for weeks after, if there was a gay couple on any TV show, she'd be, "They're gay!" [Laughs.]
So we probably should not have taken her to it, but it ended up being kind of a funny story. And a learning experience.
[Laughs.] And there was no permanent damage, apparently.
No, there's not. [Laughs.]
---
I didn't get to see Playcrafters' A Lesson Before Dying this summer, which I really wanted to ... .
Oh, that one was fantastic. Very stirring. And that was the one ... . [Laughs.] When I reviewed that show, that was the one where you pointed out that I had a tendency, in my writing, to say, "It moved me to tears." You said that readers were going to think I cry easily. Which I do. [Laughs.] But in that one, I wrote "It moved me to tears" three times in my original review that I sent to you.
[Laughs.] Well, one of your original lines, I think, was "It's not easy to get me to cry at the theatre ... ." And I was like, "Are you kidding? You talk about crying every other week! It's totally easy!"
[Laughs.] So that was my Lesson Before Crying.
Ah-h-h-h ... ! See what you did there?
Yes, I do. [Laughs.]
What was your year at [the] Richmond Hill [Barn Theatre] like?
They had some really good shows. Like Escanaba in da Moonlight. I'm not one for crass, lowbrow humor, but that thing was a raucous laugh riot. That show was fantastic. So funny.
That was another one with John VanDeWoestyne, wasn't it? I swear, the man can do no wrong.
Right? Don't Talk to the Actors, I think, was one where the script was supposed to be more ridiculously over-the-top than the way it was presented, and I was so thankful that director Susan Simosky kept it at a sincere and believable level. I think it helped make the show more enjoyable.
The Importance of Being Earnest - that's one that I did in college, and really enjoy. I like Oscar Wilde. But that was one where I cringed a little before the show, because I thought, "They're going to mess this up." Not because it was at Richmond Hill, but because the material is so frequently messed up.
But the staging was actually quite good. I thought, "This is not going to work in the round. Importance of Being Earnest in the round? This is ridiculous!" But they handled it really well. It wasn't perfect, but the material was treated better than I expected. Again, I'm not trying to make a statement about Richmond Hill not being able to handle it ... .
No, but it's a show that does get screwed up a lot. Like Our Town. Too many blah productions of Our Town have ruined, I think, people's appreciation for how good that script actually is. And it's the same with Importance of Being Earnest. Too many bad presentations can ruin your taste for it.
And I'm not a fan of accents on stage, either. I would rather you play a Scot and not do an accent, if you're going to do it badly, than do a bad accent that pulls us away from your performance. I find that way more distracting. And for Importance of Being Earnest, of course, everybody has to do an English accent. But fortunately, most of them at Richmond had good ones. [Laughs.]
I got to see and review Richmond Hill's Spitfire Grill, which I would totally have gone to see anyway. I saw three different productions of that show this year, which I don't think has ever happened to me before. I saw Richmond Hill's, Timber Lake's, and one at North Scott High School in February, which was just wonderful.
I remember I wanted to review Richmond Hill's, but we discussed it, and it was opening the same weekend as Timber Lake's production, and we thought it would be more appropriate for the same person to be looking at the two of them together.
Yeah, it seemed silly to have two sets of plot synopses about the same show. But I thought Jennifer Kingry just did a fabulous job directing that show, and the cast was so good - Cait Bodenbender, and Allison Scherer, and Diane Greenwood giving a classic Diane Greenwood performance. I had a ball. It was also the first musical Richmond Hill has ever done, and I'm so glad it went so well, because now it opens the doors for them doing more musicals if they want.
That's great. I hope they do more.
And speaking of musicals, you reviewed two Music Guild shows this summer - Cinderella and The Music Man - while I reviewed Drowsy Chaperone. And I'll just say it: That might have been my favorite production out of everything I saw this year. It was so good it was ridiculous. I hurt from laughing during that show.
I remember that was one of the few where you wrote to me and said, "If you can see this, you should! It's great!"
I actually loved all of Music Guild's shows this summer. I thought Cinderella was a terrific production. I especially loved Melissa Flowers, who played Cinderella. Where has she been my whole life? [Laughs.] And the prince [James Pepper] was great, and the stepsisters [Katie Casey and Maureen Malley] were a riot ... .
They could have stolen the show, but fortunately, the other cast members were so good that they were hard to steal from. Yeah, that show was really magical.
And that's another musical I'd never seen before. I'd heard several of the songs, like everyone has, but that was a Rodgers & Hammerstein that was new to me. It's a really good one. And I loved Music Guild's Music Man. That performance of "Till There Was You" on the footbridge?
Yes.
Christopher and Erika Thomas just really got to me in that show, and on that number in particular. They really got to the heart of what those lyrics are saying. And you're watching these two people who are obviously very deeply in love in real life playing these characters who are just realizing how much they love each other ... . I kinda lost it. It was just so simple and moving and gorgeous.
I think, in my review, I didn't mention the actress who played the mom [Susan Granet]. And that was one where, looking back, I wish I would have mentioned her. Because her performance was notable and very worthy of praise, but it was just one of those things where with a limited amount of word space and whatnot, you can't say everything you want to ... .
And sometimes, as a reviewer, you just forget to praise elements of a show that you intend to. I know I've certainly done that, and you read your review later, and you're like, "Oh damn it." [Laughs.] But I unfortunately didn't get to see Music Guild's two one-weekend shows this year [Shout! and Scrooge], which I always try to catch. Do you feel guilty about missing shows in general?
Only if someone mentions it. If someone says, "Are you coming to see this show?" and I have to say, "No, it's only running one weekend ... " or whatever, then I feel bad, because someone specifically wants feedback. But it's just, you know ... . You can't see everything.
I know. My problem is that I think I'm going to be able to see everything, and so I say, "Yep, I'll be there." And then you realize, "Oh, I really need to learn lines tonight," or, "I really have to do laundry," or whatever. Again, that damned real-life stuff gets in the way. But what's cool, at least, is that theatre people understand that, because generally, they're exactly the same way. You want to see stuff, but other stuff gets in the way.
It does.
Which brings us to one of my excuses for missing a bunch of shows in the spring and fall - working for the Curtainbox [Theatre Company]. It would be awkward and really self-serving to linger on the subject, of course, since I'm a company member and was in both shows this year. But you seemed happy with Time Stands Still and Speed-the-Plow, yes?
Yes. I loved them. What I really appreciate about the Curtainbox is that with every play, I walk away with some internal introspection. Something that inspires me to think about my existence in the world. There's a thing to be said for pure entertainment, of course. "I went and I enjoyed this show fantastically for a few hours." But then there are those shows that just stick with you, and every single Curtainbox production has stuck with me. I don't know if I can give any more praise to [company founder] Kimberly Furness or to the Curtainbox company.
Personally, I was just thrilled that you gave so much attention to Erin Churchill's work in Speed-the-Plow. I think she absolutely made that show, because that role is almost impossible to play.
Well, I had seen Erin before in Hedda Gabler and Wit, and was impressed by her performances, but this one ... . It was so nuanced. There was just such an ebb-and-flow of different personality aspects coming from her, and the way her manipulative nature was revealed ... . It was so fascinating. It was like a master's class in acting.
Agreed. And that's why it kind of floors me to be in that company. I mean, I get to play with actors like Erin Churchill? And Kim and Eddie Staver and Jessica Denney? I mean, come on.
I keep saying I don't go into the theatre with specific expectations. But with Curtainbox shows, I do go in expecting, "I'm going to be impressed with this production."
Well, hopefully, we'll keep it up.
You'd better. [Laughs.]
[Laughs.] So, wrapping up the 2011 theatre experience, are there any productions you're especially looking forward to next year?
Legally Blonde [the Musical] at Circa. I have the soundtrack, and I've seen a performance from it on the Tonys or on The View or something, but I've never seen the show. I'm really excited to see that one. And owning a chihuahua myself, I'm really interested to see how they handle an actual chihuahua, because mine would not handle well. [Laughs.]
Company at the District Theatre. That's one of my top-two-favorite Sondheim shows. I cannot wait for that one. And Augustana is doing Bat Boy the Musical?!
Yes, they are. You seem really excited! Have you seen that one before?
No! Again, I know the music.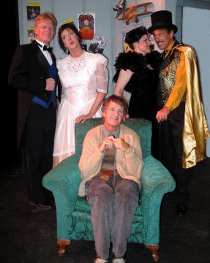 The show's just as wonderful, and funny, as the soundtrack. I know I really want to see the Prenzie Players' Titus Andronicus. That's a Shakespeare I've never seen before, and the Prenzies, I'm sure, will make it impressively gross for us. Music Guild is doing Dirty Rotten Scoundrels, which is one of my favorites. And they're doing [The 25th Annual Putnam County] Spelling Bee. I still haven't seen that on stage.
Really?
Yeah. I was doing Wit last year when Harrison Hilltop did it.
That is a great show. I'm also really interested to see how Richmond Hill pulls off Noises Off in the round next year.
As am I. I always thought you needed a two-tiered set for that one. Preferably with a revolving stage.
Clinton Showboat did it last year, and they turned the set around in this big intermission production. But doing it in the round? I just can't imagine it working in the round. So I'm really curious.
Well, it's being directed by Jalayne Riewerts, so at least the show's in good hands. And Playcrafters is doing The 39 Steps next year - the comedy where they re-stage the Hitchcock movie with only five people. I'm totally excited about that one. I only know the show by reputation, but it sounds like a blast.
Yeah, I'm looking forward to one that, too.
And, of course, you're looking forward to How I Learned to Drive at Augustana in January, right? 'Cause I'm in it. And doing an accent.
Oh, no. [Laughs.] What accent?
Southern. The character's from South Carolina.
Oh. Okay. I think, of all of them, Southern's the easiest.