The plot twists and turns, or lack thereof, are visible from a mile away in the Circa '21 Dinner Playhouse's production of Route 66. This boy-meets-girl musical has few surprises, and the outcome is abundantly clear from the moment Erin Churchill's aspiring writer Liz meets Kenton Fridley's freewheeling photographer Drew; they're like oil and water, but you know they're going to blend in the end. Even so, Circa '21's romantic comedy is a delight, boasting endearing charm in spades and one catchy tune after another.
With its book by Jerold Goldstein and William Squier, lyrics by Squier, and music by Fred Stark, this tale of a woman striving for a columnist job at a Chicago publication is delightful despite its clichés. Hand-picked by the company's owner (Paul Glodfelter's self-important Wallace) to contribute the written portion of a photo essay, Liz is paired with Drew on a tour of the iconic Route 66. She quickly learns that what makes the highway so essential aren't the tourist spots listed on her phone app, but the people they meet along their trek, and the show's dynamic tension switches from whether Liz and Drew will fall in love (which they do, and fairly quickly) to Liz's push - despite Wallace's objections - to switch the focus of the piece she's writing.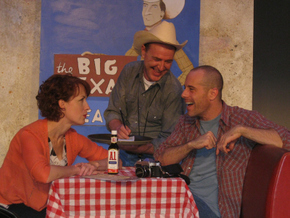 There's not a lot of weight to this musical, but it's still a precious piece of theatre due not only to director Dennis Hitchcock's delicate touch and his cast's magnetic performances, but also for Squier's and Stark's songs; during Friday's production, Route 66's Broadway-style, folk-infused tunes had me smiling again and again. Squier's lyrics flow remarkably well and feel unstrained in their poetry, and Stark accompanies them with rhythms that match the flow of the characters' speech so that each song comes across as effortless. One particular delight is "Chugga Thunk," in which Wallace and Liz's editor Suki (Paige Salter, a notable and likable blend of daft and bossy) try to convince Liz to take the Route 66 assignment. The duet is pure fun, with Wallace delivering his pitch while Suki throws in "chugga thunk"s in rhythmically captivating places.
Among Route 66's cast, Paul G. Nelson, Deborah Kennedy, Tamarin K. Ythier, Joey Boos, Tom Walljasper, and Illy Kirven each take on various waitresses, museum owners, shopkeepers, and other residents along the highway, and do so in ways that collectively bring the road's history to life. Each one makes impressive distinctions between their various roles and conveys the joy that is, for many, Route 66, underscoring the musical's point that the life of this cherished highway resides in people.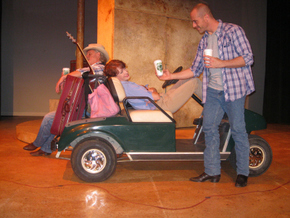 I'm not sure there's a local actress more charming than Churchill, a trait that serves her over-scheduled, oftentimes frazzled Liz quite well. It's easy to hope for the best for this plucky young writer, and to cheer her on toward love and success in her career. It's also not hard to see why Churchill's Liz falls so readily for her photographer, as Fridley's Drew is attractive, collected, and cool in a non-condescending way. How could Liz - or anyone, for that matter - not fall for such a charismatic character?
I'm also in love with Susan Holgersson's ingeniously simple and effective scenic design. Her set is pretty much just a circular platform with a sort of triangular lean-to on it. Yet the platform spins so that each side of the lean-to, with the help of new signage or other adornments, becomes one of 23 locations required for the story. It also allows designer Scott Glascock to use his lighting effects to differentiate spaces without the aid of backdrops, and is small enough to not impede Liz's and Drew's "car" (which is actually a modified golf cart) as it's driven around the stage. Even costume designer Gregory Hiatt assists the musical's locales through the employment of trade-specific outfits that make clear, for example, that Liz and Drew aren't just in a restaurant, but a greasy-spoon diner. I like Circa '21's Route 66 a lot. Sure, the plot has its weaknesses. But they're certainly forgivable given the jovial spirit of everything, and everyone, involved in the telling of this tale.
Route 66 runs at the Circa '21 Dinner Playhouse (1828 Third Avenue, Rock Island) through November 7, and more information and tickets are available by calling (309)786-7733 extension 2 or visiting Circa21.com.