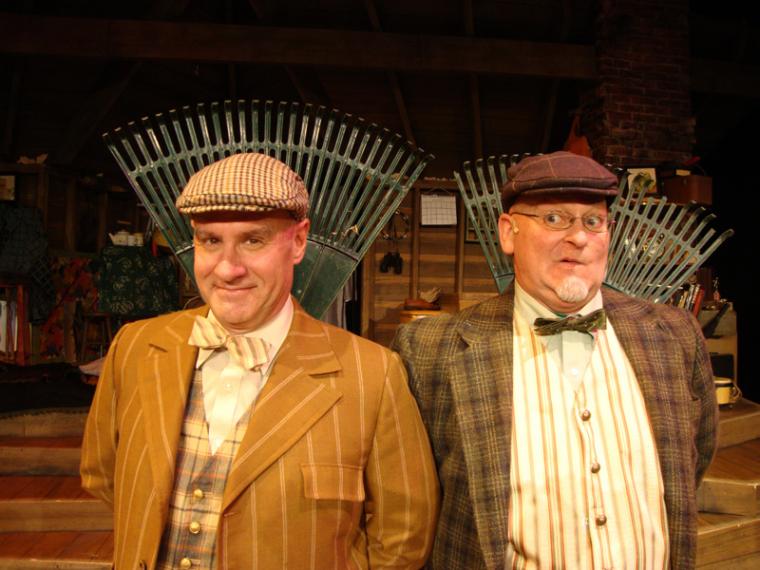 I've been taking my nine-year-old granddaughter Ava to the theatre since she was three, and on June 15 she accompanied me to the matinée performance of A Year with Frog & Toad, where we agreed that children's shows don't always have to be high-energy to be fun. This Circa '21 Dinner Playhouse production is a gentle story of friendship, and under the direction of Kim Kurtenbach it has a nicely old-fashioned vibe.
Based on the charming books by Arnold Lobel, this musical's two amphibian friends share their feelings, adventures, and activities during each season in a year – hibernating until spring, swimming in summer, raking leaves in the fall, and sledding in winter – and Ava and I especially liked the music. Written by brothers Robert and Willie Reale, the songs are bright and catchy, and sung to perfection here by all five of the show's performers. The score ranges from jazzy show tunes to ballads to opera, and employing such titles as "Frog Looks Funny in a Bathing Suit" and "Eating Cookies," the lyrics are both kid- and adult-relatable. (Who can resist freshly baked cookies?)
Costume designer Gregory Hiatt augmented the old-fashioned theme by dressing Frog and Toad in jaunty outfits consisting of unmatched plaids and stripes. Donning sport coats, vests, bow ties, and hats, the two looked like a vaudeville duo, and the style is repeated in the swimming-pond scene that finds our leads wearing 1890s swimsuits with almost their entire bodies covered. Ava and I did question why the production's bird characters were dressed as a pilot and two airline attendants; given their bright, multi-colored outfits but no feathers, Ava was concerned that younger kids may not get that they're birds, and I agreed. Hiatt's other costumes were clever, though, and Ava and I both enjoyed the "snail mail" carrier with a shell on his back.
That character was played wonderfully by Marc Ciemiewicz (who also takes on five other roles). His slow movements as the postal snail, taking a lo-o-ong time to deliver a letter, were among the musical's many running jokes, and Ciemiewicz's singing in a picnic number showcased his operatic talent. Additionally, the actor plays A Year with Frog & Toad's bird pilot alongside bird attendants Noel Huntley and Morgan Griffin (both of whom also play multiple roles), and serving as narrators the trio performs songs that move the story from one season to another, harmonizing beautifully and comically interacting with Frog and Toad with energy and versatility.
Frog (Janos Horvath) and Toad (Brad Hauskins), meanwhile, play off each other well – Horvath's calm, reassuring friend an unruffled contrast to Hauskins' anxious, fearful grump who never knows the correct time. Their soft-shoe number "Raking Leaves," choreographed by Erin Churchill, was another nod to a bygone era, and delivered by both actors with especially gentle grace. But although Horvath and Hauskins performed with precision, my concern for younger audience members was that the two were maybe too similar, both being middle-aged men of the same height, with the same haircuts, and tenors. Ava did note that Frog wore glasses, but at one point during the performance, a little girl sitting in front of us turned to her mother and asked, "Which one is Frog again?"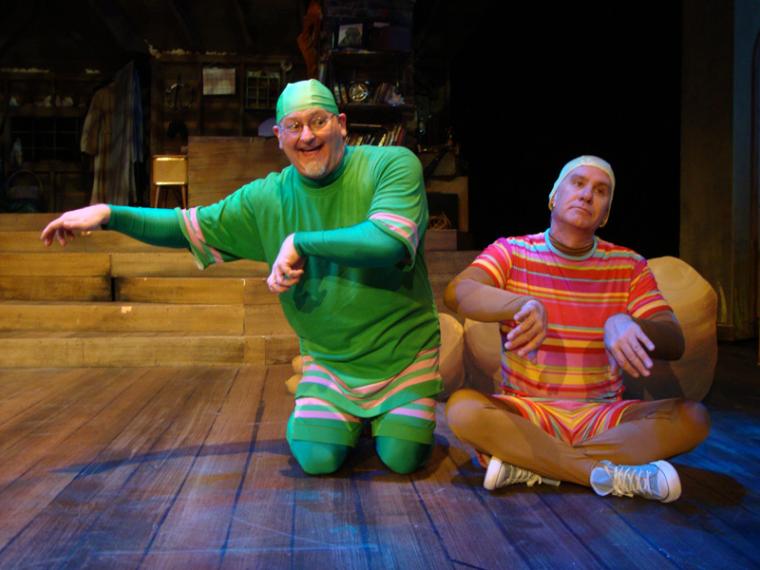 Scenic designer Emma Brutman and her crew had the task of converting the attic set from Circa '21's mainstage musical Snapshots into the homes of Frog and Toad. To Ava, it looked like the interior of a cottage, and she thought it was just right, although she also wished they had separate houses. (Even though there were doors on either side of the stage to represent separate entries into their abodes, there was no wall separating the shared space, so I had to explain – as you might also have to – the reasoning behind the repurposed set.) For her part, stage manager Heather Hauskins helped create moods for each season through simple and creative props, the most effective being the built-for-speed sled used in the winter scene. All that was missing were falling snowflakes.
Considering there are only five actors, A Year with Frog & Toad is more layered than one might presume, with a lot going on that could open up conversations with your children (or grandchildren). Not only is there the theme of what it means to be a true friend, but moments in the musical explore topics such as bullying, healthy eating, being scared, being lonely, and being unafraid to try new things. And as I did with Ava, you may gain surprising insight … all due to an unexpectedly thoughtful children's play.
A Year with Frog &Toad runs at the Circa '21 Dinner Playhouse (1828 Third Avenue, Rock Island) through July 1, and more information and tickets are available by calling (309)786-7733 extension 2 or visiting Circa21.com.