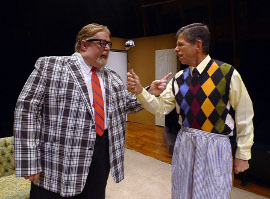 John VanDeWoestyne proves a capable center for the Richmond Hill Barn Theatre's The Odd Couple. Portraying playwright Neil Simon's slovenly divorcée Oscar Madison, VanDeWoestyne's comedic timing shines as he adeptly pauses here or rushes there in ways that increase his punchlines' comical impact. The actor never quite overcomes his natural poise and intelligence to fully sell the character, but his Oscar is also a bit funnier for those qualities; it's fun seeing this normally classy man speaking and acting like a disorderly bachelor. While there's plenty that's worthy of praise in director Mike Skiles' well-paced production, it's VanDeWoestyne who deserves extra credit for being the glue that holds it all together.
Truth be told, though, that's not a task that requires tremendous effort, given the chemistry that already exists between his castmates. Michael B. Miller's sarcastic, brusque Speed, Ray Rogers' easygoing Murray, Glenn Kluge's dry, slightly daft Roy, and Spiro Bruskas' charming, mousy, approval-seeking Vinnie share an obvious on-stage bond as Oscar's weekly poker buddies. The pacing of their conversations, and the ways in which they share barbs and accept them from each other, make their shared friendship believable, as if the actors actually do gather together like this on a regular basis. Watching their seemingly sincere collective relationship unfold, with VanDeWoestyne at the helm, made Thursday's Odd Couple presentation all the more enjoyable.
Then there's Greg Cripple's Felix Unger, the neurotic neat-freak who ends up moving in with Oscar after his soon-to-be-ex-wife kicks him out, setting up the situation implied by the play's title. Cripple's take on the role tends toward nervous and whiny rather than the more prim and proper Felix (i.e. Tony Randall) with which I'm familiar. I've long identified more with Felix than Oscar given his representations in the film version of the play, the television series, and the two stage productions I'd seen prior to this one. Here, though, I felt more for Oscar, sharing his annoyance with Felix's fastidious ways, and that proved a good thing, considering that it added, for me, a uniqueness to Richmond Hill's production.
Also in the production's mix are Jackie Skiles and Jackie Patterson as Pigeon sisters Gwendolyn and Cecily, neighbors whom Oscar invites over for a date night. Looking like they're ready for appearances on the television show Laugh-In in their colorfully mod 1960's dresses (for which no designer is credited in the program), the British-accented pair are a combined breath of fresh air when they appear two-thirds of the way into what is, by then, a testosterone-heavy story. Delivering giggles and mildly naughty jokes, Skiles and Patterson share a sisterhood similar to the palpable chemistry between the poker buddies, and thanks to the cast's relational appeal, Richmond Hill's The Odd Couple is a great ensemble piece that's as fun to watch for the friendships as it is for Simon's humor.
The Odd Couple runs at the Richmond Hill Barn Theatre (600 Robinson Drive, Geneseo) through July 20, and more information and tickets are available by calling (309)944-2244 or visiting RHPlayers.com.