I'm no Brainiac, but I do know this about musicals: When you put together a group of 13 adorable and talented little girls led by a plucky redhead who can sing her heart out, add a rags-to-riches tale enhanced with memorable tunes and dance numbers, and then throw in a scruffy dog that takes stage direction, you've got a crowd-pleaser on your hands! And, of course, you have the Tony Award-winning musical Annie, Quad City Music Guild's latest production. As young and old alike gave a standing ovation to the November 28 preview performance, it appears to be the perfect family outing for the holidays.
Inspired by the comic strip Little Orphan Annie, the story is set in 1933 during the Great Depression, and if you're attending the show with younger family members, I suggest giving them some background information about the period. Yet even though this 1977 musical takes place at a rough time in our history, it is a story of hope. Having been left at an orphanage as a baby, Annie believes that her parents will come back for her, and at the age of 11, she's chosen to spend Christmas with billionaire Oliver Warbucks at his Manhattan home. After some time there, Annie's optimism endears her to Warbucks and he consequently wants to adopt her and give her the world. Annie, however, only wants to find her parents.
Director Tom Morrow and his crew set the tone of the period with detailed set designs by Bill Marsoun. The transformation of the brown, industrial, prison-drab orphanage interior into a Fifth Avenue mansion with mint-green walls resplendent with art masterpieces, a fireplace, stairs, and tons of gold trim was ingenious. Deb Holmes' costume designs, meanwhile, truly captured the feel of the Depression, especially in the "Hooverville" scene.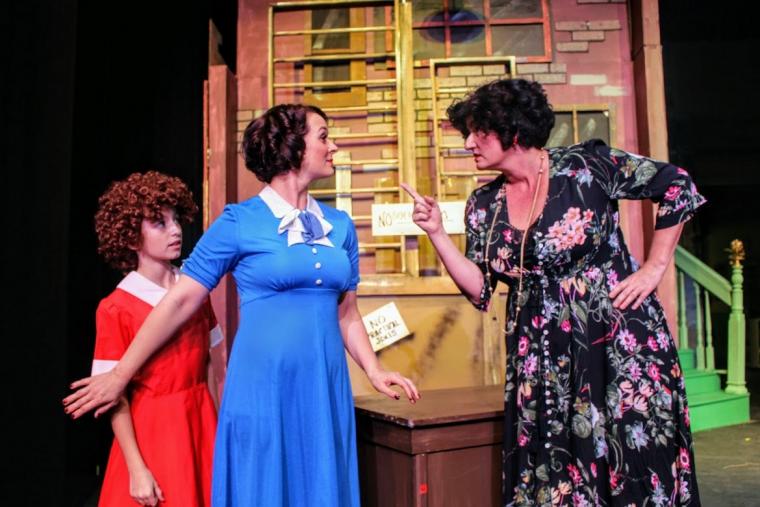 With its score – music by Charles Strouse, lyrics by Martin Charnin – ranging from jaunty toe-tappers to dramatic ballads, Morrow's Annie was richly played by 15 talented musicians under the direction of Mitch Carter. And with the success of this beloved musical resting heavily on the shoulders of its lead, Emily Winn did the heavy lifting with ease – so confident in her singing and acting skills that her Annie was a natural. Between Winn and her 12 cohorts at the orphanage, the adorableness was off the charts here as the young actresses belted out the songs "Maybe," "It's the Hard Knock Life," and "Fully Dressed" with energy and spunk. Plus, for me, their dance numbers choreographed by Susie Carsell-Schaechter were the show's finest.
Living in their run-down orphanage, the girls are used as cheap labor by Miss Hannigan, played by Julie Wilson Funk, whose explosive commands to the girls made me jump with fear. (And I was in the 12th row!) Funk plays her role expertly as she expresses Miss Hannigan's loathing for children one moment and sweetly flirts in the next, and the performer's strong singing voice was highlighted best in her rendition of "Little Girls."
Looking every bit the traditional "Daddy" Warbucks was Mark Leo McGinn. As the no-nonsense business mogul, he seemed to relish his lines as he barked commands to high-ranking government officials, and when softened by Annie's presence, McGinn's voice and demeanor expressed a deep emotional connection on his solo "Something Was Missing." Sara Tubbs, meanwhile, was perfectly cast as Warbucks' secretary Grace. She not only treated us to her lovely, rich singing voice, but whether acting as a protective mother figure to Annie or verbally sparing with Miss Hannigan, Tubbs' poise as the character was notable.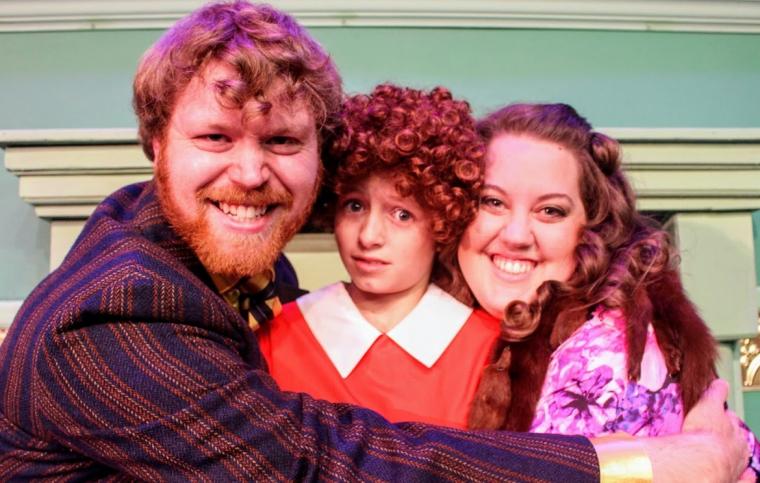 Ian Sodawasser played Miss Hannigan's parolee brother Rooster, who, with his girlfriend Lily (Kailey Ackermann), tries to con Warbucks out of part of his fortune. Both villainous characters oozed appropriate sliminess, and when joining forces with Funk's Hannigan, their jazzy number "Easy Street" boasted spirited, gritty singing. I would've liked the choreography in this number to have had more vamp, as it was a bit stiff. But lighting designer Robert Crist did add a clever effect: At the mention of Rooster and Hannigan joining their mother in hell, the stage was suddenly flooded with red light.
When the plot sends Annie to a radio station, John Weigandt, as radio host Bert Healy, was flawless in his old-fashioned-crooner delivery and tone. And adding some wry humor to this scene with his priceless expressions of disgust was Adam Sanders, portraying a radio talent who obviously hates his absurd job operating Wacky, a puppet who "talks" on the radio. Sanders' bits were among my favorite moments in the production.
With this exceptional cast and crew, Quad City Music Guild has created an Annie that has energy and a positive message of hope. As Morrow states in his director's note: "In today's political climate, I think we could use a little of that message." And yes: "The sun will come out tomorrow."
Annie runs at the Prospect Park Auditorium (1584 34th Avenue, Moline) through December 3, and more information and tickets are available by calling (309)762-6610 or visiting QCMusicGuild.com.