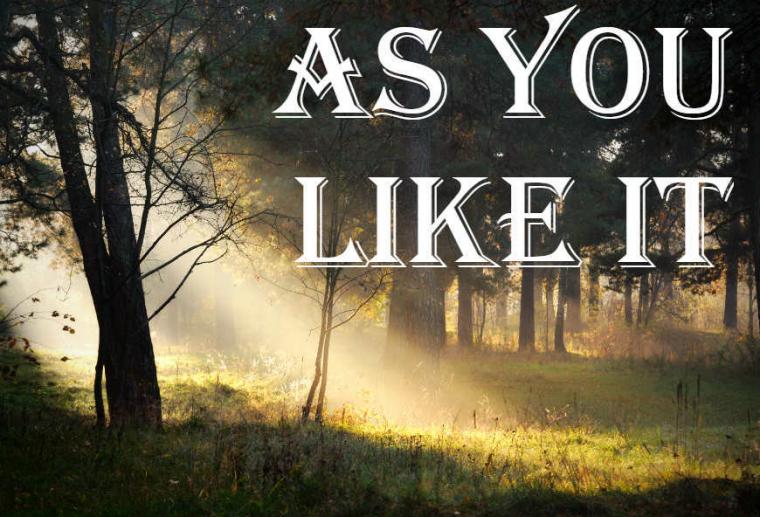 Saturday, June 16, through Sunday, June 24
Lincoln Park, 11th Avenue & 38th Street, Rock Island IL
One of William Shakespeare's most beloved pastoral comedies gets some youthful spring in its step when Genesius Guild presents its 2018 season debut As You Like It, with the June 16 through 24 run graced by a cast boasting professional actors and Guild veterans alongside no less than 16 students from area high schools.
Revered for its cheeky humor, emotional incisiveness, and masterful language most apparent in the play's legendary "All the world's a stage ..." soliloquy, As You Like It is initially set in a duchy in France, and follows its heroine Rosalind as she flees persecution in her uncle's court accompanied by her cousin Celia. Together, they eventually find safety and love in the Forest of Arden, where the women encounter a variety of memorable characters, notably the melancholy traveller Jacques, who delivers many of Shakespeare's most famous speeches. Jaques also provides a sharp contrast to the other characters in the play, always observing and disputing the hardships of life in the country, with additional memorable roles including the court jester Touchstone, the shepherdess Phoebe, the romantic Orlando, and the condescending Duke Frederick. A continual favorite of audiences and actors, As You Like It has enjoyed nearly two dozen Broadway revivals plus numerous radio, film, and TV adaptations, plus a 1980s-themed musical comedy titled Like You Like It.
Directing Genesius Guild's season opener is Augustana College professor Jeff Coussens, who also helmed the organization's 2007 production of As You Like It, and whose additional directorial credits include last fall's The Madowman of Chaillot for Augustana and last summer's Wait Until Dark for the Mississippi Bend Players. Genesius Guild veterans including Doug Adkins, Michael Carron, Pat Flaherty, and Bryan Woods appear in the weekend presentations, along with 18 additional talents: Laylon Baucom, Serah Calhoun, Ava Coussens, Kalangilo Davis, Ethan Homeyer, Pierce Howard, Emma Hughes, Sophia Kilburg, Anna Myatt, Merlin Nelson, Lisa Oliger, Grace Phares, Naoko Sambdman, Zane Shull, Mary Stock, Joie Stoefen, Addy Vandewalle, and Matt Walsh.
As You Like It will be performed on Saturdays and Sundays at 8 p.m., and admission to the June 16 through 24 run is free, though donations are encouraged. For more information, visit Genesius.org.