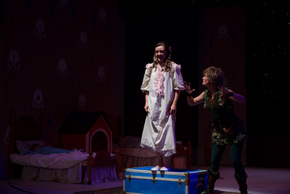 There's magic in the Timber Lake Playhouse's Peter Pan that reached my inner child and set him dancing. Even knowing that Rosie Upton's title character would fly, I still got chills when scenic designer Benjamin Lipinski's grand windows were flung open and the forever-young boy floated through them. And that thrill only took a break during the production's intermission, otherwise staying with me during its entire two hours.
Upton, whose subtlety as Penny Pingleton in Timber Lake's Hairspray impressed me earlier this summer, is boisterously charming, her captivating Pan full of spark and bravado. Holding nothing back, the performer flies, crows, and cavorts about with abandon - I'd go with Upton's Pan to Neverland anytime - and she's especially fun during the hysterical "Oh, My Mysterious Lady" scene in which Pan dresses as a woman to tease Cody Jolly's Captain Hook, also delivering fantastic vocals on the song's more operatic sections.
Jolly, meanwhile, is granted a role that allows him to chew the scenery with effeminate flamboyance. If Upton weren't so magnetically engaging, Jolly would steal the show with Hook's waving arms every time he dances about the stage, or with his comedic shrieks at the sound of his ticking-crocodile pursuer. (Costumer Julane Sullivan's clever design concept places the crocodile on a small scooter, allowing reptile portrayer Gentry Lessman to scoot along the floor while clumsily chasing Hook.)
Just as Jolly could potentially steal the spotlight from Upton, so, too, could Amelia Jo Parish take it from Jolly. Considering there's no end to the delights she delivers as Hook's right-hand man (er, woman) Smee, her bumbling pirate tickled Friday's matinée audience, as Parish seemed to channel Rebel Wilson for the character. Seriously. The performer's facial scrunches and comedic timing were uncannily similar to Wilson's, and I loved it. I hope this isn't the last we see of Parish this summer, because she's so outrageously funny in the role that she left me wanting more.
Yet just as stunning as these actors is designer Lipinski's Neverland. While his bedroom set for the Darling family is solid - if, despite the impressively gaudy wallpaper, somewhat drab - Lipinski's Neverland is packed with imagination. When we first arrive, having traveled straight on 'til morning, Tia Pinson's engaging Tiger Lily and her fellow Indians are seen poised on two large, slanted set pieces adorned with colorful mushrooms and plants punctuated by flower-adorned umbrellas, which the Indians open as though the flowers were blooming before our very eyes. When we arrive in the Lost Boys' secret hideout, Lipinski decks it out with a plethora of decorations the boys might have added to the walls, its highlights including a child's drawing of Hook tacked on to the middle of a dart board. Lipinski then makes use of his rotating stage to take us to Hook's ship, the scene change a bit of magic itself.
Samuel Leicht and Tyler Klingbiel also deserve special nods for their ever-present joy as two of the Lost Boys; these young performers, fittingly, look like they're not acting so much as playing during their entire time on stage. And Sullivan's choice of wooden skirts for Tiger Lily and her tribe of women - made to resemble thin grass skirts - is also a wonder, as the sound created when they move suggests the group's collectively staunch personality.
I'm not sure I could be more delighted with the Timber Lake Playhouse's production of Peter Pan. Carolyn Leigh's, Betty Comden's, and Adolph Green's lyrics, Morris Charlap's and Jule Styne's melodies, and original author J.M. Barrie's book are pleasing in and of themselves. Timber Lake, however, makes sure that those elements entertain with this show's fantastic performances, design, and imaginative staging and upbeat choreography by director Zachary L. Gray. Throw in sensational live musicians under the leadership of musical director Cindy Blanc, and I'd advise not overlooking this unforgettable bit of musical theatre.
Peter Pan runs at the Timber Lake Playhouse (8215 Black Oak Road, Mt. Carroll) through July 12, and more information and tickets are available by calling (815)244-2035 or visiting TimberLakePlayhouse.org.