Playwright Aaron Randolph III has, so far as I know, effectively captured the mental workings of a soldier suffering from post-traumatic stress disorder in his new drama A Green River. A representation of the chaotic, haunting thoughts likely experienced by some soldiers with PTSD, his play takes us through the memories of a single soldier - from childhood to falling in love to combat to his return home - while the young man revisits his favorite quiet place along a river. And as if the proceedings in Randolph's story weren't enough, he also includes a stunningly moving finale that packs such an emotional punch that I'd be surprised if most, if not all, of Saturday's audience members for the QC Theatre Workshop production aren't still reeling from it.
Workshop regular Thomas Alan Taylor portrays the leading role of Erik, the soldier whose thoughts we see staged over the course of this roughly 90-minute play. Randolph's script and director Daniel D.P. Sheridan's impressively paced, seamless flow between memories - with scenes sometimes running chronologically, sometimes overlapping, and sometimes playing out concurrently - requires Taylor to take on characterizations of Erik at different ages and stages of his life, from toddler to adult, oftentimes with few pauses in between. And Taylor pulls this off remarkably well, giving a nuanced, multi-layered, emotional performance while simultaneously depicting various ages by way of his body language and vocal inflections; he employs higher-pitched, breathy vocalizations for Erik in his youth, and assumes a more confident demeanor, and increasingly joyless inflections, for older versions of the soldier.
As Erik's memories are played out, the rest of A Green River's ensemble moves on and off stage, with some taking on more than one role. Jessica Denney's pleasingly doting Mom is a stark contrast to her no-nonsense, questioning Counselor. Joe Goodall deservedly earns most of the play's laughs as Jeff, Erik's immature, playful, censor-free younger brother, and as Erik's fellow soldier Jason, with his stereotypical machismo, homophobic jokes about "sausage and gravy," and references to his unborn son's penis. While Reader employee Mike Schulz doesn't shade his football-drilling Dad character much beyond simply being stern and lower-pitched in voice, his nasal-sounding Sergeant is stunning during a scene in which he orders Erik to "be a man" rather than seek the help of a doctor for the emotional trauma he's experiencing in combat.
Jessica Sheridan, meanwhile, plays Erik's wife Amy, and while it's her only role in the production, she's also required to portray her character at various ages and states of maturity, and does so commendably. Sheridan's younger Amy seems tomboyish in her winning over of Erik, playing the pal who hopes to become the girlfriend. Yet Amy grows and changes through the course of her marriage, morphing from a happy young newlywed to a (some would say) nagging woman upset over her husband's drinking and inability to put together a baby crib, and finally to an uncertain, sometimes frightened, yet always concerned wife struggling to deal with her husband's PTSD.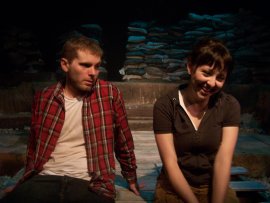 Randolph's poignant, humorous, stirring writing, Sheridan's pacing, and the actors' portrayals would be enough to warrant a stellar review. But the production's scenic-design team of Goodall and the Sheridans takes things even further by creating a believable riverfront on stage (and one that extends into the audience). Every flat surface on the multi-leveled set looks like stone or dirt, accented by river rocks, trees, branches, and a wall of sand bags, with the river represented by stone tiles that resemble a drying riverbed. (The effect is so impressive that my partner Matt, on Saturday, commented, "It feels like we're outside" before the play even started.) Director Sheridan also makes brilliant use of the set within Erik's memories; when Erik fishes with his father and brother, for example, they hold actual fishing poles while Erik holds a stick found on the set, which clues us into the idea that the play is taking place in the soldier's mind rather than in "real time."
Still, it's the production's final scene that drives the full impact of A Green River home. I won't describe it here, lest revealing the climax diminish the experience, but suffice it to say that while the story's outcome can be predicted, and is even foreshadowed, the way in which Randolph has written it and Sheridan has staged it are beautifully, emotionally, and memorably rendered. This QC Theatre Workshop premiere of the talented Randolph's drama is not to be missed – not only for being exceptional theatre, but also for carrying an important and timely message.
A Green River runs at the QC Theatre Workshop (1730 Wilkes Avenue, Davenport) through July 14, and reservations and more information are available by calling (563)650-2396 or visiting QCTheatreWorkshop.org.
[7/11/13 editor's note: An additional, 7:30 p.m. performance of A Green River was newly added for Tuesday, July 16.]