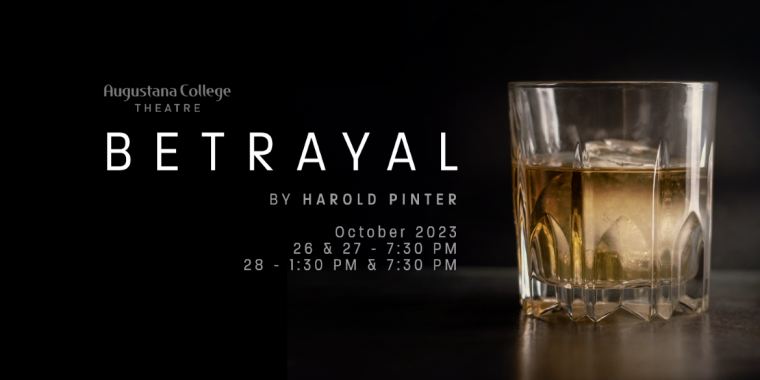 Thursday, October 26, through Saturday, October 28
Augustana College's Honkamp Myrhe Black Box Theatre, 3750 Seventh Avenue, Rock Island IL
A Tony Award nominee and Olivier Award winner widely considered one of legendary author Harold Pinter's finest stage achievements, the romantic drama Betrayal serves as the first student-produced presentation in Augustana College's 2023-24 theatre season, its October 26 through 28 run sure to demonstrate why this chronologically inventive drama was praised by the New York Times as a work that "balances surface elegance with an aching profundity."
With its famed cast members over the year including such Oscar and Tony-winning talents as Jeremy Irons, Juliette Binoche, Ben Kingsley, and Blythe Danner, Betrayal begins in the present, with the meeting of Emma and Jerry, whose adulterous affair of seven years ended two years earlier. Emma's marriage to Robert, Jerry's best friend, is now breaking up, and she needs someone to talk to. Their reminiscences reveal that Robert knew of their affair all along and, to Jerry's dismay, regarded it with total nonchalance. Thereafter, in a series of contiguous scenes that Pinter's work is famed for, the play moves backward in time, from the end of the Emma-Jerry affair to its beginning, throwing into relief the little lies and oblique remarks that, in this time-reverse, reveal more than direct statements, or overt actions, ever could.
Directing Betrayal, and serving as the production's scenic, projections, and props designer, is Augustana senior and Reader theatre reviewer Roger Pavey Jr., who earlier this year helmed Natural Shocks and acted in Hello, Dolly! for Moline's Black Box Theatre, and has also appeared in his college's productions of Cabaret, The 39 Steps, and Macbeth. Pavey's cast boasts Celeaciya Olvera as Emma, Max de Buys as Jerry, Aaron Randolph IV as Robert, and Madeline Hutchinson as the Waitress. And with Fynn Greene serving as Betrayal's stage manager, the drama's production team includes: dialect coach Ben Gougeon; lighting designer Bella Perkins; costume, hair, and makeup designer Anya Giordano; and original music composer John Flannery.
Betrayal will be staged from October 26 through 28 in the Honkamp Myhre Black Box Theatre of Augustana College's Brunner Theatre Center, with performances Thursday and Friday at 7:30 p.m. and Saturday at both 1:30 and 7:30 p.m. Admission is $7, and more information and tickets are available by calling (309)794-7306 and visiting Augustana.edu/tickets.