Have you ever watched an intense horror flick and felt complete frustration as the victim makes a really questionable choice and ends up in a formerly avoidable, now-inevitable and desperate situation, and you say to yourself, "No-o-o-o!!! Why did she do that?!"? If so, you'll understand some of my experience on Friday night during the Mississippi Bend Players' production of Wait Until Dark.
Directed by talented theatre veteran Jeff Coussens and featuring some of the Quad Cities' finest acting talent, the show boasts suspense, drama, and unexpected plot twists – something akin to Agatha Christie on speed – and scenic designer Susan Holgersson has created an effective space that's well-employed. All of the action takes place in a New York City basement apartment, the home of Suzy (Kimberly Kurtenbach) and her husband Sam (Don Denton). It features two street-level windows that are effectively used for a dual purpose: so the criminals can send signals with the blinds to their counterparts on the street, and so the legs and feet of those entering the apartment can be seen from outside, adding to the dramatic tension.
Author Frederick Knott's plot-driven show revolves around a doll given to Sam by a woman on a return trip from Canada, and as the play opens, we learn that woman has been subsequently murdered. The doll contains $50,000 in heroin, and Wait Until Dark concerns the efforts of three criminals who scheme to retrieve it from Sam's and Suzy's apartment. Upon learning that Suzy is blind (and alone), they consider her an easy target and devise an elaborate con, telling her that Sam is suspected of the murder by the police, and that one way to clear him of suspicion is to give them the doll that connects him to the dead woman.
Alone and vulnerable as events unfold, Suzy comes to realize she's in a desperate situation. However, even though she is fairly recently blind, she is not an easy target. Rather, she's a resourceful woman with perspicacity and intelligence, and Kurtenbach's portrayal – and not just her portrayal of blindness – is quite effective. She is a marvelous actress, and I really enjoyed watching her ability to convey Suzy's dawning awareness through varied facial expressions as she figures out the realities of her situation and how she's going to handle them.
Reader employee Mike Schulz, an actor with commanding intensity, delivers a well-done portrayal of the criminal Mike, who artfully manages the task of convincing Suzy that he's on her side. (He's a good bad guy, if you will.) Although the show is not really character-driven, Schulz manages to steer his character through an interesting change of heart.
The second crook in the triumvirate is Carlino, portrayed by Jeremy Mahr, whose mastery of realistic character portrayals is something I've always greatly admired. It was fun watching him here as he created believability in Carlino through his physicality – including simple facial tics and other actions – that established him as a presence to be reckoned with.
John D'Aversa, a 2015 Augustana grad, portrays Roat, who has tricked Mike and Corlino into helping him retrieve the doll. D'Aversa is a very fine actor with an ultra-cool look and delivers a really terrific performance in the final scene. But I did not feel he was cast to his strengths here, because, in his initial scenes, I didn't think he had the presence required to establish the necessary threatening menace, and this greatly affected my credulity in the on-stage reality.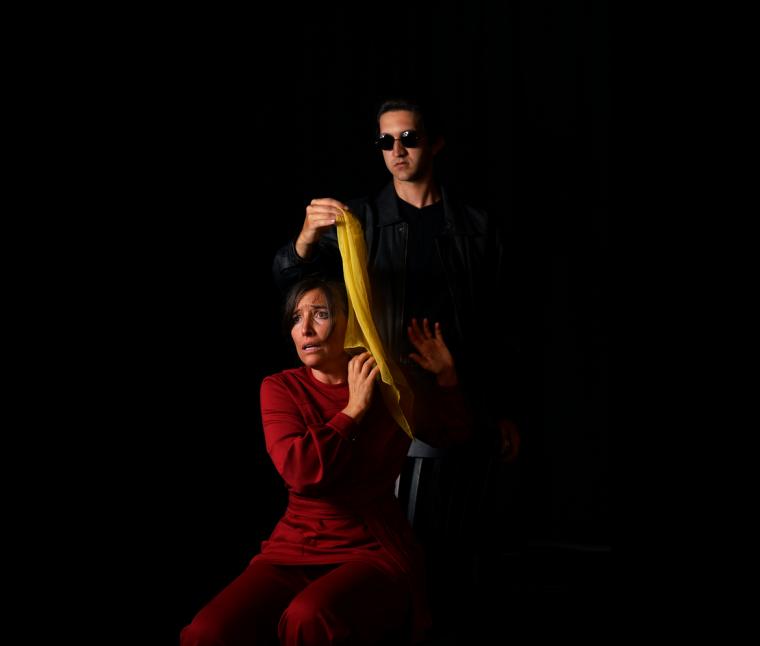 Despite her height making her distractingly tall for the character, Emily Gulden delivers a convincing portrayal of Gloria, Suzy's precocious nine-year-old neighbor, and rounding out the cast are Samuel Langellier and Keenan Odenkirk as a pair of policemen.
Unfortunately, although the production contained some great individual moments of tension, I thought it lacked a unifying dynamic energy and pacing that detracted from its overall intensity and the reality it was trying to convey. And while most of the action rang true, believability was strained by small directorial choices. For example, Suzy, at one point, calls out for Gloria because she senses that someone else is somewhere in the apartment, yet when she reaches for her cane that's in a corner just inches from where Mike is standing, she doesn't realize he's there. I couldn't believe that for a second. And it happened twice.
I also had an issue with Knott's script. Why oh why, when Suzy knew the "triumvirate" was on their way near the end did, she choose to send Gloria all the way across town in a taxi, while she remained in the apartment like a sitting duck? It seemed to me that she had other options. But of course, had she taken any of them, we wouldn't have had Knott's dramatic climax.
Still, most of Wait Until Dark's action was true-to-life, and based on the talents of everyone involved, it's reasonable to assume that pacing problems were opening-night issues. I would expect that additional performances will deliver a tightly-wound, entertaining treat.
Wait Until Dark runs at Augustana College's Brunner Theatre Center (3750 Seventh Avenue, Rock Island) through July 30, and more information and tickets are available by calling (309)794-7306 or visiting MississippiBendPlayers.com.