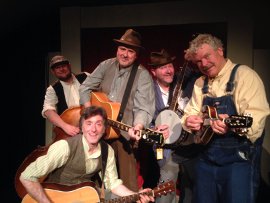 A Depression-era band performs an impromptu concert at a small-town theatre, facing off against an overbearing, somewhat inept police officer who later, after getting plastered, takes a shine to them. The group's biggest adversary is a mean-spirited rich woman who, after boo-worthy attacks on the group, gets her comeuppance when her power is pulled out from under her. The story serves as the bridge to performances of early-20th-Century songs performed by this jukebox musical's cast members, who play on string instruments and out-of-the-ordinary percussion sources.
It's a description that fits both Southern Crossroads and the District Theatre's latest debuting production, Big Rock Candy Mountain.
Playwright/director Tristan Layne Tapscott's homage, with its musical arrangements by Danny White, features not only the same formula as its theatrical inspiration, but also unabashed nods to it with references to the Greene Family Singers (the band at the center of Southern Crossroads) in the dialogue and on a promotional poster on the wall of the Owensboro Little Theater, the location of Big Rock Candy Mountain's concert. Although, in this piece, the band is a group of escaped convicts who duck into a theatre where the evening's musicians failed to show up - resulting in the escapees, in order to hide, reforming their folk and bluegrass ensemble - the similarities to Southern Crossroads continue with two of the band members remaining silent throughout the musical (except, on one line, to speak in unison with their bandmates).
While mildly annoyed by how much Tapscott borrows from Southern Crossroads - he appeared in both of the Circa '21 Dinner Playhouse's recent productions of the musical - I still enjoyed Friday's performance for the quality of the musicians and the humor in Tapscott's well-written dialogue. Though the characters' monologues (arguably) run longer than necessary, every one of Tapscott's pretense-free, naturalistic lines seems sincere. And unlike its inspiration, Big Rock Candy Mountain ran about 90 minutes without intermission, and with just enough songs to keep my interest, whereas I grew tired of Southern Crossroads' genre music, and got a tad bored, toward the end. (And then two encores were performed.) Tapscott also designed this production's set, which tickled me because it's a thrust stage built on the District Theatre's actual stage; the well-rendered performance space is both redundant and appropriate, given that this musical is essentially set in a made-up theatre within a real theatre.
With the book structured around Big Rock Candy Mountain's songs, it's important that the band be excellent - and here, it is, as Mark Ruebling, Doug Kutzli, Tom Vaccaro, Kyle Jecklin, and Rocky Kampling perform the hell out of White's arrangements. I couldn't help but tap my toes and nod my head to upbeat songs including "Buffalo Gals," "Sunny Side of Life," and the title tune, while also being impressed by slower numbers such as "The House of the Rising Sun."
In addition to the escaped-convict band members, there's also Chris Tracy's loveable theatre owner George, who is trying to raise money so that his venue isn't overtaken by his landlord, Linda Ruebling's one-dimensional rich bitch Velda. Alexander Richardson plays Melvin, who runs the lights and makes appearances here and there stage-managing the concert. Anthony Natarelli is Clyde, a theatrical handyman of sorts who also gets a chance to sing with the band - after which I wished his pleasing, notable vocals were featured even more. Wayne Hess balances bravado with ineptitude as Willie, the law-enforcement officer who keeps butting in on the concert while looking for George.
It was Mike Kelly, however, who stole the show for me as Teddy, the town's mayor and husband to Velda; without speaking a word, he pulls focus with his politician's smile and sense of self-importance. His Teddy is much like Stephen Colbert when the TV personality accepts the applause meant for his guests, and the character is obviously awash with the glory of the town's perceived adoration, but his sense of importance lacks any arrogance. (Teddy's toothy grin and sparkling eyes are signs that he's relishing his election victory as if thrilled that the townspeople like him so much.) I actually missed some of the other characters' dialogue because my attention was on Kelly, watching to see if he'd ever drop character ... but he didn't.
While its formula is too similar to that of Southern Crossroads, I do think Big Rock Candy Mountain, as a musical, stands on its own. As with their adaptation of A Christmas Carol, Tapscott and White have, once again, created a piece that could be produced by theatres beyond just the District's.
Big Rock Candy Mountain runs at the District Theatre (1611 Second Avenue, Rock Island) through June 8, and more information and tickets are available by calling (309)235-1654 or visiting DistriuctTheatre.com.