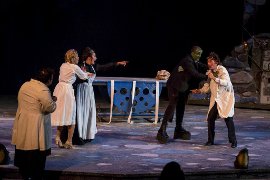 The Timber Lake Playhouse's Young Frankenstein is a polished, professional production featuring stellar performances by the lead actors and impressive energy from the ensemble. Playwright/composer Mel Brooks' material - with its book by Thomas Meehan - is well-served by this group of talented performers, dynamic lighting effects by designer James Kolditz, inventive choreography by Cameron Turner, and adeptly paced humor by director Brad Lyons. After seeing my first production at this much-lauded theatre in Mt. Carroll, I left impressed.
Yet there's something missing from this musical staging of Brooks' 1974 film, and it seems, to me, to be soul. With notable physical comicality, and a demeanor resembling a mild version of Charles Nelson Reilly, from Cody Jolly as Dr. Frederick Frankenstein ("That's Fronk-en-steen,"), I'm hesitant to blame him for the absence of heart in this production - although there does seem to be a lack of connection between Jolly's Frederick and the rest of the show's characters. Instead, it appears that Brooks is to blame for writing such one-dimensional caricatures and focusing on his typical lowbrow humor. I didn't feel much during Saturday's matinée performance in terms of hoping for success for any of its characters, and I'm left remembering being entertained, laughing quite a bit, and being impressed by every single singing voice - but still finding it difficult to recall many details or memorable moments.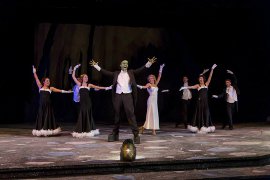 Matthew Webb does leave a bit of an impression as Igor (pronounced "Eye-gore"), given the actor's charm and humor with its undertones of sadness. He's both pitiable and likable, and, if I rooted for anyone, it was him, even though his desperate, excited pleas to Dr. Frankenstein to continue the work of his grandfather are not a good idea. Lexie Plath delivers a spot-on caricature of the innocently sexual Swedish bombshell Inga, a woman who helps welcome Frankenstein to Transylvania Heights by way of a jaunty hayride, complete with hysterically naughty sex positions incorporated into Turner's choreography.
Analisha Santini also entertains as Frau Blücher, Frankenstein's housekeeper and girlfriend, with her dramatically statuesque postures lending comical creepiness to her countenance. Grant Brown elicits many laughs as Inspector Kemp, the local policeman who vows to punish anyone who re-animates a corpse, by way of his stiff-limbed movements and exuberant deliveries. Meanwhile, Brown's Blind Hermit, a man who welcomes Blake W. Price's green-skinned monster (with his annoyingly obvious and awkward prosthetics) into his home and pours hot soup into his crotch, gets laughs for some pratfalls that were pulled off so well I sometimes thought they were unintended - especially the moment in which he doubled over the dining table and then rolled to the ground.
But the only performance with true depth of character and nuanced motivation is Nathan Goodrich's as Victor von Frankenstein, who appears in Frederick's dream to convince his grandson to "join the family business" and continue his scientific work. Goodrich manages to shade his dark character with intensity, conviction, and pride, and his overpowering presence is aided by Lyons' haunting staging and set designer Colt Frank's large fireplace (with its crooked patch of mesh resembling cracks in the crumbling stone) that allows Goodrich to appear, within the chimney, in an eerie light.
Considering it's by Mel Brooks, though, Young Frankenstein isn't meant to be marked by poignancy or rich characters. And given the shallow, though entertaining, nature of his musical, the Timber Lake Playhouse pulls off a funny, campy, diverting staging that's still worth its almost-three-hour length, despite the depth-less material.
Young Frankenstein runs at the Timber Lake Playhouse (8215 Black Oak Road, Mt. Carroll) through July 13, and more information and tickets are available by calling (815)244-2035 or visiting TimberLakePlayhouse.org.