So far as melodramas go, The Curse of an Aching Heart: Or, Trapped in the Spider's Web is, for me, one of the more tolerable and entertaining works in its genre. Not being a fan of this brand of comedy, I still laughed quite a bit during Thursday's performance at the Richmond Hill Barn Theatre, as playwright Herbert Swayne's clever wit and director Tom Morrow's pleasingly on-the-verge-of-over-dramatic tone made for an amusing night of comedy.
Being a melodrama, The Curse of an Aching Heart boasts a heroine, this time in the form of an orphaned young lady named Melody Lane (Sarah Ade) who finds herself penniless after she is robbed on a train by a masked bandit. At the invitation of fellow passenger Aurelia Abernathy (Elizabeth Buzard), Melody ends up staying with Hiram and Sarah Abernathy (Mike and Jackie Skiles) until she is sufficiently able to continue her trip to California. While at the Abernathy home, however, Melody runs into another of the family's visitors: Windemere Hightower (John Donald O'Shea), her husband-in-name-only and the villain of this tale. And Melody's only hope in escaping Windemere and finding true love lies in the hands of Lucius Goodenough (Jordan Lipes), our hero.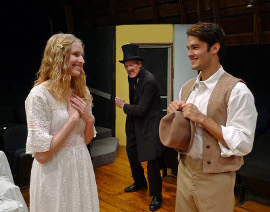 While Swayne peppers his play with the expected, groan-worthy jokes, he also adds quite a few unexpected, sometimes clever ones to the mix, which elevates this melodrama beyond its cheesy roots. While arguing with his wife, for instance, Hiram responds to her comment of "You flabbergast me!" with "No, you flabbergast me. You're flabbier." And Lucius describes his mother as an "oomph girl," explaining that "when she sits on the couch, it goes oomph." (Lipes adds more humor to the line by making a squatting motion to demonstrate his mother's actions, and the couch's response.)
Although Morrow, in a welcome move, avoids over-playing the "melo" of this melodrama, he does include some enjoyably stereotypical elements. Prior to the start of Thursday's performance, Morrow encouraged the audience to make noise by way of cheering the hero and booing the villain, which added to the show's fun. Morrow also has charming cues in place for letting the audience know when to hiss or applaud, and as each character makes his or her first appearance, they walk through the screen door of the Abernathy's "None Such Ranch" and freeze in a position characteristic of their character while standing in a single spotlight. Yes, it's all corny, but given the genre, acceptably so.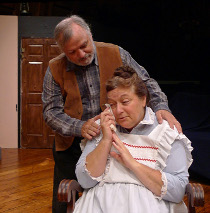 O'Shea, who couldn't be better in his role, doesn't mind corn-ing things up as the villain, and seems to relish his numerous asides to the audience in which he explains his true plans, closing each statement with a humorously evil snicker. Ade shines for her earnest portrayal of the heroine, which she delivers with clear diction and an almost-but-not-quite-overstated melancholy. Lipes earns laughs for his laugh as the hero, which is a deep, pleasingly dumb-sounding "huh-huh-huh," and also plays up his dimwitted Lucius' handsomeness, striking confident poses and setting his straw hat on his head in a manner that avoids mussing up his perfectly styled bangs.
As the Abernathys, the Skiles are a delightful yin-and-yang couple, with Jackie's spitfire fussbudget Sarah sparring with Mike's gently toned but occasionally wisecrack-spewing Hiram. Jackie Patterson enjoys little time on stage, but her brief appearance as the uppity Nellie Blythe - an "important visitor from nearby Four Corners" who speaks without pauses - is one of the most enjoyable elements in the production. Amanda Willson butches up for her role as the tough, tell-it-like-it-is local sheriff Battle Axe Annie. Meanwhile, it's a shame Taylor McKean's role as the Abernathys' Native American ranch employee Red Wing is so small, as her performance in last year's The Curious Savage was truly remarkable.
There are also a couple of other actors whose performances I cannot properly commend for fear of giving away plot points that add to the fun of The Curse of an Aching Heart. And the Richmond Hill Barn Theatre's production is loads of fun. Especially for a melodrama.
The Curse of an Aching Heart: Or, Trapped in the Spider's Web runs at the Richmond Hill Barn Theatre (600 Robinson Drive, Geneseo) through July 21, and more information and tickets are available by calling (309)944-2244 or visiting RHPlayers.com.