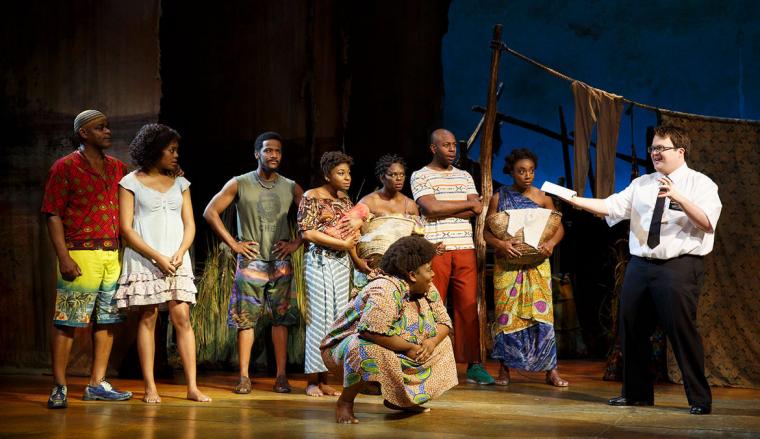 Tuesday, June 5, through Sunday, June 10
Adler Theatre, 136 East Third Street, Davenport IA
Running in a rare eight-performance run at Davenport's Adler Theatre, the musical-comedy smash The Book of Mormon makes its local debut June 5 through 10, a show that, in its original incarnation, inspired this first paragraph of its New York Times review: "This is to all the doubters and deniers out there, the ones who say that heaven on Broadway does not exist, that it's only some myth our ancestors dreamed up. I am here to report that a newborn, old-fashioned, pleasure-giving musical has arrived … the kind our grandparents told us left them walking on air if not on water. So hie thee hence, nonbelievers (and believers too), to The Book of Mormon, and feast upon its sweetness."
Written by South Park's Trey Stone and Matt Smith and Frozen's Robert Lopez, The Book of Mormon is an irreverent, hysterical, and surprisingly sweet send-up of religion, culture shock, and classic musical theatre. The show finds two very different young LDS missionaries – the talented, eager Elder Price and the nerdy, pathologically lying Elder Cunningham – paired together and sent to Uganda to perform their two-year mission. To the missionaries' disappointment, however, the local population seems to be more focused on the poverty, famine, the AIDS epidemic, and the despotic warlord in their midst than religion.
While Elder Price combats his own expectations and doubts and Elder Cunningham battles his inability to remember scripture or tell the truth, fellow missionary Elder McKinley crushes his homosexual urges, and the beautiful Ugandan Nabalungi fights to keep her hopes and dreams alive in the midst of great terror and uncertainty. Clearly, it will take a little inventiveness, a lot of teamwork, and perhaps an excommunication or two for the Elders to succeed in their mission.
Opening on Broadway on March 24, 2011, The Book of Mormon was greeted with enormous fanfare and rapturous praise that soon led to 14 Tony Award nominations, with the show eventually receiving nine in categories including Best Musical, Best Direction, Best Book of a Musical, and Best Score. It also received "Best Musical" citations at the Drama Desk, Outer Critics Circle, and Laurence Olivier Awards, and by the end of May, the production will have enjoyed the 3,000th Broadway performance in its continuing run.
The Book of Mormon will be presented Tuesday through Friday at 7:30 p.m., Saturday at 2 and 8 p.m., and Sunday at 1 and 6:30 p.m., and admission to the June 5 through 10 run is $38-88. For tickets, call (800)745-3000 or visit AdlerTheatre.com.