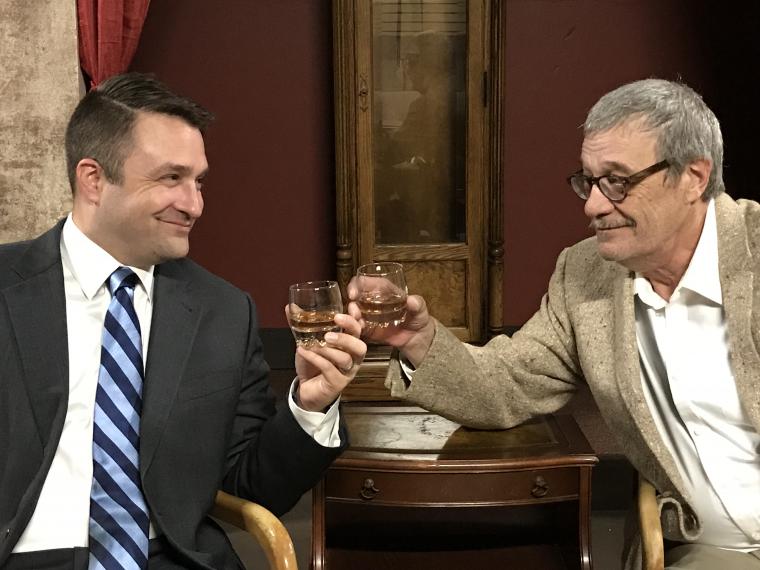 Anyone looking for a fun and suspenseful theatrical romp need look no further than the Black Box Theatre's second-season opener Sleuth – Anthony Shaffer's Tony-winning mystery-thriller set in Wilshire, England, in 1970.
Sleuth revolves around Andrew Wyke (played by Pat Flaherty), an aging detective-fiction novelist with a love of gamesmanship, and Milo Tindle (Phillip Dunbridge), a younger, more handsome man who is having an affair with Wyke's wife Marguerite. And the first thing that struck me about the Black Box's production was the set designed by director Lora Adams, because the moment I saw it, I was impressed with its overall completeness. From the grandfather clock to the functional lamps to the blazing fireplace, here was a set to rival any that I've seen in the Quad Cities in many a year, and an indication that the Black Box is striving to become a formidable force in the area-theatre scene.
Included on the set was the mannequin Jolly Jack Tar – a gap-toothed, rosy-cheeked sailor created by Erin Churchill – that reminded me of one of my aunt's Toby Mugs. Jack Tar's only purpose is to laugh at Wyke's witty remarks, and even though its laughter seemed to be coming from the other end of the stage, it was still a visual treat.
I'd imagine that directing a show in this space can be challenging considering its long, narrow stage and equally long, narrow seating, but Adams (one of the Black Box's co-founders) does an admirable job spreading the action out so that there are no bad seats in the house. And Adams certainly couldn't have asked for a more appropriate cast.
Flaherty's Wyke is the very picture of condescending, smug, arrogant, and aristocratic English snobbery circa 1970, and on January 27, he delivered his insults and witticisms with a natural joy that made the audience laugh even during some of the play's most intense moments. So much has been said about Flaherty's performances over the years that I hesitate to add more here for fear of being accused of plagiarism. Suffice it to say Flaherty has brought a smile to my face in everything I have ever seen him act in, and his portrayal in Sleuth was certainly no exception.
Dunbridge's Tindle, meanwhile, is the perfect foil for Wyke's smarmy superiority. Although a newcomer to the Quad Cities theatre scene, Dunbridge brings an experienced actor's depth to Tindle, a second generation Italian-Englishman looking to overcome Britain's caste system in his search for true love. The actor not only keeps up with Flaherty, but often sets Sleuth's pace (notably in the second act), and Tindle's humiliation and subsequent revenge for having been duped into wearing a clown costume in pursuit of financial security were delivered with cold, clear perfection. One can only hope we'll see a lot more of Dunbridge in the future.
Throughout the numerous twists and turns, Flaherty and Dunbridge seem almost giddy in their battle of wits, embracing one another in a lethal dance that made me think they'd been tango partners for years. And also worthy of mention were Stanley Rushton, Robin Mayfield, and Liam McNulty, who, despite their limited involvement, contributed to this presentation that's completely dominated by its two lead characters.
Despite some minor opening-night glitches, Saturday's overall pacing was brisk and smooth (even if it did take three clicks to get the gun to fire). But I did find one particular aspect of the show a bit troubling. In her director's notes, Adams writes, "Since it was written in the late '60s, the script contains some language that we would consider inappropriate today," and as I started watching the play, I kept waiting for the "inappropriate" language she was referring to. It wasn't until later, however, that I realized that what was inappropriate was that the majority of Shaffer's humorous lines involved the degrading and demeaning of women.
Throughout Sleuth, the female characters Marguerite (Wykes wife and Tindle's lover) and Tia (Wyke's lover) are never discussed in anything more than one-dimensional, stereotypical terms and as simple sexual conquests. "Sex is a game with marriage the penalty" and "I could copulate for England at any distance" are Wyke's idea of romance-minded talk, while Tindle describes Tia as "a scrubbed blonde with all the sex appeal of chilled Lysol."
Nevertheless, Sleuth is an entertaining, suspenseful joy ride featuring some of the best acting the Quad Cities currently has to offer. It'd be a crime to miss it. (Sorry. For my debut article, I had to get in at least one theatre-review cliché.)
Sleuth runs at the Black Box Theatre (1623 Fifth Avenue, Moline) through February 11, and more information and tickets are available by calling (563)284-2350 or visiting TheBlackBoxTheatre.com.