It was Sunday, October 30 in 1938 New York, and the country was on edge as Orson Welles went live via Madison Avenue and the Columbia Broadcasting System (CBS) in a Halloween episode hosted by Mercury Theater on the Air. A dramatic, science-fiction radio play, the program caused panic amongst communities who mistook the broadcast for real-life events as alien invaders, described in detail, appeared ready to take over the world.
That's the real-life tale told in the Black Box Theatre's unique production of War of the Worlds: A Radio Play, and while Friday's performance was only about an hour long with no intermission, I thoroughly enjoyed it. Based on the novel by H.G. Wells and adapted from the radio-play script by Howard E. Koch, this singular story directed and designed by Lora Adams is quite different from the theatrical productions I typically attend – and different in a good way.
From the start of the show, I knew I was in for a treat, partly because I love the intimate, cozy setting of the Black Box Theatre and its charming location in downtown Moline. It's great to be up-close-and-personal with the actors as they take on their characters; you really feel like a part of the experience. But in the set design by Adams and Michael Kopriva, I was also taken back to my old radio and TV broadcasting days when I attended college. War of the Worlds' setting replicated a radio-station booth consisting of a red on-air sign, a CBS station logo (which could've been a little better-designed) against black walls, microphone stands lining the front of the stage, and a wind machine and row of chairs situated along the back of the stage. You get the feeling that you're a fly on the wall here, observing everything that's going on, and it was quite fun.
Five actors played several roles – so many that I carefully tried to keep track of them all – with each performer contributing a variety of characters including announcers, farmers, reporters, professors, and soldiers. This was the first time I had seen a radio play presented live, so I wasn't sure what to expect in terms of performance, but I will say I was pleasantly surprised by how much I actually liked it.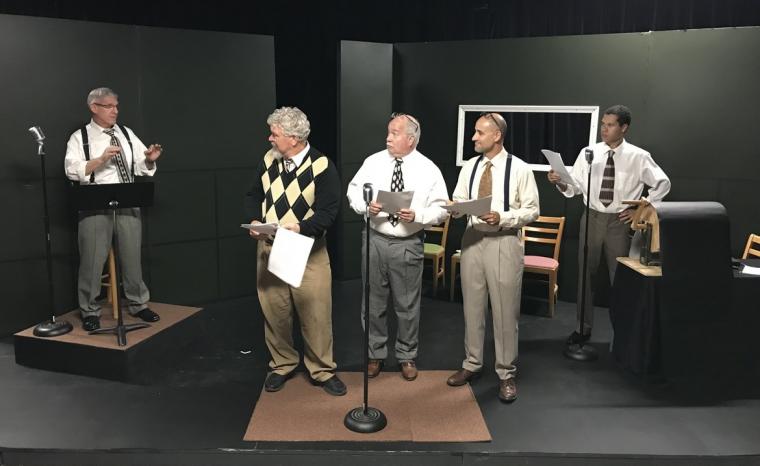 As Orson Welles and Professor Richard Pierson, James Driscoll was a fantastic storyteller and exuded confidence throughout Adams' production, and as he clearly took time to develop his characters, the actor's work made for a great imaginative experience. On Friday, there were moments in which I would simply close my eyes and let Driscoll tell his story of surviving this (fake) alien attack just as if I was living in 1938 and listening to the radio.
Portraying local reporter Carl Phillips and several other figures, Matthew Walsh had a soft way of subtly changing his voice to fit each personality, and with his excellent inflections, he was also great at impersonations. Meanwhile, I was fascinated by Michael Alexander's ability to go in out of character so quickly. As this play has everything to do with vocal (rather than physical) acting, I'm sure it's a challenge, and at times in Alexander's role as an announcer, I felt as if he was just cold-reading the script. But at other times, as when playing a soldier, his acting ability really shined, and Alexander was also responsible for some of the show's important sound effects involving wind and chimes. Overall, I found the actor to be quite adaptable and entertaining.
The funny and engaging Mark Ruebling portrays Mr. Wilmuth, a farmer who allegedly witnessed the alien invaders land on his property. Ruebling also depicts a crazy stranger that Professor Pierson runs into on his way to surveying the aliens' supposedly destructive takeover, and rounding out the cast is Scott Tunnicliff, whose radio voice reminded me of Tom Brokaw's, with its deep, low tones that screamed "anchorman." Tunnicliff was well-suited to the part, and equally believable as he impersonated many of the play's military captains and generals.
During her opening remarks before Friday's War of the Worlds: A Radio Play began, assistant director Sara Armstrong Kutzli jokingly announced, "In case of a non-alien emergency, the exits are located to your left and right." Her delightful comment led me to wonder: What if Martian cylinders were actually falling all over the country? How would we respond? Probably the same way the show depicts – with mass pandemonium – and the Black Box's production is a great way to both escape reality and feel like a part of American history.
War of the Worlds: A Radio Play runs at the Black Box Theatre (1623 Fifth Avenue, Moline) through October 21, and more information and tickets are available by calling (563)284-2350 or visiting TheBlackBoxTheatre.com.