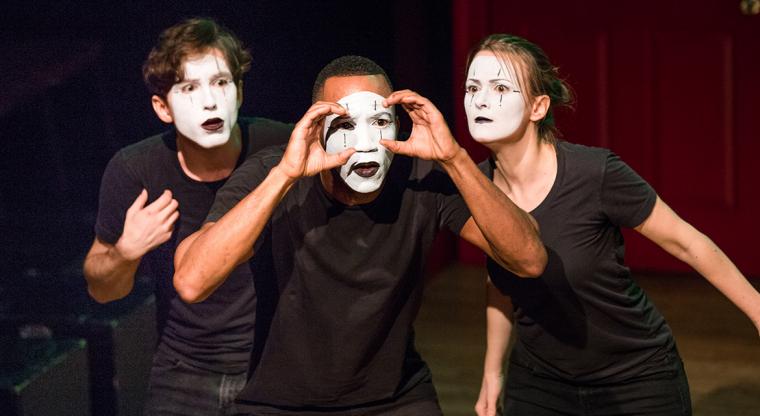 PASS Performance:
Thursday, February 9, 6 p.m.
The J Bar, 4215 Elmore Avenue, Davenport IA
Abbreviated Performances:
Tuesday, February 7, 6 p.m.
DeWitt Community Library, 917 Fifth Avenue, DeWitt IA
Wednesday, February 8, 6 p.m.
Clinton Community College, 1000 Lincoln Boulevard, Clinton IA
Performing a rich, funny, and astonishing blend of stagecraft and silent slapstick, the gifted clowns of New York's nationally touring Broken Box Mime Theater will appear as the latest 2023 guests in Quad City Arts' Visiting Artists Series, delivering one full performance and two abbreviated ones – in addition to their numerous presentations for local students – between February 7 and 9.
Based in New York City and founded in 2011, Broken Box Mime Theater a contemporary physical-theater company that tells original stories designed to soar beyond any language barrier. Set to rich lighting and a heart-thumping soundtrack, the group's narratives range from realistic to metaphorical, heart-wrenching to hilarious, and cinematic to intimate, held together by a dedication to the empowered imagination and the collective artistic voice of its diverse company. Broken Box Mine Theatre devotes itself to reimagining its medium for contemporary audiences and redefining mime through the lens of US-American theater, leading StageLeft.nyc to rave, "Determined to make mime cool again, they more than deliver."
With StageBiz raving that the company's "ensemble is a tight knit, technically astounding, mighty conglomeration of talent in full bloom," Broken Box Mine Theater features 19 company members who are all professional stage artists, and diverse in terms of race, gender, sexual orientation, training, background, mental-health identity, and writing style. The group boasts graduates of Lecoq training, the Northwestern mime troupe, Meisner, and Georgian-style Synetic Theater Company in Washington D.C., and its members are practitioners of clown, parody, musical theater, and spoken-word poetry, Working with a resident stage manager, lighting designer, graphic designer, photographer, and filmmaker, the performers hail from locales as vast as Jamaica, Switzerland, Australia, New York City, and hometowns across the United States, delivering what Theatre That Matters called "precise, engaging narratives which are both poignant and rife with vulnerable humor."
Past collaborations for Broken Box Mime Theater include: the University of Colorado Boulder; Cambridge University; BricLab; the Williamstown Theatre Festival; the Alliance Francaise; New York Deaf Theater; First Responders Children's Foundation; Saratoga Arts; The New School; Tufts University; and the Korean Ministry of Food and Agriculture. The group has also enjoyed a number of television since its inception, having appeared on both MTV and The Late Show with Stephen Colbert.
During their area tenure as Quad City Arts Visiting Artists, the performers of Broken Box Mine Theater will deliver abbreviated 6 p.m. public performances at the DeWitt Community Library on February 7 and at Clinton Community College on February 8. The group will also perform a full-length 6 p.m. event in Quad City Arts' PASS series, playing Davenport venue The J Bar on February 9. Admission is $50 for the PASS performance and free for the two abbreviated performances. For more information on Broken Box Mime Theatre and the Visiting Artists Series, call (309)793-1213 and visit QuadCityArts.com.