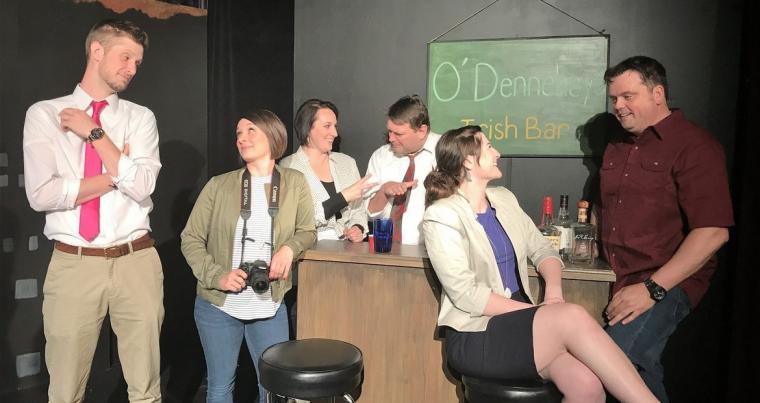 The 2006 musical love story I Love You Because, its music by Joshua Salzman and its book and lyrics by Ryan Cunningham, is a modern spin on Jane Austen's Pride & Prejudice, exploring the age-old notion that opposites attract. And in its current presentation at the Black Box Theatre, the show provides a light and entertaining theatre experience. Under the direction of Becca Johnson, a seemingly overdone plotline was a true crowd-pleaser during June 2's opening night (with a standing ovation as proof), and for that I give credit to Becca Johnson and the six actors who were naturals as those trying to navigate New York City's dating scene.
If you haven't yet been to the Black Box, it's an intimate space with three tiered rows of seating and an almost-floor-level stage about six to 10 feet in front of you. As it would be watching actors through a magnifying glass, it's a setup that doesn't allow much room for error. But the performers here did not disappoint. The backdrop designed by David M. Miller and Judy Martinsen was a deliberately artifical, 12-foot-high skyscraper skyline – think giant NYC pop-up book. Adding the few props, small table with chairs, futon/bed, and multi-purpose counter, the show's focus was on the actors … although I really enjoyed the simple yet clever effect that turned a bar into a café with the flip of a sign and the replacement of liquor with coffee mugs.
The conservative, rigid, nerdy Austin (Zachary Hendershott) opened the show with the song "Another Saturday Night in New York," and when joined by the rest of I Love You Because's cast, the evening's tone was set through their spirited rendition. Hendershott played greeting-card writer Austin with warm pathos, his tenor voice showcased best on "Maybe We Just Made Love" and "Goodbye." Austin is heartbroken over the recent loss of his girlfriend when he meets the free-spirited liberal photographer Marcy (Sara Tubbs), who agrees to help him win her back. Marcy is also coming out of a relationship but not looking for another at the moment, and the likable and natural Tubbs, with her skillful vocal range, was strong during her every song. Both characters were also subtle in manner and wardrobe choices – he in dress shirts and varied ties, and she in modern jeans and dresses – in ways counter to the stereotypes often portrayed on TV or in movies. Not a pocket protector or hippie dress in sight!
Marcy's best friend Diana (Leslie Munson) advises her on handling what she calls break-up recovery (Diana has also just recently broken up), explaining that this is not the time to look for Mr. Right. Being an actuary, however, she has concocted a complicated math formula involving the number of months one must wait to begin again – allowing Munson to deliver the lyrically challenging ditty "The Actuary Song" with ease and precision. They set out to instead find a couple of Mr. Wrongs, biding their time before searching for Mr. Rights, which brings the show to Jeff (Miller), Austin's not-too-bright brother who becomes Diana's "friend with benefits." Miller's acting prowess here left no doubt that he – Jeff, that is – was definitely Mr. Wrong. Whether delivering numerous malapropisms (which never failed to elicit laughter from Friday's audience) or flawlessly incarnating an adolescent in a man's body, Miller was perfect.
Kudos, too, to Shana Kulhavy as Bridgette/New York Woman, and Brant Peitersen as Danny/New York Man, for their comedic timing, appearing totally comfortable in multiple roles that involved speaking in dialects, singing, and dancing. I found Kulhavy's vocals especially rich in the song "Alone," and Peitersen's antics (which bordered on the edge of ham) added a fun factor to this already amusing musical comedy. Here were two actors who definitely ramped up "minor" roles with zing.
This musical comedy's 18 songs varied from airy pop numbers to jazz to ballads to (almost) rap, and all of the performers sang every lyric clearly. Also impressive were the musicians: music director Amy Trimble on piano, assistant music director Mason Moss on keyboard, and percussionist Dale Huntley on drums. Some songs had especially tricky tempo changes and, to my ear, Friday's singing and accompaniment were nearly faultless.
I must, though, mention that I Love You Because is for mature audiences, as it contains definitely adult language and situations. But as the actuary Diana may have computed: Take a quirky comedy, add music with clever lyrics, multiply by a talented cast and crew, and you get a fun evening's entertainment for a friends' night out or a date night … depending, that is, on where you stand on the relationship bell curve.
I Love You Because runs at the Black Box Theatre (1623 Fifth Avenue, Moline) through June 17, and more information and tickets are available by calling (563)284-2350 or visiting TheBlackBoxTheatre.com.