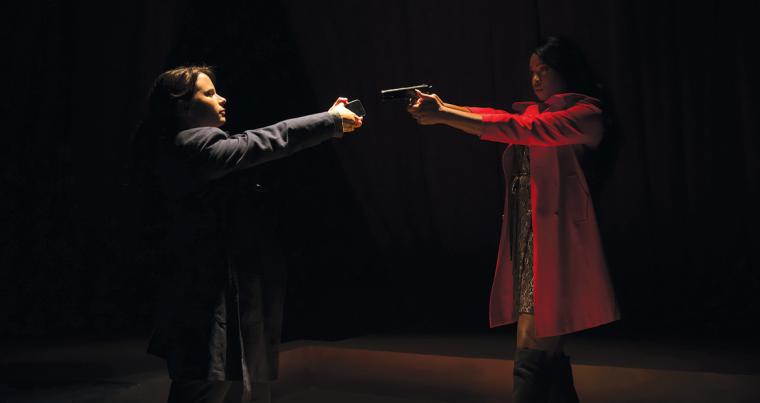 "When something rings, you have to answer it. Don't you?" pleads Jean (Jessica Taylor), the mousy, bespectacled protagonist of the QC Theatre Workshop's wildly imaginative production of Dead Man's Cell Phone. This Sarah Ruhl play serves as a commentary on how modern technology both isolates us and connects us. Or at least, that's what Wikipedia would like us to believe … .
Immediately upon entering the theatre on August 25, I was struck by a slight feeling of vertigo in director Thomas Alan Taylor's unique seating/staging arrangement. Multi-level diagonal platforms jutted out from the right side of the stage, while the main seating platform was placed at a 45-degree angle from the stage, with additional seating both facing the stage and at a right angle to it – giving the entire production a surreal feel and allowing for more visually stimulating staging.
Dead Man's Cell Phone opens in a small café with Jean – picture Zooey Deschanel in New Girl, only drabber – and Gordon (Reader employee Mike Schulz) sitting at opposite ends of the room. After asking several times for Gordon to answer his constantly ringing phone, Jean hesitantly decides to answer it for him, not realizing, until after taking a message, that he's no longer among the living. She feels a sudden compassion for the man, decides to keep his cell, and prays for the strength to comfort his loved ones and help keep his memory alive.
Susan Perrin-Sallak portrays Gordon's mother Harriet Gottlieb with a WASP-ish, condescending superiority even while deeply mourning her loss. During Gordon's eulogy, she can't help but complain about people who answer the phone while quietly urinating, and after Harriet realizes that Jean has her son's phone, she invites her to dinner in the hopes of finding out the connection between Jean and her son.
My favorite entrance of the night had to be the one in which Dwight (Joshua Kahn) stumbled, struggling, onto the stage with three dining room chairs, eventually setting them for the dinner with Harriet, Jean, and Gordon's widow Hermia (Maggie Woolley). A not-so-grieving widow, Woolley's Hermia radiates sensual tension, and later, during a drunken confession, reveals her sexual fantasies to a visibly uncomfortable Jean, punctuating it with one of the funniest on-stage dry heaves I've ever heard.
Meanwhile, Harriet's younger and much less important son Dwight – at one point, his mother had to be reminded that she hadn't lost her only son – takes an immediate interest in Jean, especially after the amiable, eager-to-please young man finds out that they share a passion for embossed stationery (Yes. Embossed stationery.)
During the course of the performance, Taylor's Jean evolves from merely comforting Gordon's loved ones – doing so through acts that include bringing inappropriate gifts and making up imaginary love letters – to righting Gordon's wrongs, culminating in a craftily choreographed fight scene between Jean and the physically imposing Other Woman (Antoinette Holman-Nebinger). With gleeful sassiness, Holman-Nebinger dominated the stage in her scenes, all the while staring at Jean in much the same way a chicken hawk might eye a field mouse as a potential after-dinner snack.
From the onset of Dead Man's Cell Phone, composer Micah Bernas' original score beautifully enhanced the varying moods throughout. In the first scene, for example, Bernas alternated the Muzak of a small café with the annoying, jarring tones of an unanswered cell phone to comic effect. Later, a simple and elegant ascending progression that framed a blossoming love suddenly switched to ominous overtones as Gordon silently entered to close the first act.
The dead man opened the second act with an account of his last day on earth, including a very physical description of the widow-maker heart attack that had me reaching for my chest to double-check my own ticker. As it turns out, Gordon is not exactly the angel that Jean imagined him to be, and his juicy rationalization for the business he was involved in was delivered with the same aplomb and arrogance as that of a pharmaceutical-company CEO explaining the doubling of a drug price. (Alexander Richardson's lighting was especially effective during Gordon's monologue, punctuating the simple blocking with single pools of light.)
As for ensemble members Abbie Carpenter and Jake Pecaut, they were more than just stagehands silently placing and striking set pieces and props in director Taylor's production, often reacting to cast members or, in one case, donning a spy's trench coat and sunglasses to mimic Jean's appearance and her role in a scene change. Plus, they handled the confetti. Oh, the confetti … .
In the end, perhaps the Workshop's latest isn't so much about whether or not technology separates or unites us as much as it's about kindness and the importance of grabbing onto love with both hands and hanging on as if your life depended on it. But don't take my word for it. With its exceptional cast and smart direction, Dead Man's Cell Phone is a call you'll want to take for yourself.
Dead Man's Cell Phone runs at the QC Theatre Workshop (1730 Wilkes Avenue, Davenport) through September 9, and more information and tickets are available by calling (563)823-8893 or visiting QCTheatreWorkshop.org.