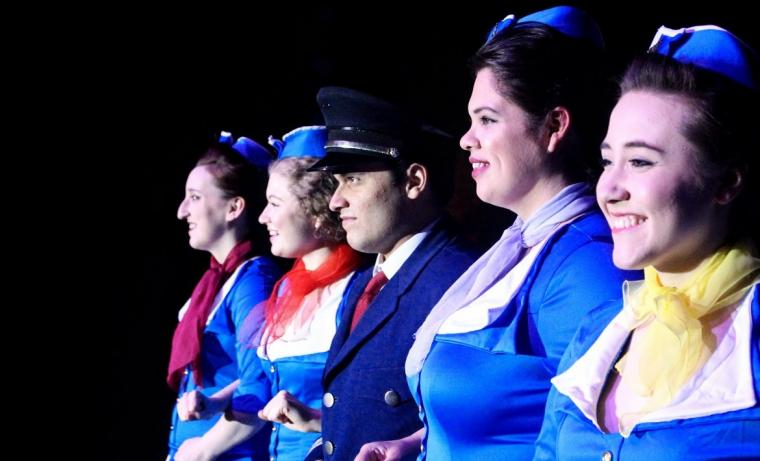 Thursday, March 22, through Sunday, March 25
Prospect Park Auditorium, 1583 34th Avenue, Moline IL
A Steven Spielberg movie smash becomes a lavish, tuneful, funny, and romantic Quad City Music Guild presentation in Catch Me If You Can, the Tony Award-winning Broadway hit that runs March 22 through 25, and a show that Variety magazine praised for its "swinging orchestrations" and "considerable entertainment value."
Adapted from the 2002 Oscar nominee starring Leonardo DiCaprio and Tom Hanks, the musical version of Catch Me If You Can arrives with a book by Tony winner Terrence McNally (The Full Monty, Ragtime) and a thrilling original score by Tony winners Marc Shaiman and Scott Wittman (Hairspray). Seeking fame and fortune, precocious teenager Frank Abignale, Jr. runs away from home to begin an unforgettable adventure. With nothing more than his boyish charm, a big imagination, and millions of dollars in forged checks, Frank successfully poses as a pilot, a doctor and a lawyer – living the high life and winning the girl of his dreams. When Frank's lies catch the attention of FBI agent Carl Hanratty, though, Carl pursues Frank across the country to make him pay for his crimes, and what results is a high-flying adventure that received four 2011 Tony nominations, including one for Best Musical.
Directing Catch Me If You Can is Quad City Music Guild veteran Mike Turczynski, whose previous productions for Guild include A Christmas Carol and Young Frankenstein, with Mason Moss serving as the show's music director. Adam Sanders, recently seen in the Richmond Hill Barn Theatre's The Diviners, portrays Frank Jr., while Tim Dominicus (Into the Woods, A Christmas Story: The Musical) plays his antagonist Carl. And 19 additional talents fill out the Catch Me If You Can ensemble: Chase Austin, Adam Cerny, Sethe Christensen, Sydney Dexter, Jeff Fah, Sydney Heller, Sara Laufer, Breanna Maddelein, Gary Mayfield, Stephanie Morehead, Martha O'Connell, Jackie Patterson, Brant Peitersen, Luis Portillo, Claire Schaecher, Andy Sederquist, Steve Trainor, Zane Shull, and Megan Warren.
Catch Me If You Can runs Thursday through Saturday at 7:30 p.m. and Sunday at 2 p.m., tickets are $11-16, and more information and reservations are available by calling (309)762-0330 or visiting QCMusicGuild.com.