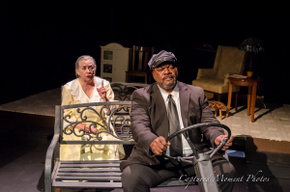 Prior to Friday night, my only experience with Driving Miss Daisy was with the remarkable film version starring the incomparable Jessica Tandy and Morgan Freeman. Although its tenderness sticks with me, for some reason I don't recall Alfred Uhry's script being terribly funny. And with the Playcrafters Barn Theatre's production of this material, I'm now wondering why I don't remember the humor, considering how loud and often I laughed during director Donna Weeks' presentation.
Uhry's tale finds the elderly Daisy Werthan (Rae Mary) coping with her inability to drive and being forced to be chauffeured by Hoke Colburn (Fred Harris Jr.) at the behest and expense of her son Boolie (Jason Dlouhy), and it's filled with funny moments, particularly Daisy's curmudgeonly comments and Hoke's no-nonsense, though politely delivered, retorts. Meanwhile, their relationship, which blossoms from Daisy's stubborn reluctance to accept Hoke - his presence being a symbol of her lack of independence - into a platonic intimacy that pulls at the heartstrings, is the thrust of the story. Or rather, it should be.
My one issue with Playcrafters' production is that the friendship between Daisy and Hoke doesn't blossom so much as abruptly change. It is with great respect and admiration that I say that this is among the finest performances, if not the finest, I've seen Mary deliver on a local stage. She's every bit as sincere, stubborn, and comedic as the script requires. However, her downfall, and it's a significant one, is Mary's and Weeks' decision to have Daisy fully accept Hoke fairly early on in the play.
In the middle of the first act, Daisy believes that Hoke has stolen a can of salmon only to discover that, while he admits to eating it, he's also returned with a can in hand to replace it. This is an early turning point at which Daisy begins to like Hoke; for Mary, though, it seems to be the entire reason that Daisy, from then on, accepts Hoke without question. Their friendship doesn't grow after that because it's already been solidified. Consequently, Daisy's impatient comments while riding in the back seat appear impatient due solely to her disdain for what she's seeing out the window - such as extraneous Christmas-light displays - and not at all for the situational angst involving her scapegoat Hoke. We don't get to see the process of acceptance Daisy should be going through and, as a result, the final scene is soft on the intended emotion. (Well into the second act, Boolie says he's "never heard [Daisy] say loving things about Hoke before," but from the moment he brings that salmon, she's nothing but loving toward him.)
As difficult as it may be to put that aside, it's also the only notable flaw in an otherwise mirthful production. Harris delivers yet another in a long line of fantastic performances, effortlessly pulling every bit of humor he can from Hoke's lines by delivering them with a sarcasm that's absent of negativity. (When tells Daisy, "I had the air-conditioning checked. I don't know what for. You never allow me to turn it on," it's said matter-of-factly with a tinge of amusement, not rudeness.) Dlouhy also delivers another pleasing performance. After enjoying his turn in Playcrafters' Second Samuel last year, I was thrilled to see him among this production's cast, and he doesn't disappoint, playing Boolie with subtle humor and a rather gentle exasperation with his mother.
Race relations are also important in Uhry's story, as Daisy is Jewish and Hoke is black - neither of which are "positives" in the late 1940s, in Atlanta, when the play begins. Weeks doesn't push the author's points, however, which is somewhat appreciated, given that she avoids preachiness while also not ignoring the script's subtext; although there are emotional shortcomings, the presentation's humor helps make them forgivable. Playcrafters' Driving Miss Daisy didn't move me to tears, but it did come close to eliciting the kind that come from hearty laughter.
Driving Miss Daisy runs at the Playcrafters Barn Theatre (4950 35th Avenue, Moline) through May 17, and more information and tickets are available by calling (309)762-0330 or visiting Playcrafters.com.