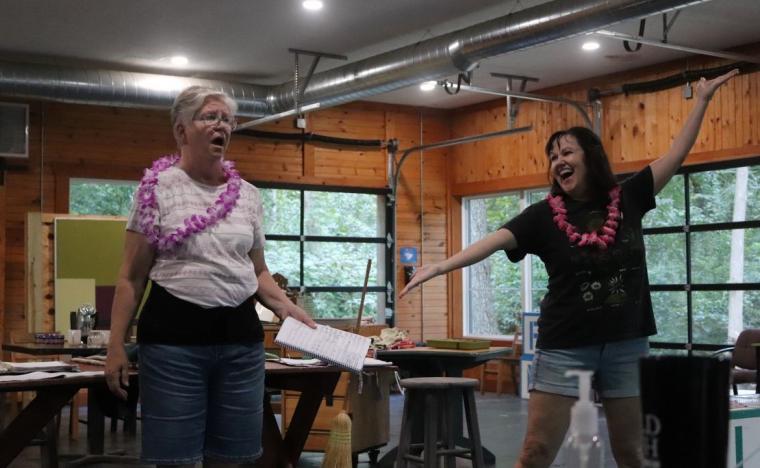 Friday, September 8, through Sunday, September 17
Timber Lake Playhouse, 8215 Black Oak Road, Mt. Carroll IL
Based on the beloved Janet Letnes Martin and Suzann Nelson book Growing Up Lutheran and an ever-popular stage entertainment for nearly 20 years, Church Basement Ladies makes an eagerly awaited return to Mt. Carroll's Timber Lake Playhouse, its September 8 through 17 run sure to demonstrate why Broadway World called the experience "a completely fun evening" that's "really, really funny."
A celebration of the church basement kitchen and the women who work there, Church Basement Ladies features four distinct characters and focuses on their relationships as they organize the food and solve the problems of a rural Minnesota church about to undergo changes in 1965. From the elderly matriarch of the kitchen to the young bride-to-be learning the proper order of things, we see them handle a record-breaking Christmas dinner, the funeral of a dear friend, a Hawaiian Easter fundraiser, and a steaming hot July wedding. They stave off potential disasters, share and debate recipes, instruct the young, and keep the pastor on course while thoroughly enjoying (and tolerating) each other as the true "steel magnolias" of the church.
Funny and down to earth, Church Basement Ladies has been so successful since its 2005 debut that it has inspired no fewer than eight stage sequels, the most recent of which – Church Basement Ladies in "Plowin' Thru" – had its world premiere at the Ames Center in Burnsville, Minnesota, in September of 2022. In addition to touring nationally, the musicals have been licensed in all contiguous 48 states and Canada, and it is estimated that more than four million audience members have attended Church Basement Ladies and its sequels. On November 18 of 2016, the company celebrated its 3000th performance at Minneapolis' Plymouth Playhouse.
With the show returning to the Timber Lake Playhouse for the first time in 15 years, Church Basement Ladies is directed by venue favorite Courtney Crouse, whose Mt. Carroll credits have included helming Big River and Almost Heaven: Songs of John Denver, as well as starring in such musicals as Urinetown and The Best Little Whorehouse in Texas. The cast of Church Basement Ladies features Judi Mann (Mavis), Carrie Neal (Karin), Marcia Sattelberg (Vivian), Lydia Prior (Signe), and C.J. Langdon (Pastor E. L. Gunderson). The choreography by Dawn Trautman and music direction from Oliver Townsend, with Crouse's creative team also including Dan Danielowski (set and lighting designer), Tammy Long (costume designer), Dillon Allen (sound designer), Jeff Creath (props designer), and Lydia Krause (production stage manager).
Church Basement Ladies runs in Mt. Carroll from September 8 through 17, with scheduled 7:30 and 2 p.m. performances Wednesday through Sunday, and admission is $25-35. For more information and tickets, call (815)244-2035 and visiting TimberLakePlayhouse.org.