As someone who's been privileged to write about local theatre for nearly 10 years now, I can't begin to describe the sheer tonnage* of correspondence I've amassed from people who are curious about upcoming area stage productions. Please allow me, then, this attempt at answering all your questions about the forthcoming winter-theatre season through just a few of the hundreds** of letters, e-mails, and texts I've recently received on this subject***.
*Perhaps an exaggeration.
**Definitely an exaggeration.
***Some of which I may have made up.
"My family and I want to celebrate the season with a holiday-themed musical or dance production. Are any of those arriving soon?" - Barbara N.
Absolutely - and in fact, one of them is probably being performed even as you read this! The Circa '21 Dinner Playhouse opened its production of the Tony-nominated Irving Berlin's White Christmas earlier this month, and this delightful musical based on the classic Bing Crosby movie will continue to play through December 28. Meanwhile, beginning on November 28, Circa '21 will also stage director Kimberly Furness' family presentation 'Twas the Night Before Christmas, with the seasonal comedy running on scheduled mornings and afternoons through December 27.
Quad City Music Guild's annual production for the holidays, running December 4 through 7, is director Tom Morrow's The 1940s Radio Christmas Carol, a musical slapstick about a troupe of broadcasting stars attempting their own take on Dickens. An actual adaptation of Dickens gets staged at the District Theatre December 12 through 21, as director Matt Mercer tackles the venue's third-annual presentation of A Christmas Carol, with its original music by Danny White and book by Tristan Layne Tapscott. And speaking of holiday traditions, you and your family won't want to miss the Adler Theatre's annual performances of Ballet Quad Cities' The Nutcracker on December 13 and 14, with live accompaniment courtesy of Orchestra Iowa. Oh, those amazing dancers! Those gorgeous strains of Tchaikovsky! That gigantic, creepy-ass mouse!
"I'm already getting a bit holiday-ed out this winter ... . Any shows coming up that are heavy on music but light on holiday spirit?" - Joel F.
You better believe it! The Adler will host two touring musical comedies in its Broadway at the Adler Series: December 21's Sister Act: The Musical, based on 1992's screen-comedy smash with Whoopi Goldberg, and January 21's Guys & Dolls, the stage classic that brought you such unforgettable tunes as "Luck Be a Lady," "Fugue for Tinhorns," and "Sit Down, You're Rockin' the Boat." The District Theatre brings its popular bluegrass musical Big Rock Candy Mountain - another White/Tapscott collaboration - to the Circa '21 Speakeasy on February 27 and 28, while Circa '21 itself stages its long-awaited production of the Broadway behemoth Les Misérables January 14 through March 21, with venue favorites Don Denton as Jean Valjean and Adam Clough as Javert.
Ballet Quad Cities will follow its Nutcracker with February 27's and 28's Scottish Rite Cathedral stagings of Love Stories, the company's annual presentation of romantically themed vignettes that, this year, will be highlighted by a segment from Romeo & Juliet. And over at the Center for Living Arts, director Dino Hayz's student cast will deliver December 5 through 13 performances of Annie, the Tony-winning musical that climaxes with our lovable red-haired orphan in front of the Christmas tree and ... . Well, you did ask for shows light on holiday spirit, right?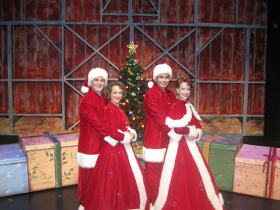 "Our whole family loves theatre, but the kids tend to get restless during musicals ... . Any suggestions?" - Rita W.
Three, actually - and they're all great chances to see student performers in action! The young actors at Davenport Junior Theatre remain ever-busy, and will soon be readying for author Roger Pavey's February 14 through 22 adaptation of Little Red Riding Hood. Over at St. Ambrose University, director Daniel Rairdin-Hale will treat audiences of all ages to the Seuss-ian storybook fun of December 6's and 7's The Cat in the Hat, which debuted in 2009 at the esteemed National Theatre in London. And across the river at my alma mater of Augustana College, traditional tales get shaken up in Aesop's (Oh So Slightly) Updated Fables, a December 11 through 14 production directed by Jackie Wynes-McCall and written by Augie alumna and personal-friend-slash-former-classmate Kim Esop Wylie. Back in '87, we were in Hair together!
"My wife and I adore plays because they give us a chance to get away from the kids. What can we look forward to?" - Mark A.
Plenty! If interactive comedy and whodunits are your thing, you won't want to miss the next two Skellington Manor Banquet & Event Center presentations by the It's a Mystery! comedians: December 5's Murder in the Double-Wide, written by Scott Naumann, and December 19's Cruise into Murder, written by Patti Flaherty. The Playcrafters Barn Theatre has a pair of comedies of its own, albeit ones performed without comedic bloodshed: director Don Hazen's inheritance slapstick Barely Heirs, running January 9 through 18, and the whimsical romance 13th of Paris, which Dana Moss-Peterson will direct for the show's March 13 through 22 engagement.
A
rea student actors will show off their acting muscle in more than December's family comedies, as Augustana's performers explore a recent American tragedy in the February 6 through 8 stagings of Katrina: The K Word, and St. Ambrose talents, under the direction of Corinne Johnson, attack David Mamet's corrosive real-estate comedy Glengarry Glen Ross February 20 through 22. New Ground Theatre is set to deliver heartfelt comedy in director Bryan Woods' take on Wendy MacLeod's Things Being What They Are, a Village Theatre production whose January 23 through February 1 booking precedes the company's annual Playwrights Festival showcase of emerging authors, running March 6 through 15. The District Theatre presents the second half of Tony Kushner's Pulitzer-Prize-winning masterpiece when Angels in America: Perestroika runs January 23 through February 1. Plus, for classical-theatre fans, there's a new Prenzie Players outing this winter, with director Tracy Skaggs and his ensemble bringing Shakespeare's Julius Caesar to life at the QC Theatre Workshop January 23 through 31. They're planning to come, see, and conquer!
"But Mike, when will we get to see you on stage again?!" - Noreen S.
Aw, how sweet of you to ask! I'll actually be back at the Workshop March 13 through 28, appearing opposite Thomas Alan Taylor in director Tyson Danner's A Steady Rain. It's a two-character drama that enjoyed a 2009 Broadway production with Daniel Craig and Hugh Jackman, and it became something of a YouTube sensation after Jackman was filmed shouting at a patron whose cell phone went off during a performance. But don't worry: I won't be shouting if one goes off at our show! Tom's playing the Jackman role, so he's got dibs.
For more information on stage productions in the Quad Cities and surrounding areas, visit the THEATRE section of the Reader's online events calendar.