Snow in March?! More likely than you'd think, and Haus of Ruckus' newest comedy offering has bouts of snow, cryptids, and Colorado mountaineers.
Are We There Yeti?, written and helmed by Calvin Vo & T. Green and currently being staged in St. Ambrose University's Black Box Theatre, follows best buds Johnny Ruckus and Auntie Fungus as they urgently travel through wintry Colorado mountains to aid Fungus' father. The plot includes many restless mountaineers, mountain animals, the Jack in the Box fast-food chain, and more, and in true Haus of Ruckus fashion, it is original and unexpected.
I haven't seen all of Haus of Ruckus' productions, but from what I know, their comedy is revered for its laugh-out-loud moments, interesting characters, and wildly clever writing. Most of Sunday night's performance held true to this, although I found the comedic energy that I came to the show expecting falling flat at times. Shortening the play and working further on the actors' comedic timing might have helped. There's a point at which too much random can get in the way of a followable story, and there were moments during the performance that crept into this territory.
Don't get me wrong, though – Yeti was still entertaining, and definitely worth seeing. The characters and plot were blissfully ridiculous, the production design polished, and the ensemble of artists well-worth mountain-traversing and Sasquatch-hunting with.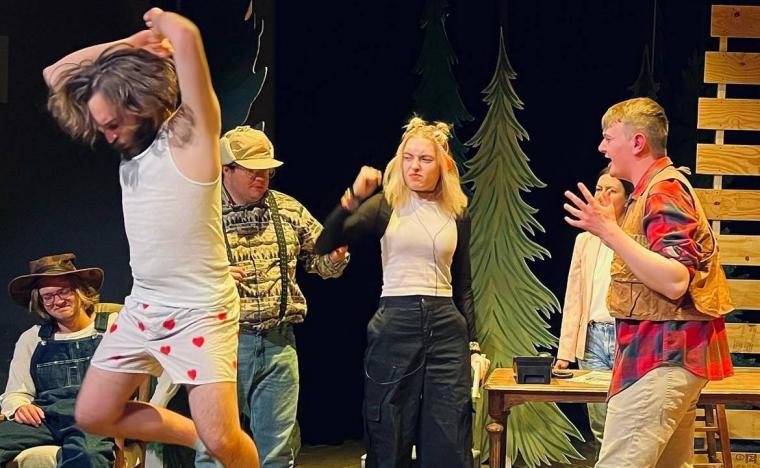 Portraying Johnny and Fungus, as always, are Ruckus' artistic-director duo of Vo and Green, whose love for this group and comedic flair never fails, and showed in their performances. I could talk about their routines endlessly, but one of my favorite bits from this play involved Fungus' fanny pack. Green wore a pair of thick winter gloves, and watching Fungus struggle to open his fanny pack was funny enough. But then his pulling out a sandwich bag of "trail mix…?" – which, according to Fungus, is just nacho cheese and jelly beans – was even stranger. Moments like this are why Haus of Ruckus never gets old, and why their shows are arguably among the most unique artistic experiences the QCA sees.
A frequent Ruckus cameo performer is Terry Green, father of T., and in this production, the man plays the hugely important role of Sasquatch, which he nailed. (T.'s mother Leslie Ross also makes a surprise appearance.) Max Robnett's mountain ranger Officer Gordy was an awkward and fun character in the mix. The actor delivered a great deal of dry humor, situational comedy, and fun one-liners – and his interactions with T. and Calvin are always stellar. Meanwhile, a unique factor to this specific Ruckus comedy was its inclusion of SAU students, whose presences may have been what made the show feel different for me, but it was cool seeing more faces and talent in the group.
Yeti's posse of mountaineers included many Ambrose students, as well as and some alumni who have frequented previous Ruckus shows. David Weaver's Andy Nortnik is a conspiracy theorist who's bothered by the rest of the mountaineer gang; the performer's energy and presence onstage is exciting, and his interactions with fellow actors (and puppets!) steady throughout. Smithy, one of the core mountaineers on the hunt for Sasquatch, is portrayed by Beckett Conwell, who also takes on other various roles (including an antler-man puppet designed by Vo). And Sarah Goodall's boldness as Colorado Marge contrasted hilariously with Joseph Lasher's Bill Shy. Lasher's role was minimal, but the actor stole scenes, and you'll just have to witness for yourself his control of noise, movement, and (few) words.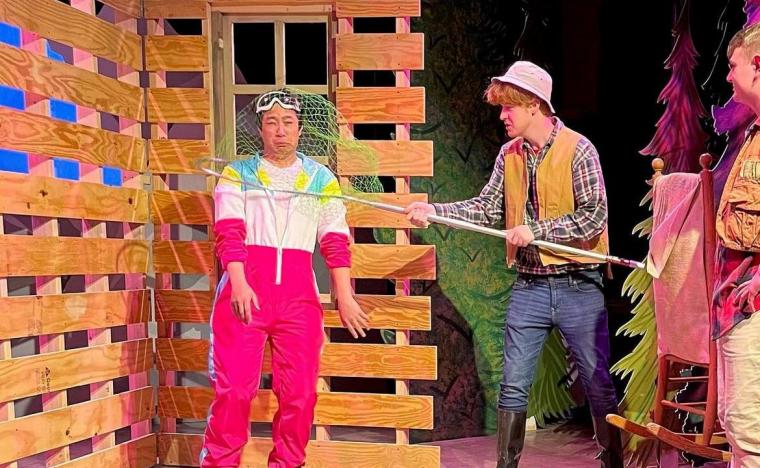 Rounding out the Coloradans are The Mayor (Jo E Vasquez), who goes on a variety of tangents and discoveries and forms an unexpected relationship; Amber (Bella Kuta), a moody teen; Ugly Mike (Drew Dowda), and Wyatt (Ethan Windt), whose mountaineering quips were on-brand; and bit parts and ensemble roles played by Jayden Lebron; and Liz and Kathy (Megan Rohn and Shannon Ryan, respectively), who were TV reporters commenting on Yeti's plot.
After the company's previous productions at Davenport's Mockingbird on Main, it was wonderful seeing Haus of Ruckus perform in a different space. The scenic design by Becky Meissen and Aaron Hook and the latter's lighting design was incredible, establishing some great texture and vibrant, environmental colors. Composed almost entirely of tree flats and a mountain backdrop, the elements moved around on stage tracks to create different scenes, and the backdrop was projected onto beautifully. Haus of Ruckus production design is always simple and professional, which I admire – and the way they created snowstorms and avalanches, here, was inventive and campy.
Some final words on the Haus of Ruckus mode: The state of Tennessee recently put a ban on public drag performances. A lot of theatre-making, however, is strongly connected in drag performance and the freedom of expression onstage, and I deeply appreciate Haus of Ruckus as a highly creative and queer creative space, and their mission of presenting theatre that is inclusive, accepting, and fun is vital and to be valued in our Quad Cities community. I encourage you to continue to laugh with them, support their shows, and enjoy harmless, wildly entertaining performances. The quality of Haus of Ruckus' work is evident, and Are We There Yeti? is another original hit you won't want to miss. They're causing a Ruckus, but in the best possible way.
Are We There Yeti? runs at St. Ambrose University's Black Box Theatre in the Galvin Fine Arts Center (2101 North Gaines Street, Davenport IA) through March 12, and more information and tickets are available by calling (563)333-6251 and visiting ShowTix4U.com.