Described by the Chicago Sun-Times as "simultaneously hilarious and touching," the road-trip comedy Leaving Iowa is the final presentation in the Playcrafters Barn Theatre's 2011 season. Leaving Iowa is also the first presentation in Black Hawk College's 2011-12 theatre season, but don't chalk that up to either coincidence or some sort of Moline-based rivalry; the productions are actually one and the same.
"It's a win-win for everybody," says Leaving Iowa director Tom Naab of this first-ever stage collaboration between the community theatre and the community college. "The students get to use the Playcrafters facility, and it costs Black Hawk nothing; Playcrafters pays for the sets, the costumes, the props - everything.
"And the Barn saves money," continues the Black Hawk theatre professor, "because the school is paying my salary, and we're bringing in all these volunteers who are helping build the sets and paint the sets ... . They save money and we save money."
"It's also a lot of fun," adds Tom's wife Stephanie Naab, who serves as Leaving Iowa's producer. "When we first scheduled this, we really didn't know how it would work out. But so far, it's going very well."
Running November 11 through 20, Leaving Iowa concerns a man whose family of four traverses the state in search of an appropriate "final resting place" for his late father's remains. Leapfrogging between scenes set in the present and flashbacks from the man's family vacations as a teenager, the show features a 16-person cast that includes such familiar Playcrafters presences as Don Faust, Tom Morrow, Spiro Bruskas, Lisa Kahn, and Nicholas Waldbusser.
Yet these and other performers will also be appearing alongside a half-dozen student actors from Tom's theatre classes at Black Hawk, and working with nine student crew members who, as Tom says, "are running everything. The stage management - which is the most important tech job - the lights, the sound, the props ... . It's all being run by Black Hawk students."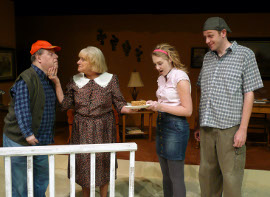 Forty-year veterans of Playcrafters who have both appeared in and worked behind-the-scenes on dozens of shows at the Moline venue - Tom most recently appeared in September's Make Me a Cowboy, for which Stephanie designed the costumes - the Naabs say that the collaborative effort of Leaving Iowa has been a long time coming.
"It's not a new idea," says Tom, "but we always thought it was a good idea. Especially since it would bring in young people to Playcrafters, because that age group is hard to fill at auditions. We get 'em older than that and younger than that, but that college-age group is hard to find.
"So we'd discussed it many times over the years," he continues. "Steph and I have been on the [Playcrafters] board as director liaisons a number of times, and we would approach college theatre teachers around the area and try to get them involved. And we were always turned down. They were generally busy with their own programs ... and they would always ask how much it pays."
"We don't really pay," says Stephanie with a laugh. "It's a stipend. It's basically gas money."
"It would be like going to a plumber," says Tom, "and having him say, 'You're asking me to do some free plumbing for you in my off-hours? That's not fun for me.'"
The opportunity for a collaboration, however, finally presented itself after Tom was hired as Black Hawk's professor of theatre, in the wake of former department head Dan Haughey's 2009 retirement. "Since I was now the teacher," says Tom, "I approached the Playcrafters board, and right away they said, 'Yes. It sounds like a great idea. Let's bring the students here.'"
In addition to providing the Barn with a number of college-age actors and crew members who had never before participated at the venue, the collaboration offered numerous boons to Black Hawk's theatre students, one of the biggest being the chance to work on the Playcrafters stage. "Because Black Hawk's theatre," as Stephanie says, "is really not a theatre. It's a lecture hall."
"No one should take theatre, or sign up for acting classes, for the building itself," says Tom. "If you love theatre, you don't do it because it's a nice facility. And Black Hawk is budgeting half a million dollars to remodel the space.
"But I know that the fact that it's a lecture hall can be discouraging for students," he continues. "We have a girl that came in last year and was all excited, talking to me about the program and lights and sound, and then she asked, 'Now when will I get to see the theatre?' And I said, 'Well ... this is it.' And she said, 'This?!' So this a great opportunity for our students to get to use a real stage, and to work with some experienced people."
Tom adds that another perk for Leaving Iowa's participants "is that Black Hawk offers one hour called Theatre Practicum, where if students act in a show or work on one of the crews, they can get an hour of college credit. Not all of them are taking it, but eight of them are, and it's something that can really help your GPA. You know, just show up, and do what you're supposed to do."
Plus, as Tom says, the production also offers "a chance for our students to get real audiences - large audiences. At Black Hawk, if we can draw close to 100 people over a weekend, that's pretty good. That's not even one night of what we can draw at Playcrafters.
"So they'll get the opportunity to perform for much bigger crowds, and hopefully, the students will bring in other students; we're advertising Leaving Iowa in the school, and the hope is that we'll bring some people in here that maybe haven't been here before. When I talk to some people about the Barn," says Tom with a laugh, "I'm always amazed when they say, 'Where is that? Is that where they do the musicals?'"
Leaving Iowa will be staged at the Playcrafters Barn Theatre November 11 through20; Friday and Saturday performances are at 7:30 p.m., and Sunday performances are at 3 p.m. For more information and tickets, call (309)762-0330 or visit Playcrafters.com.