There seems to be a pretty safe rule of thumb regarding the productions at Quad City Music Guild and the Richmond Hill and Playcrafters Barn theatres: When the actors appear to believe in their material (whether that material is strong or weak), the shows are terrific, and when they don't, they're not.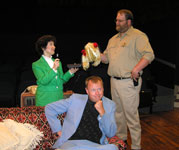 So I was truly relieved when the Richmond Hill casts did such a fine job this year, as four of the venue's shows - The Sunshine Boys, Cliffhanger, Perfect Wedding, and A Bad Year for Tomatoes - would probably have tanked without superb performers. (In my opinion, The Sunshine Boys actually did tank, but that's hardly the fault of the actors, who played Neil Simon's unbearably synthetic sitcom exactly as written. Hence, the problem.) All of these scripts featured cheesy plotlines and even cheesier laugh lines, but you wouldn't know it from the committed portrayals of their casts; actors such as David Bailey, Cara DeMarlie, Diane Greenwood, Jeremy Mahr, Susan Perrin-Sallak, and Melissa Scott gave their roles more conviction, more imagination, than their scripts deserved.
And when the Richmond Hill actors got their hands on legitimately terrific material, the results were extraordinary. July's production of Proof, with that exceptional Jessica Nicol performance, did David Auburn's play proud and then some, while October's Cat on a Hot Tin Roof - under the inventive direction of Jalayne Riewerts - was absolutely sublime, with particularly stunning work by John VanDeWoestyne, whose Big Daddy may have been the most singularly powerful area performance of 2006.
I wish the Playcrafters performers had attacked their material with the relish that Richmond Hill's actors did this year, because the Moline venue's 2006 offerings weren't any weaker than the ones chosen for their Geneseo counterparts; with the exception of Out of Sight, Out of Murder, the selections weren't bad at all (and One Flew Over the Cuckoo's Nest and Our Town are wonderful scripts). So it's no accident that my favorite Playcrafters show of 2006 was the comedy Rounding Third, mostly because its entire cast - both actors - looked to be having a blast.
Fred Harris Jr. and Jim Driscoll played off one another with so much sweetness and good, gruff humor that they made even the show's unamusing gags completely winning; they didn't just honor the material, they transcended it. And when the cast members in Sweet & Hot: The Songs of Harold Arlen beamed their confidence and enjoyment - which was particularly apparent in the performances of Melissa Anderson Clark and Todd Weber - this musical revue was as enchanting as the Arlen songs that inspired it.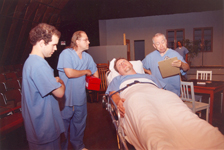 Yet beginning with Playcrafters' season-opener, Over the River & Through the Woods, confidence seemed to be exactly what was missing. Inspiring work was certainly done - especially by Chris White, Anthony Anderson, and Broc Nelson in Cuckoo's Nest - but, show for show, there was too much hesitancy in the portrayals; the casts didn't look like they were having much fun. (Subsequently, I didn't, either.) Playcrafters' actors, it seems, need to be less afraid of owning the stage, less afraid of making big choices - less afraid of failing. With their annually terrific spate of directors and designers, the venue's productions always look good. Now, it's up to the actors to climb the stairs of the Barn and just sell it.
Happy casts make for happy shows, and more often than not, the casts assembled for Music Guild productions appeared incredibly happy in 2006. This was perhaps most evident, and most surprising, in It's a Wonderful Life: The Musical. (Surprising because, despite two past attempts, I'd yet to see a stage version of Frank Capra's classic that had even one-tenth of the movie's charm.) Music Guild didn't really do anything revelatory with the material, but they captured the spirit of Capra's heart-tugger to perfection; there was so much good energy emanating from director Kevin Pieper's production that, quite frankly, I was overwhelmed. And as George Bailey, Mike Millar bestowed upon his role such fervent conviction that it was almost as if he'd been practicing for George since birth. It was a wonderful Life, indeed.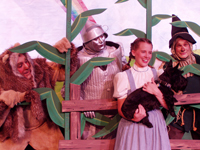 The only Music Guild production that I loved even more was The Wizard of Oz, which was so joyously performed (especially by Christopher Thomas as the Cowardly Lion) that watching it was nearly transporting. Everyone on that stage looked delighted to be there, and the casts looked nearly as delighted during Music Guild's fine Aida - Allyson Peniston and Angela Cavallo were amazing - and the peppy You're a Good Man, Charlie Brown.
But almost no one looked happy during George M! - the ensemble's collective expression seemed to read, "Are we getting away with this?" - and their lack of commitment certainly read from the audience. If you're not having fun on stage, the least you can do is effectively fake it.
Thankfully, the casts, and audiences, for Music Guild's other 2006 offerings seemed to be having a sensational time - and I'd sincerely doubt if anyone was faking it.